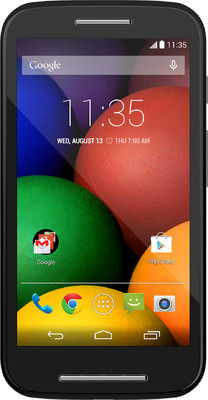 "The Moto E is yet another value-for-money smartphone from Motorola that promises to shake up the budget segment"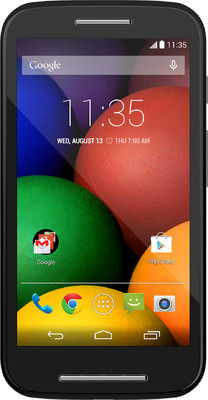 It seemed tough, but Motorola has seemed to pull off the unthinkable when it chose to retail its Moto G, and then the Moto X exclusively online. We're told the Moto G sold in big numbers, even in a country where online retail is just taking off. Today, Motorola's back with another smartphone that promises to shake up the budget segment with its solid build and compelling specs. Ladies and gentlemen, please welcome the Moto E. Priced at a very attractive Rs 6,999 the dual-SIM Moto E is yet another Flipkart exclusive, and will go on sale at midnight tonight.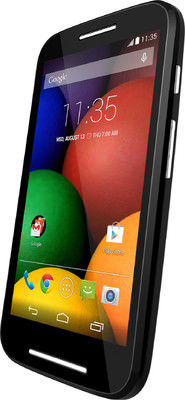 Thanks to the leaks, the specs of the Moto E weren't really a mystery. Running an almost stock build of Android 4.4.2 KitKat, Motorola has guaranteed that the Moto E will get the next Android update too. The budget device sports a 4.3-inch display with a resolution of 960 x 540 pixels, translating into a pixel density of 256ppi. The display is protected by a layer of Corning Gorilla Glass 3, a splash guard for water resistance and an anti-smudge coating to keep off the fingerprints. It is powered by a 1.2GHz dual-core Snapdragon 200 processor, paired with a gig of RAM and Adreno 302 graphics. Its paltry 4GB of internal storage can be augmented by adding a microSD card of up to 32GB capacity, while a 5-megapixel fixed-focus camera at the rear handles shooting shenanigans. Unfortunately, there's no front-facing snapper for video calls, which is a bummer. Apart from dual-SIM support, the other connectivity features are fairly standard, and include Wi-Fi, Bluetooth and A-GPS. It features dual-SIM with Intelligent Calling, which remembers the SIM you used last and learns from your usage patterns. Juice is provided by a 1,980mAh battery. It also features location-based services and emergency alerts. The location status can be shared with your friends, via a new Meet Me feature.

Like the Moto G, the Moto E also features interchangeable rear shells, and you can buy these in nine hues to suit your individual taste and style. The Moto E covers will be available at a 50 percent discount at the time of launch. Motorola is also bundling a few launch day promos with the phone, offering new buyers 50 percent off on a Transcend 8GB memory card and on rear shells cases, along with free ebooks worth Rs 1,000.

The Moto E's specs are quite compelling for the price, and it's one of the most affordable devices that run Android KitKat. The handset will compete against the likes of the Nokia X and the upcoming Lava Iris X. Now we aren't crystal gazers, but if we were to put our money where our mouths are and make a prediction, we'd say that the Moto E looks like yet another online bestseller.