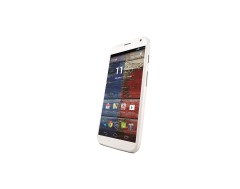 Finally, Motorola have taken the curtains off its flagship smartphone– the Moto X. Without doubt, its one of most-anticipated and much-awaited smartphone of the year coming from a company who once revolutionized the mobile phone industry. Funnily enough, even before the launch whole internet was flooded with numerous rumors about its price or possible configuration. Motorola also milked this opportunity by teasing the stand out aspects of the device specifically generating the patriotic spirit in USA by promoting it as first smartphone to be assembled in USA. But, the important question is whether the device be able to make a dent in already crowded market filled with heavy-weights such as Samsung and Apple? Let's see-
The Basics
Let me put across this point very clearly: at the outset, you might be disappointed with the specifications when there's already seen quad-core and even octa-core devices like Galaxy S4 or super phablets like Xperia ZU.
Moto X sports a 4.7 inch AMOLED (RGB) display with resolution of 1280 x 720 pixels, resulting in decent pixel density of 312 ppi. The device has a curved back which makes it super handy, at the maximum point, it has a thickness of 10.4 mm. Due to smaller screen, its very compact at dimensions of 65.3 x 129.3 mm and just 130 g weight.
Under the hood, its powered by a 1.7 GHz dual-core Snapdragon processor and Adreno 320 graphics processor for rendering graphics. Talking about memory, it has a 2 GB RAM and internal memory of 16/ 32 GB. It has usual connectivity features with support for 2G/ 3G/ 4G network support, Bluetooth 4.0, Wi-Fi, DLNA and NFC. It has a non-removable Li-ion battery of 2200 mAh. Although Google has released Android 4.3, the smartphone still runs on Android 4.2.2 (JellyBean) OS.
For shutterbugs, it has a 10 MP camera at the back with auto focus and LED flash and other features like touch focus, face detection, panorama, HDR, etc. It's capable of shooting Full HD videos at 30 fps. For video calling purposes, it has a 2 MP secondary camera also capable of recording Full HD videos.
As the configuration suggests, it seems very mid-range when put against the premium devices boasting of top of the line features, but in my opinion, that's not what this device is gunning for. It's USP lies in clever customization options and software smartness, which we'll discuss in detail in next section.
The Differentials
We've already covered Motorola's new Droid Lineup for Verizon and these devices and Moto X shares a lot of technologies and functionalities.
Color me Red/Blue/Green..Err.. Actually the Whole color palette!
Let's admit it, the smartphone remains in our hand more than any other thing. And, what do others see from your smartphone or we see first every time without even activating the screen? The physical body of the smartphone of course!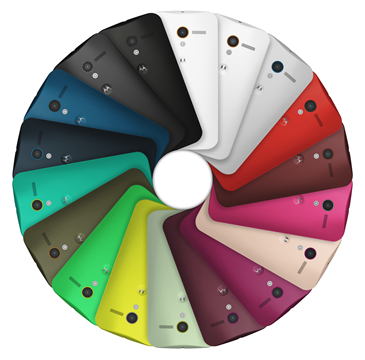 Moreover, the smartphone is kind of an extension of our personality, wouldn't it be great if we could be able to decide the color of not just its back, but almost everything? With Moto X, you get to choose 18 different back plate covers, 2 front-lens assemblies, 7 anodized aluminum accents and even a personalized message engraved on the rear housing. What's more even the accessories like Wall Chargers comes with two color options of Black And White as well as the earphones can be of same color of back plate since Motorola has partnered with Sol Republic for them. Even the software can be pre-customized with the home screen wallpaper and a pre-linked Google account.
Motorola has created a custom website called Moto Maker to enable such functionality.
The Google Now Magic
If Motorola has taken inspiration from its parent company Google in building the Moto X, then that would surely be Google's contextual search i.e. Google Now which has became indispensable for mobile users. Motorola has taken the capabilities of Google Now to the next level by allowing one to command the smartphone for anything after saying a key phrase. The smartphone will always be on listening mode to listen to the key phrase, which Motorola has kept as Okay Google Now, inspired from Okay Glass phrase used in Google Glass. Motorola calls this functionality as Touchless Control as one doesn't even needs to unlock the device to start speaking to the smartphone. It understands the voice and then performs the task like telling about weather condition or searching Google for something or calling/ messaging someone. This is way better than Siri for iOS or even Google Now available in Android devices, as user anyways have to first enable them by clicking a button.
Thanks to the special X8 MCS chip customized by Motorola, which has a dedicated core for language processing, the smartphone is trained once with the user's voice and then most of the times it can differentiate its owner's voice even in crowd.
Camera Technology and Intuitive UI
While the number of megapixels (10 MP) the smartphone is adorned with might not sound much, but all of us know only megapixels doesn't makes any difference. What's make the Moto X's camera different is 'ClearPixel' technology. In simple words, usually the camera sensor has dedicated pixels for RGB (Red, Green, Blue) colors, in Moto X, apart from RGB, there's another pixel- C, which increases sensitivity as the extra pixel allows to take additional lighting. This will surely enhance the low light performance of the camera.
Interestingly, Moto X camera UI is very minimalistic with almost no buttons on the screen at first and when made gestures the options will be present in an oval format. Unlike other smartphones, where a dedicated camera button or a special place on the screen needs to be pressed, the Moto X's camera clicks the picture by clicking anywhere on the screen. This not only saves time, but also makes it easy to take a picture than fiddling around with several options.
Moreover, the smartphone makes clicking a picture in a jiffy by enabling one to launch camera by flicking it twice. The feature is called as 'Quick Capture'.
Apart from these unique features, the smartphone offers all the features which are present in the new Droids viz. Active Display (Displaying the notifications on some parts of the screen whenever device is awakened, thus conserving battery life), Motorola Connect (With the help of a chrome extension, one can easily use the computer/Moto X back and forth for messaging or calling purposes), etc. One can also authenticate the smartphone's identity by pairing up with trusted Bluetooth devices, thus whenever user is near car or computer, the Moto X is already authenticated.
The best part about the device is that all these Motorola's hardware and software enhancements results in vastly improved battery life. Motorola claims that the Moto X will easily be able to last a day of moderate usage.
Bottomline
Motorola has taken an unconventional route with its flagship device instead of offering specs which always pleases users, it aims to provide a wonderful experience to the users. It is a huge bet, but if successful can put the company ahead of its peers and make the smartphone a mass-market device because apart from geeks, end users usually care about the experience and not the configuration. However, where Motorola went wrong is that the pricing of the device is exactly same as of Apple iPhone, Galaxy S4, HTC One, etc. and if priced a little less, then it would surely have become more compelling choice.
There's no word about the device's availability date in India. But, the company has clarified that the Moto X is an international smartphone and so we hope to see it on Indian shores soon.
What are your thoughts about the device? Does specs matter to you or do you think if the device offers optimized experience, you would go with it? Share with us your thoughts in the comments below.