Smart TVs are becoming increasingly popular across the country, with many users getting hooked on to streaming services. Suffice it to say that this space has been going through a revolution of sorts. And looking at the broad picture, it would be apt to say that one of the brands that can be given credit for this is MediaTek. The company, with its range of smart TV-focused chipsets, has been dominating the space for a very long time. In fact, more than 70 percent of all TVs globally are powered by MediaTek chipsets. Astoundingly, that accounts for over 2 billion MediaTek-powered TVs around the world. It's clear that just like the smartphone segment, the company is dominating the smart TV space as well. You'll also find MediaTek's presence in IoT products, smart speakers, automotive solutions and more. But for now, let's take a look at how MediaTek is driving the smart TV industry, and powering the new generation of devices headed our way.
The MediaTek impact on the smart TV space
MediaTek has taken over the smart TV chipset market like no other company has. And it has done this by providing solutions for TVs in all major categories. For instance, there's the highly advanced MediaTek MT9950 chipset for the ultra premium 8K TV category. Then there's the MediaTek MT9613 chipset, with AI capabilities. This powers 4K TVs with up to 120Hz refresh rates for incredible responsiveness, and the latest technologies and interfaces. And very recently, the company announced the launch of the MediaTek MT9602, which can be used to power not just 4K TVs, but Full HD and HD TVs as well.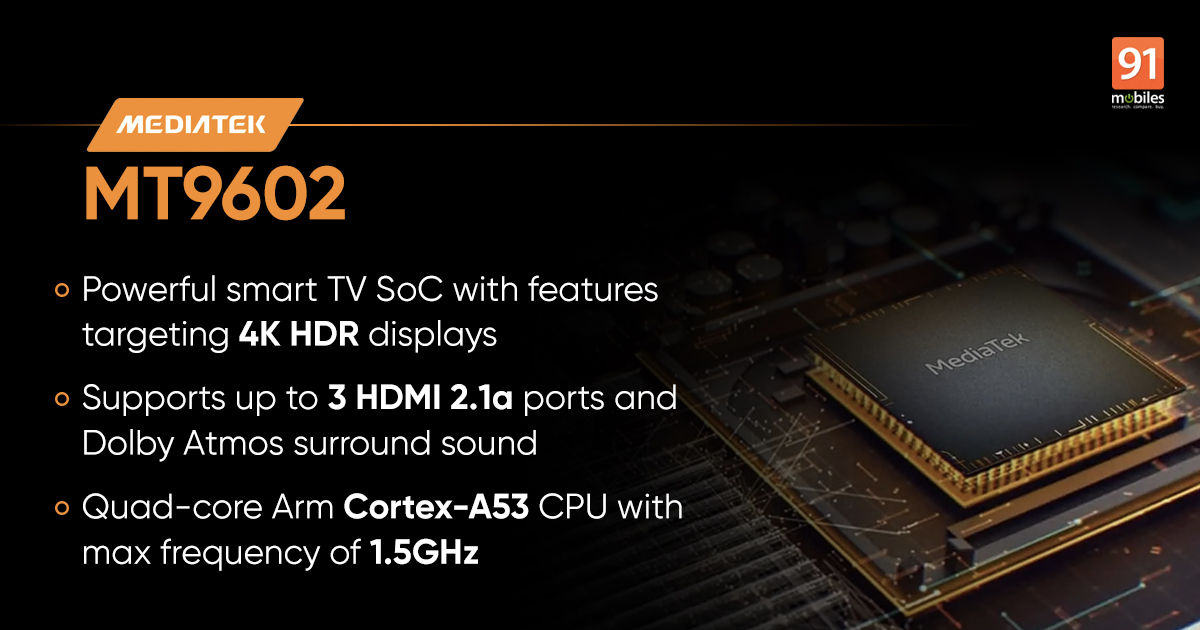 This chipset is equipped with comprehensive features aimed at modern 4K HDR TVs. There's a 1.5GHz quad-core processor onboard, apart from a Mali-G52 MC1 GPU to take care of the heavy graphics operations and the interface. More importantly, it supports the HDMI 2.1a standard, allowing it to dole out 4K resolution visuals at 60Hz refresh rate. The chipset also integrates MediaTek's AI-PQ (picture quality) and AI-AQ (audio quality) technologies that use real-time video optimisation to improve the picture and audio quality of the smart TVs they are part of, like the newly-launched Motorola Revou and ZX2 series.
Latest Motorola range of smart TVs
The Motorola Revou and ZX2 smart TVs are the first in India to be powered by Android 10, with the entire new range available to buy on Flipkart. These devices boast classy aesthetics and awe-inspiring HDR panels of different resolutions to appeal to all kinds of buyers. But what binds them all together is their incorporation of the MediaTek MT9602 chip. Chief among the lot is the 55-inch Motorola Revou Ultra HD (4K) LED Smart Android TV, which ships with support for Dolby Atmos and Dolby Vision, and like the rest of the range, can be bought via Flipkart. Thanks to the quad-core processor inside it, this smart TV is able to provide a tremendous boost in computing power. Plus, its Mali-G52 Graphic Engine clocked at 850MHz is more capable of delivering crisp graphics, making this TV an absolute treat for entertainment buffs.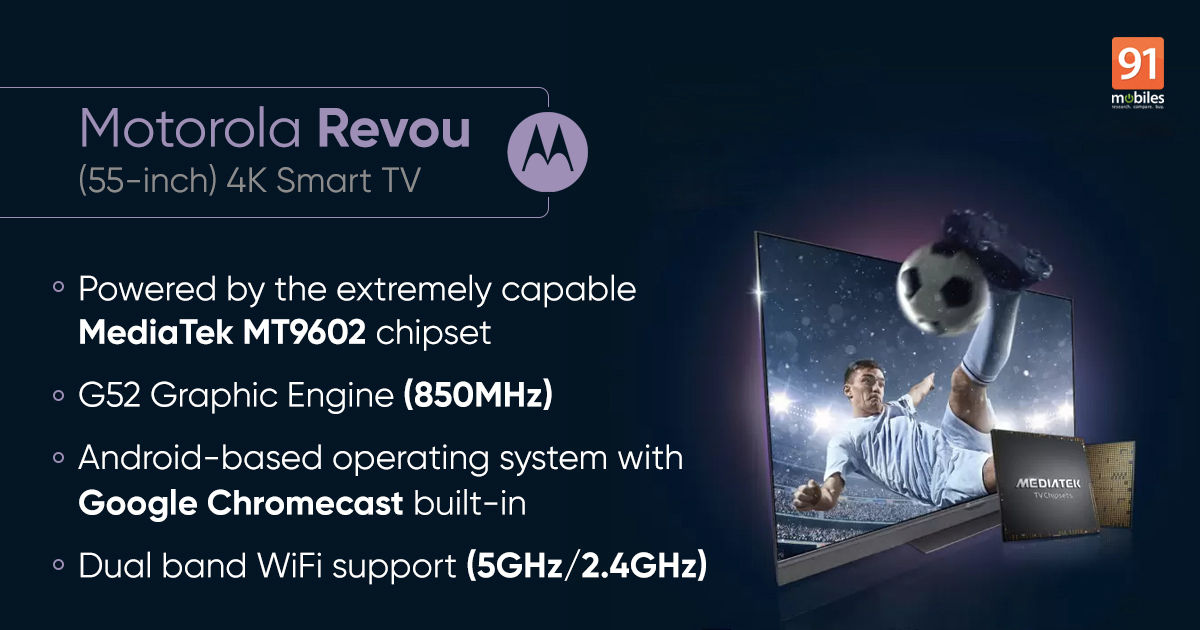 The TV is able to deliver 50W sound output using its AmphiSoundX Pro integrated soundbar. This 4-unit configuration includes two high-bass speakers and two high-octave tweeters set at a 45-degree angle in order to ensure optimal surround sound trajectory. To ensure great picture quality, this TV also makes use of Smart Dimming technology that dims contrast at the pixel level to create darker darks that help immerse you even more in the visuals. All streaming apps, including Prime Video, Netflix, Disney+ Hotstar, Eros Now, Sony Live, Hungama and Zee5 are supported by the TV, and buyers are even provided a free 6-month Spotify Premium subscription.
Most of these technologies also form part of the other models in the Motorola Revou and ZX2 ranges. While the 55-inch 4K Revou smart TV has been priced at Rs 40,999, the 43-inch model can be bought at Rs 30,999. The more affordable ZX2 range includes a 40-inch FHD TV priced at Rs 19,999 and a 32-inch HD Ready TV costing just Rs 13,999. As mentioned earlier, you can head to Flipkart to check out this new range of smart TVs and avail special offers as part of the ongoing Big Billion Days sale.


The above just goes on show how MediaTek's innovations in the smart TV chipset space continue to deliver devices with better, more advanced capabilities, with the chipsets working in the background to ensure a more immersive usage experience for the buyers.