"Motorola has used hole-punch designs and tear-drop notches this year but it has not used a pop-up camera on a phone yet"
Many smartphone makers have hopped onto the pop-up camera bandwagon but there a few who have still resisted temptation like Motorola. However, a new leak shows that Motorola is also very well on its way to join the train. A few sketchy renders of the said handset, whose name or branding is not known yet, have been posted by XDA Developers yesterday and it displays the pop-up camera in plain sight. This happens in the backdrop of Motorola releasing its first quad-camera handset at the IFA 2019 event in Berlin. More details on the pop-up camera phone below.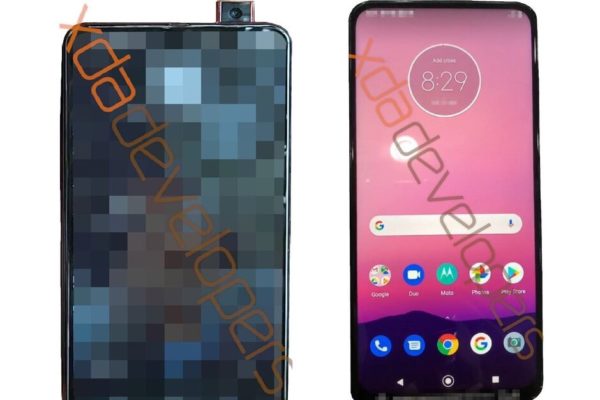 Given the few details we have, we can't help but notice the pop-up camera is uncharacteristically placed on the right side. Most brands have either placed it on the left or centre. The only thing that gives you a clue about the identity of the handset is the Moto icon on the screen in the second image in what looks to be a slightly skinned Motorola interface. The rear design does not come into view at all and neither is there any information available on the spec-sheet of the handset. However, the leak is very much legit as tipster Evan Blass also recently shared clear images of a notch-less Motorola phone last month.
Motorola has just started using tear-drop notches and hole-punches in its mid-range phones, so the logical deduction is to expect a pop-up camera next from the Lenovo-owned company. Pop-up camera phones have already penetrated the sub-Rs 20,000 segment in India and they bear a clear advantage over notch designs that come with an obstructing camera on the display. On the other hand, the moving mechanical module runs the risk of permanently being damaged thus rendering the smartphone's front camera useless. Regardless, pop-up cameras are here to stay and Motorola wants a share of the pie.