"Mozilla Fenix browser brings brand new design, tab management with sessions and privacy-focused features and much more."
Mozilla Firefox might not be the go-to Android browser, but the company always tries something new. Putting everything aside, Mozilla started working on Fenix browser which is a completely new browser that it is developing from the ground up with browser engine GeckoView and Android Components developed by Mozilla. Thanks to soeren-hentzsche blog, who got hold of Fenix, we now have our first look at the browser ahead of its release.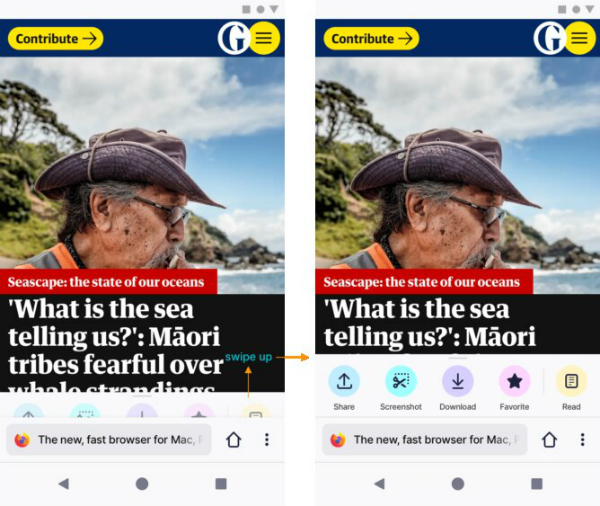 With smartphones getting bigger, thanks to bezel-less design, it makes sense of any app developer to put the most used UI elements at the bottom and a swipe up to reveal further actions. When you are done browsing and close the browser, the tabs will be saved in bundles called sessions. Meaning, when you return to Fenix again, you can either start a new browsing session or return to the already started session. Individual tabs currently in use are displayed full-width and can be saved manually as sessions.
It is also possible to share the browsing experience with other users and devices through Firefox Sync. While the real-life usage of this feature remains to be seen, it sure looks like thoughtful inclusion for those people who otherwise would never clean up their browser tabs. It is also said to pack native ad blocked, auto-playing videos, audios and cookies, tracking, pop-ups, URL redirections. Other features include reading mode, custom tabs, and per-website permissions. However, since the browser is still in active development stage, these features are subject to change if Mozilla decides.
The Fenix browser is still not released publicly for everyone and is expected to be launched in the summer and will migrate the current Firefox users at a later date. However, if you wish to give Fenix a try to see how it works, the latest nightly is up for grabs here. Do note that nightly versions are usually not stable and might not function properly.