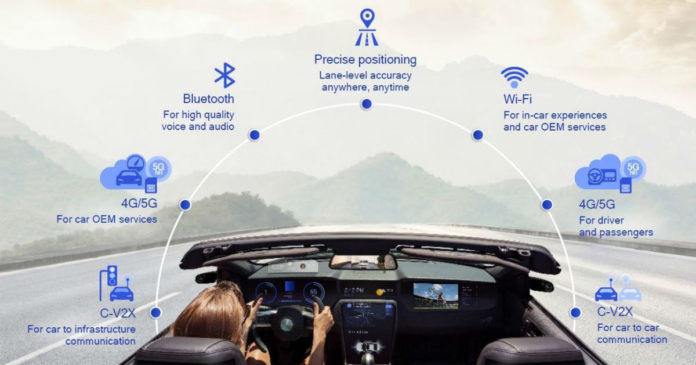 "The new Qualcomm QCA6696 chipset brings together the next generation of connectivity standards designed for future connected vehicles."
Qualcomm has unveiled its next generation push for connected automobiles with its updated Snapdragon Automotive 4G and 5G Platform, via the new chipset, the Qualcomm QCA6696. The new chipset is designed for implementation in the next generation of connected cars, where low latency networks will be essential to the functioning of a vehicle. It will also be an essential peg in Qualcomm's ecosystem of connectivity platforms so ensure better bandwidth allocation and network throughput in densely congested network areas — a situation that is expected in greater frequency going forward.
Central to the QCA6696 is the latest generation Wi-Fi standard, Wi-Fi 6. The latest generation Wi-Fi standard, also referred to as 802.11ax, brings significantly lower latency in receiving and transmitting data packets by employing technologies such as orthogonal frequency division multiple access (OFDMA), which in turn reduces loss of data points and maximises transmission efficiency. Furthermore, the new chipset supports dual-MIMO (multi-in multi-out) access points, which provide gigabit-class connectivity through in-car Wi-Fi hotspots.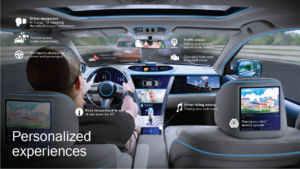 The new chipset from Qualcomm also includes Bluetooth 5.1 and Qualcomm's proprietary aptX Adaptive audio engine, which further strengthen wireless connectivity and streaming features. Lastly, the Qualcomm QCA6696 chipset also enables full MIMO extended range, high data connectivity for client-end features such as remote server synchronisation, in-car diagnostics, OTA updates and other such features. All of this facilitates features such as ultra high definition audio and video streaming and transmission across multiple in-car screens, advanced connected services and interactive features, high fidelity voice-based services, screen mirroring for multiple devices and wireless cameras.
Technically, the Qualcomm QCA6696 increases user bandwidth throughput to 1.8Gbps, including Dual Band Simultaneous and Higher Order Modulation of network. It further includes 8×8 MU-MIMO Wi-Fi 6 access points to enable longer range and faster throughput through access points. It also uses the WPA3 security standard, and Target Wakeup Time (TWT) to ensure greater network efficiency and lower power consumption. The QCA6696 includes second generation connected car reference design, which further includes the Snapdragon Automotive 4G/5G Platform, an integrated RF Front-end solution, C-V2X (vehicle-to-source), HP-GNSS (ultra-high accuracy navigation and location service), Vision Enhanced Precise Positioning (VEPP), and an applications processor for facilitating multiple features inside the car.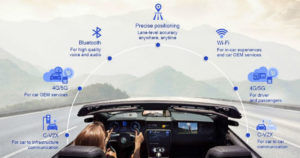 The Snapdragon Automotive 4G and 5G Platforms have been added to the Qualcomm Automotive repertoire alongside the new chipset, thereby giving automakers the platform to develop prototypes for future consumer and commercial applications. It brings the industry's first ever dual-SIM, dual-active 5G connectivity, including 4G LTE-Advanced Pro-tiered Platform, multi-gigabit cloud connectivity and precise lane positioning. The 4G platform can integrate up to five LTE carriers with its FD-MIMO access points, hence being well-equipped for use globally.
The 5G platform, meanwhile, can work in both standalone and non-standalone operation modes. It uses Qualcomm's 5G NR solutions to provide remote service provisioning. The suite of location services on offer include concurrent multi-frequency, multi-constellation GNSS, which includes GPS, Galileo, GLONASS, BDS, and QZSS with Qualcomm® Dead Reckoning 3 (QDR3) technology. This facilitates anytime, anywhere 3D navigation technology by incorporating inertial measurements and peripheral sensor input to provide an additional layer of data over satellite-based services.
The Qualcomm Snapdragon Automotive 4G and 5G Platforms, along with the Qualcomm QCA6696 chipset, are now being sampled out to automakers globally. The complete feature sets are expected to be equipped in production vehicles by end-2021, which is around when the entire ecosystem of connected cars are set to become more mainstream.