"The image on Weibo shows two names – 'New Axon' and 'New 5G flagship', so there could be a chance of one flagship device that will arrive with the support of 5G-network."
This year the Mobile World Congress is scheduled to take place from February 25th in Barcelona. Ahead of the event, several smartphone makers are teasing their upcoming devices through social media and other mediums. ZTE has also joined the bandwagon and teased its upcoming products for the 2019 MWC.
According to an image posted on Weibo, ZTE has planned a press conference in Barcelona on February 25th at 10:30 CET. The teaser image hints at a "New Axon" and a "New 5G Flagship". However, it is unclear whether there will be two smartphones or just one. The image does not reveal any details apart from the time and date of the event. Rumours, however, suggest that there might be just one flagship Axon device that will also support the 5G network.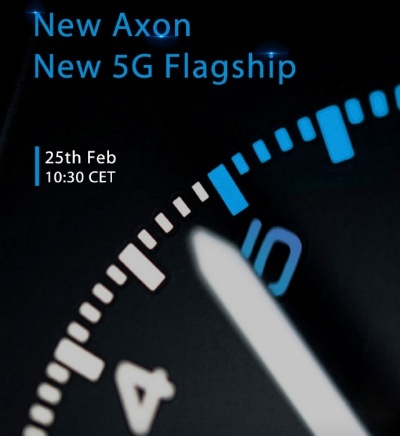 If ZTE is planning to introduce two devices or one 5G-enabled flagship smartphone in the upcoming MWC, it would be a significant step towards its coming back in the market, as the brand has witnessed a temporary import ban and a problem regarding the US trade violation. Although, ZTE at 2018 IFA (Internationale Funkausstellung) in Berlin announced that it has fully recovered from the ban and launched the ZTE Axon 9 Pro, which arrives with an iPhone X-like notch.
There are chances that the device in question could be the ZTE Axon 10 Pro, which will presumably be the successor to ZTE Axon 9 Pro. The new device was recently certified in Russia with Snapdragon 855 processor and is said to be the competitor of the Samsung Galaxy S10, which is also powered by the same chipset.