"The new Rs 199 Netflix plan will be limited to a single screen at a time and offer only SD content"
Netflix has launched a new Rs 199 plan in India, meant only for mobile devices and offering only SD content; this means users will not be able to watch the TV shows and movies in HD or 4K resolutions. This new Rs 199 Netflix plan will allow subscribers to login to the streaming service using smartphones and tablets, with only one active stream allowed at a time. Subscribers of the new plan will not be able to mirror or cast their screen to a TV to view the content on the bigger screen; the plan also doesn't work on laptops. The Rs 199 Netflix plan comes after the company experimented with a Rs 250 subscription meant only for mobile devices for a few months.
With the new Netflix plan, buyers will be able to download content on their devices, whether it is a smartphone or a tablet. It will also work if the subscriber is travelling outside India. The new Rs 199 Netflix plan costs less than half of the service's Basic subscription (Rs 499), which also offers SD content but works across devices, including TVs, laptops, phones, and tablets. However, what can become a hurdle for adoption of the service, users will need to make payments using credit or debit cards to subscribe to the plan. Consumers who have not subscribed to the service yet will be able to access it free for the first month and upgrade from the Rs 199 plan to a higher plan any time they want.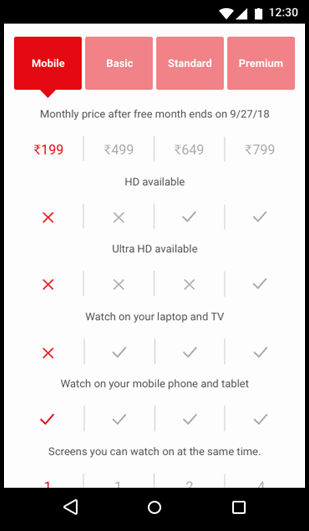 "Our members in India watch more on their mobiles than members anywhere else in the world — and they love to download our shows and films. We believe this new plan will make Netflix even more accessible and better suit people who like to watch on their smartphones and tablets — both on the go and at home," said Ajay Arora, Director, Product Innovation, Netflix.
As more people in India consume content on mobile devices than other gadgets, this new plan should help the company expand its reach in the country. Netflix faces tough competition in India, a market where consumers tend to not spend too much on content. Apart from Netflix and US-based Amazon's Prime Video (Rs 129 per month or Rs 199 per year), nearly all streaming services in India offer a free tier for shows and movies. These include the market leader Hotstar, which offers free content but has a paywall for its original content, sporting events, and a large selection of TV shows and movies. The free content on Hotstar — which costs Rs 199 a month or Rs 999 a year for full access — is supported by advertisements.
This new Rs 199 Netflix plan comes soon after the company revealed in a quarterly earnings report that it had seen a decline in user base in markets such as the US. With emerging markets out of reach due to relatively high costs, such affordable plans could help Netflix get more users hooked to the streaming streaming service, though the ARPU will suffer. Of course, subscribers may upgrade to a higher priced plan for cross-device functionality and higher resolution streams. As of now, Netflix will not be releasing such mobile-only plans in other markets in which it operates, but said it may conduct tests in a few countries.