Highlights
Netflix StreamFest 2020 in India starts on December 5th
You will be able to stream on Netflix for free for 48 hours
Netflix StreamFest 2020 does not require payment details
Netflix is free in India for 48 hours between December 5th and 6th as part of StreamFest 2020. The popular streaming platform is running a two-day Netflix StreamFest 2020 in the country where anyone can stream films, TV series, documentaries, reality shows, and pretty much everything available in Netflix's catalogue for free. Netflix StreamFest 2020 for watching free content does not require any payment details while creating a free account and content can be viewed on any device, including phone, laptop, etc. Users will also get the option to create profiles, set parental controls, browse in Hindi, and so on during the fest. If you're wondering how to stream Netflix for free during StreamFest 2020, here's a quick guide to help you with that.
Follow us on WhatsApp, Click to Join
Also read: Netflix subscription plans and offers in India 2020
How to watch Netflix for free during Netflix StreamFest 2020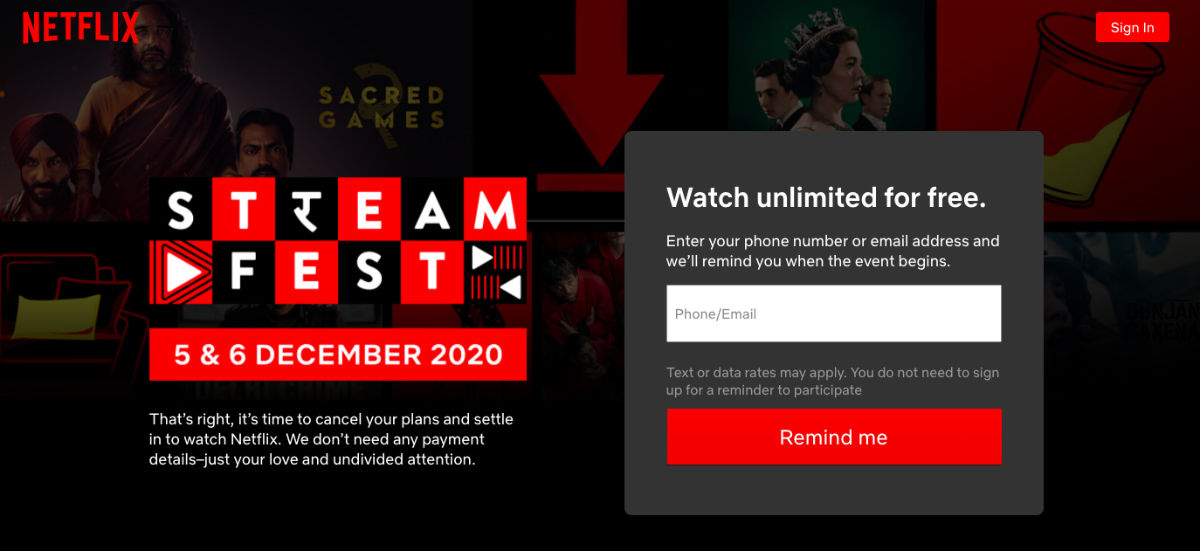 To watch Netflix for free, visit netflix.com/StreamFest or download the Netflix app
Sign up with your name, email or phone number, and password, and start streaming
No credit or debit card payment needed.

In case you previously had a Netflix membership on that email, you'll get to pick up right where you left off

No one else can use the same login information to stream

You can set a reminder for Netflix StreamFest 2020 in India if you sign up now
During Netflix StreamFest 2020, you will only be able to watch content in standard definition (SD). Think of it as Netflix basic subscription, which is worth Rs 499. Additionally, users can also come across the message "StreamFest is at capacity" when the free viewers limit is reached, but Netflix will notify you once the coast is clear and you can resume streaming again.
Once the Netflix StreamFest 2020 ends, interested users can subscribe to any of the existing Netflix plans in India that start from Rs 199 mobile-only and go all the way up to Rs 799 for 4K streaming. If it's free Netflix subscription you're after, you can consider buying a JioPostpaid Plus or JioFiber connection. These services come bundled with access to Netflix for no additional charges.