Highlights
Netflix StreamFest India dates are December 5th and 6th
Netflix will be free for everyone during the 48-hour period
A signup page is already live for users to get reminded of the event
Netflix StreamFest India dates are December 5th and 6th, the streaming giant has revealed. Netflix had recently announced that it would allow non-subscribers free access to the streaming platform for 48 hours in a bid to attract more users. Now, the Netflix StreamFest India dates have been revealed and a signup page has gone live for users to get reminded of the event. Once the reminder message is received, customers will have to create an account on Netflix on December 5th and start watching for free. Netflix says that it doesn't require any payment details while creating a free account and content can be viewed on any device, including phone, laptop etc.
Also read: How to get Jio Postpaid Plus for free Netflix, Disney Plus Hotstar subscription, and more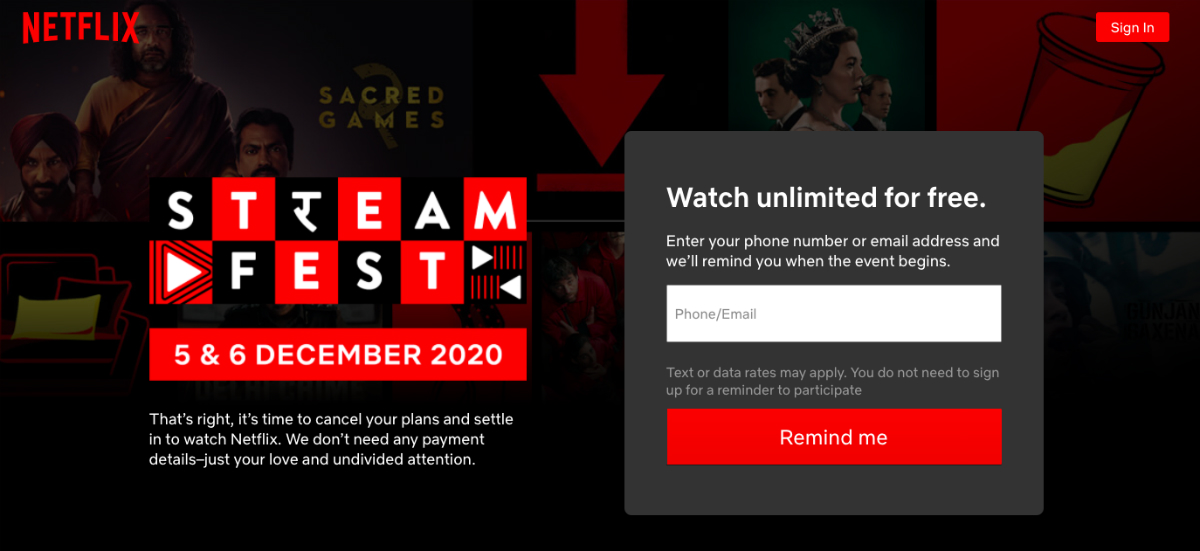 The announcement comes as a move to compete with Disney+ Hotstar, Amazon Prime Video, and other OTT platforms in India. However, the Netflix free trial is a limited time promotional activity and will be accessible only on December 5th and 6th. Once the StreamFest ends, interested users can subscribe to any of the existing Netflix plans in India that start at Rs 199 mobile-only and go all the way up to Rs 899 for 4K. Netflix recently partnered with Reliance Jio and comes as a bundle with Jio Fiber broadband and postpaid mobile data plans.
It's possible that Netflix may expand the StreamFest weekend binge activity to more markets after it observes the response in India. Netflix in a statement back in October said, "We think that giving away everyone in-country access to Netflix for free for a weekend could be a great way to expose a bunch of new people to the amazing stories that we have, the service and how it works … and hopefully get a bunch of those folks to sign up."