"Retro styling touches meet the latest tech to make for a very enticing proposition"
Everyone's favourite mobile phone brand, Nokia, has been hitting it out of the park with its latest offerings. And the phonemaker's newest smartphone to entice users with an "I must have that" appeal is the Nokia 8110 4G banana phone.
So what's the big deal? Well, you might remember the classic 8110 'banana phone' from back in the day – it was the hottest phone you could get. The company has now decided to pay homage to this classic with a brand new device that packs in all the retro things you'd want, along with the brand new tech inside. Just what the tech-aware enthusiast asked for. Yup, the new Nokia 8110 4G is making us go bananas. Don't believe us? Well, read on to find out why we're saying that.
Hang up on your friends in style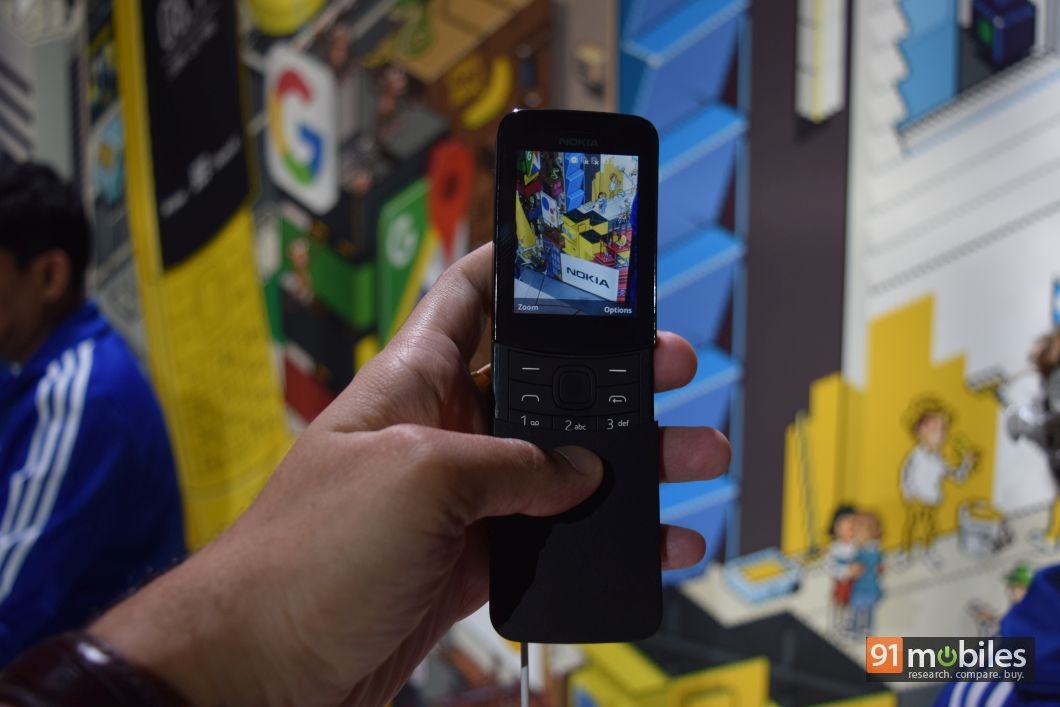 There's loads of cool stuff in the 8110 4G, but we gotta start with this – the classic, 'banana-style slider' body. It's sleek, it's slim, it's light – it's just very, very cool. Yup, the new Nokia 8110 4G stands out amidst a sea of lookalike 'rectangular slabs with rounded corners'. The slider doesn't just give the keypad a protective layer, but it makes hanging up on a call look oh-so-stylish. Slamming the slider up to hang up? It's like a mic-drop for a phone call. Slick, isn't it? (Put on your shades immediately after to complete the effect!)
Play truth or dare (if your friends can stop gushing about its cool looks)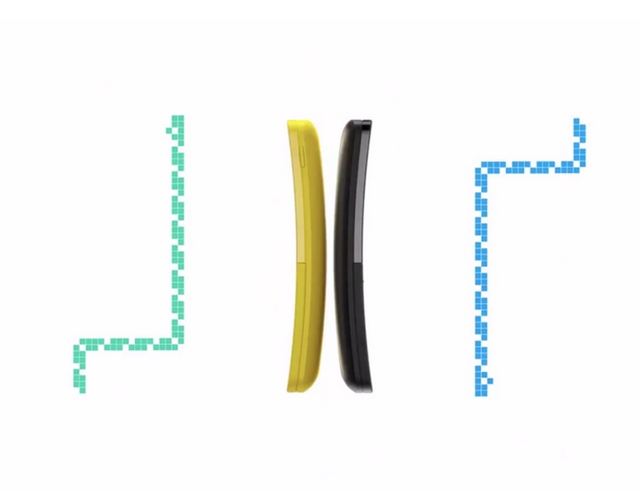 Yes, we're still sticking to the design, but can you really blame us? Frankly, we're sure the 8110 4G will become a conversation piece like a very few other gadgets can. Use one at a party or in public, and we'd bet everything on your friends going "woah, that's so cool" in unison. But the curved 'banana' body has another nifty benefit for the social butterfly – who needs a bottle when you can spin this around to play the popular truth-or-dare game? And yes, it comes not just in a sophisticated, professional-looking black finish, but also a fun, bright, and lively yellow finish as well (we're just afraid that if you get the yellow, you'll spend every party just asking for your phone back from your admiring friends).
Battery life like nothing else
The biggest peeve most people have about their smartphones – the horrendous battery life most devices offer. That's not the case at all with the Nokia 8110 4G. With up to 9.3 hours of talk-time on VoLTE, up to 48 hours of music playback, and a whopping 25 days of standby life, it'll feel so liberating to be free of the battery-anxiety every other phone forces on you. And it's got a removable battery – boosting usability and making it the ideal device for that Himalayan camping trip you had in mind. Just swap in a spare battery and you could pretty much spend the entire summer away from civilisation.
As rugged as you'd expect a Nokia handset to be
Speaking of camping trips, you'll also want something rugged, right? Well, the 8110 4G is quintessentially a Nokia phone, which means you'll get a solid build quality (always magically blended with a sleek-and-slim design). The new 8110 banana phone features IP52 drip protection and is made of tough polycarbonate.
Packed with smart features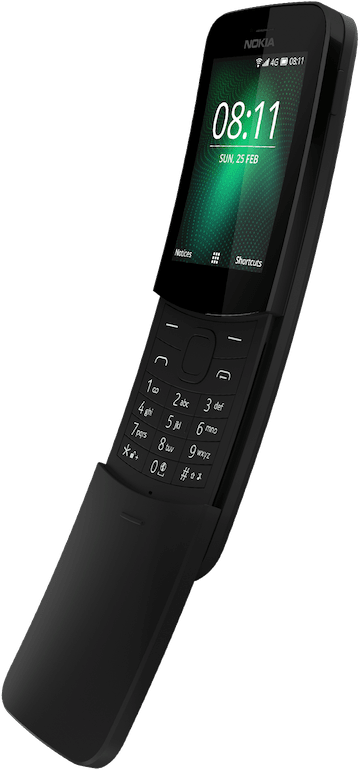 But you also care about the latest smart features, don't you? You're in luck, as the Nokia 8110 4G banana phone supports 4G LTE, has a Qualcomm 205 Mobile Platform, a 2.4-inch colour display. Above all, the phone ships with KaiOS, a revolutionary new OS that blends smart features with stellar battery life and slick performance. YouTube? WhatsApp? Facebook? Google Assistant? Google Maps? You'll find all your favourite (read: essential) apps on the KaiStore.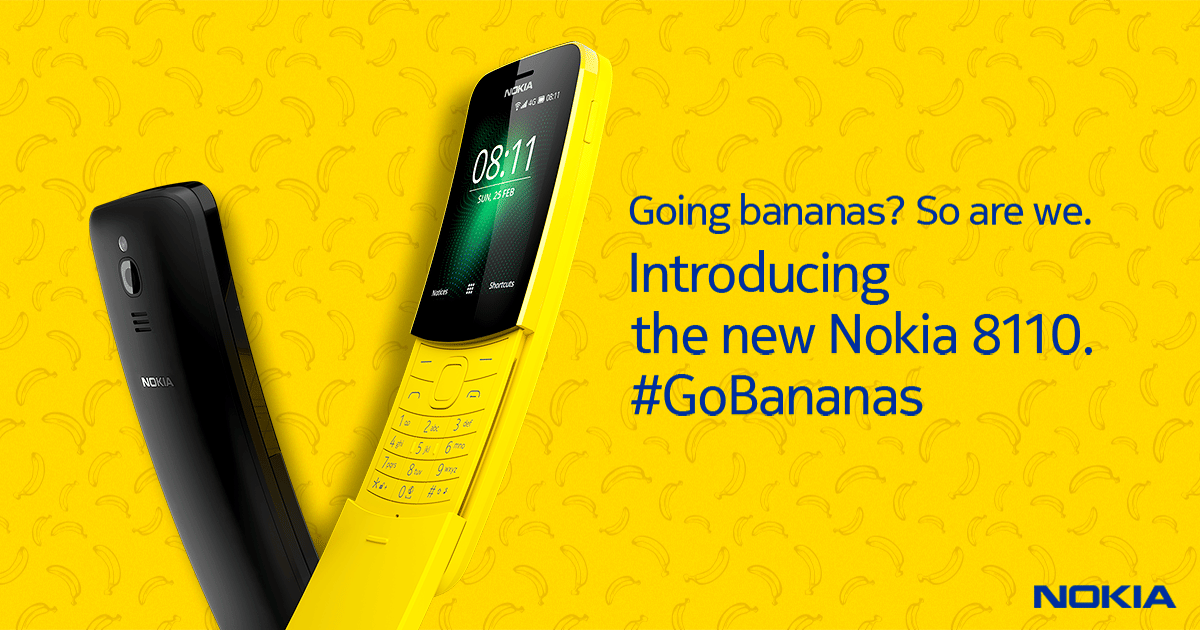 A slick, eye-catching design, 4G LTE connectivity, and all your essential modern-day apps? We bet the 8110 4G will become the ultimate fashion accessory this festive season. So what are you waiting for? The Nokia 8110 4G is available to buy for Rs 5,999.