"Renders of the upcoming Nokia 9 PureView smartphone have revealed the penta-camera setup on the rear"
The Nokia 9 PureView smartphone from HMD Global is expected to be announced on February 24th. Last week, the phone was listed on FCC and revealed that there would be three variants to choose from. We had exclusively leaked the Nokia 9 renders as well, which showed the design and the penta-camera setup at the back. Now, the phone has appeared on Geekbench and has confirmed some of the rumoured specifications.
The device was reported to be powered by the Snapdragon 845 chipset and come with 6GB of RAM. According to the Geekbench listing, the phone does feature the SD 845 processor and runs 6GB RAM, along with Android 9.0 Pie on board. We are not sure why HMD Global stuck to last years processor when it could have used the newer Snapdragon 855 chipset. The benchmark scores are similar to other SD 845 powered smartphones, which is good.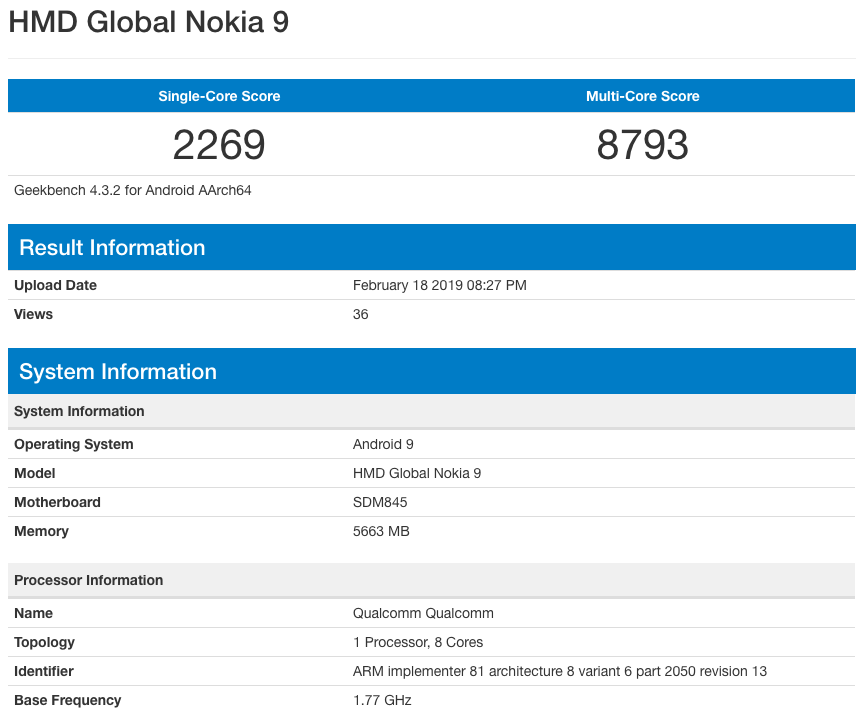 That is pretty much all the details that have been revealed and confirmed by this Geekbench listing. Nokia will be demoing this phone during Mobile World Congress 2019, so we will get a better look at it then. Apart from those specifications, the Nokia 9 PureView is said to come with a 5.99-inch QHD+ display without any notch and an in-display fingerprint scanner. It is also said to feature 18W fast charging and wireless charging.
The most important feature, however, is the penta-camera setup that can apparently take a 64-megapixel high-resolution shot. This would be done by combining photos taken from all five cameras. The reports state that there would two 12-megapixel sensors, two 16-megapixel sensors, and one 8-megapixel sensor. It would use proprietary algorithms by Light to provide the best results possible.
This is Nokia's second PureView branded smartphone and if the rumours and reports turn out to be true, it'll be a beast when it comes to photography. HMD Global will be live-streaming the entire event, which means that you can all tune in and watch as the phone is unveiled. Once again, the Nokia 9 PureView is expected to launch on February 24th at an event held in Barcelona.