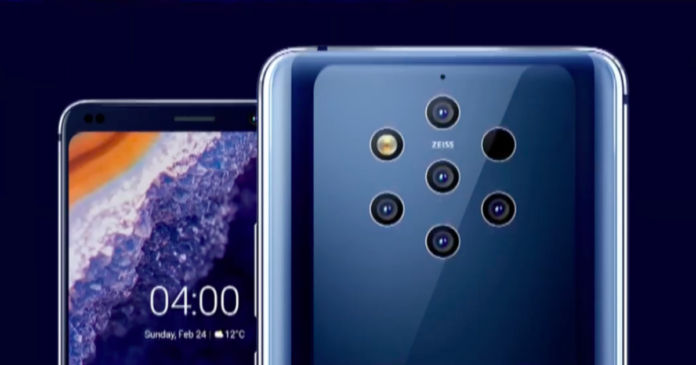 "The 'day one' update for the Nokia 9 PureView brings the latest security patch, interface improvements and a software-based face unlock feature."
The Nokia 9 PureView went on sale earlier today in USA, and on the very first day of it going up on sale, the smartphone has received its very first software update. The OTA update rollout was confirmed by HMD Global CEO, Juho Sarvikas on Twitter, and has been subsequently validated by users on Twitter, who shared screenshots of the update on the microblogging platform.
From what we know so far, the update brings with itself a more stable version of the firmware, along with "interface enhancements" that reportedly include an improved camera app, as well as a software-based facial unlock for the Nokia 9 PureView. The TrulySecure facial unlock feature is similar to Android's software-based facial unlock feature that has been around for some time, and does not use specialised hardware to present a more secure option.
Update now available! pic.twitter.com/EG6BIH9D3X

— Giovaηi 🎛 (@giodelgado) March 4, 2019
Furthermore, the software update is 282.2MB in size, and update the Android 9.0 Pie firmware to version 4.19A. In its changelog, the update explicitly mentions that it includes Google's March security patch. However, Twitter user Giovani Delgado stated that his update to the Nokia 9 PureView only received the February security patch, which comes to be a bit surprising. It remains to be seen if the security patch version was mistakenly updated as March on the changelog, which is possibly the issue here.
The Nokia 9 PureView has come years after the initial Nokia 808 PureView — an uber-ambitious attempt by Nokia before it went under the radar for a while. Ever since its HMD-led resurgence, the Nokia brand has been focusing on understated functionality and simplicity, and in case of the Nokia 9 PureView, more cameras than what you ever thought your phone would come with.
However, regular and fast software updates have also been one of Nokia's primary USPs with its new devices, and with a day one update rolling out to its latest flagship, the company appears on point in keeping its word about frequent updates.