"The Nokia C2 Android Go smartphone offers a quad-core processor clocked at 1.4GHz and a 5-megapixel rear camera"
Nokia has unveiled the Nokia C2, a budget smartphone that runs on Android Go, which is a lightweight version of Android. The Nokia C2 sits right at the very bottom of the smartphone chain, and follows up on the Nokia C1 that was launched at the end of 2019. Unfortunately, the Nokia C1 was not launched in India, which makes it doubtful that the Nokia C2 would come to the Indian market as well. In terms of specifications, the Nokia C2 is configured the way you would expect a budget Android Go smartphone of its stature to be.
Nokia C2 price
HMD Global has not announced the Nokia C2 price just yet, but we expect to fall well under Rs 10,000. To recall, the Nokia C1 was launched in December 2019 priced at KES 5,999 (around Rs 4,180). The smartphone was launched in Africa, the Middle East and Asia-Pacific markets, and we expect the Nokia C2 to be available in the same markets as well.

Nokia C2 specifications
The Nokia C2 is reportedly powered by a quad-core 'Unisoc' chipset clocked at 1.4GHz. This is paired with 1GB of RAM and 16GB native internal storage, which can be expanded by microSD cards by up to 64GB. Up front, the Nokia C2 features a 5.7-inch display featuring HD+ resolution and 18:9 aspect ratio. Being at the absolute budget end of the smartphone industry, the Nokia C2 looks like a smartphone from the yesteryears, featuring thick bezels all around and a no-notch design. The thick band at the top also houses a 5-megapixel front camera, while to the rear too is a 5-megapixel camera.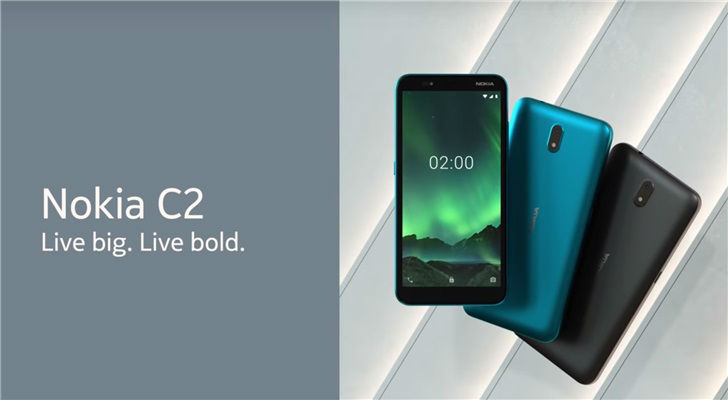 The device is powered by a 2,800mAh battery, without any fast charging specification. The Nokia C2 is one of the very few new phones launched without any biometric authentication on board, but does come with a physical key dedicated to accessing the Google Assistant. The Nokia C2, as specified, runs on Android 9 Pie Go Edition. The stripped down Android version comes with preloaded Google Go apps like Maps Go, Gmail Go, YouTube Go and so on that are lightweight and offer minimal functionality.
The Nokia C2 features a 3.5mm audio port, 4G connectivity and single-band Wi-Fi connectivity. It also comes with Bluetooth 4.2, and uses microUSB port for charging. Thankfully, the Nokia C2 comes with dual SIM connectivity, and measures 8.85mm in thickness.