"Nokia's very first Android device, the X is finally in our hands. Here's what the retail pack offers"
We saw the
leaks
. We saw it being
made official
. We
played with it
and
tried out the UI
when it was
unveiled in India
. Today, we finally hold the
Nokia X
retail pack in our hands. Let's tear it open and get a first-hand look at what Nokia includes inside. First up, the pack itself is quite tiny, fashioned out of recyclable blue cardboard and toting a familiar design, complete with a slide-out box that holds the goodies. We did slide it out, and were greeted by the Nokia X smartphone (we opted for the one in bright green, but you can also get hold of the device in red or yellow, apart from the usual black or white).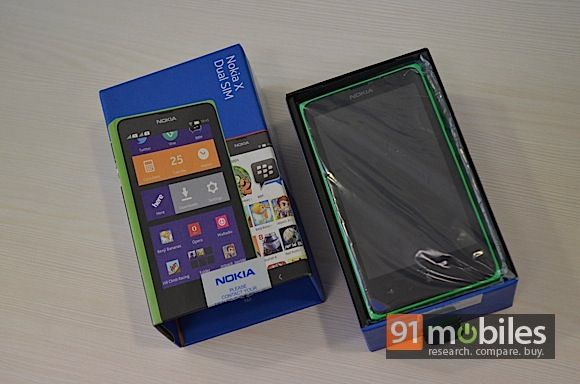 Delving deeper into the box, we came across an anorexic user guide with details on how to open the device, insert SIM cards and a microSD card, and how to get started with calling and messaging, along with safety and regulatory info.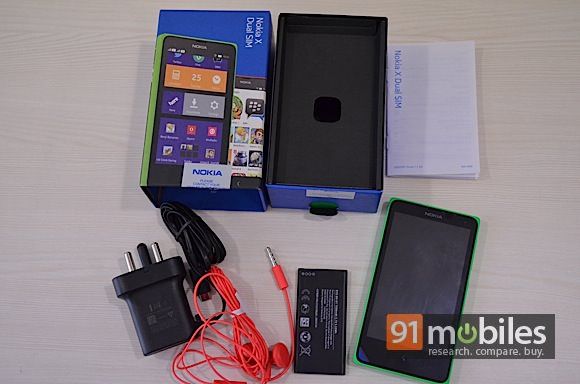 Next, a brightly-coloured headset, toting a hue somewhere between orange and pink popped out. Clearly, Nokia wants you to stand out in the crowd – a bright green phone used in conjunction with a vivid orange / pink headset is going to look, oh so… er, divine. A three-pin AC-20N Nokia charger is also included. This charger sports a fixed cable and outputs 750mAh. Tucked away on the side, a slim 1,500mAh battery is included. The Nokia X seems to have pulled a Moto G here, since there's no sign of a microUSB cable that you can use for transferring data – you'll just need to buy one separately.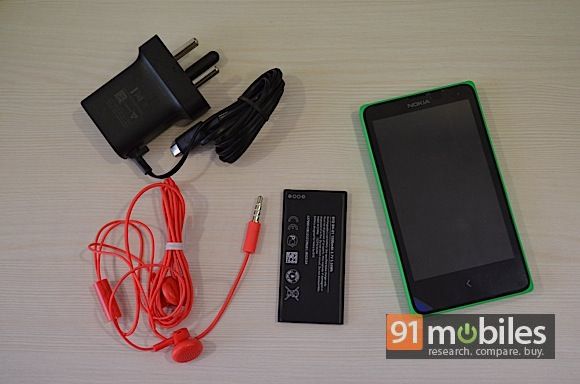 We'll have more on the Nokia X shortly, watch this space for more!