"The nubia Alpha is a unique take on foldable form factors. We go hands on"
Last year at IFA, nubia got everyone's attention by showcasing a phone that can be folded into a watch. Dubbed Alpha (in pictures), the device was a prototype and we weren't even allowed to touch it. Fast forward to MWC 2019, and the Chinese company has proved that the nubia Alpha wasn't just a concept. I managed to go hands on (wrists on?) with the wearable smartphone, and here's how I'll document my experience.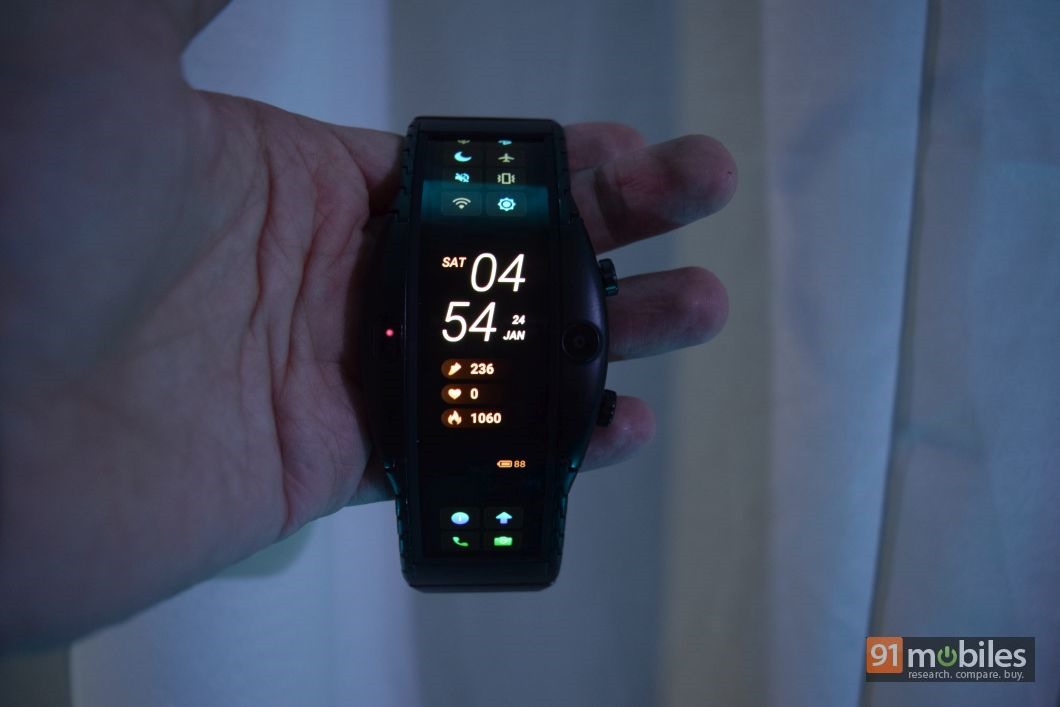 With so many brands looking at foldable form factors, it's evident that the smartphone industry has finally come to a point where components like displays and batteries can actually be used in a flexible form, and consumers are also clamouring for more. To that end, nubia's implementation is wildly different than what Samsung and Huawei have introduced. Instead of a smartphone unfolding to become a tablet-sized device, the nubia Alpha is a phone that can be worn on one's wrist.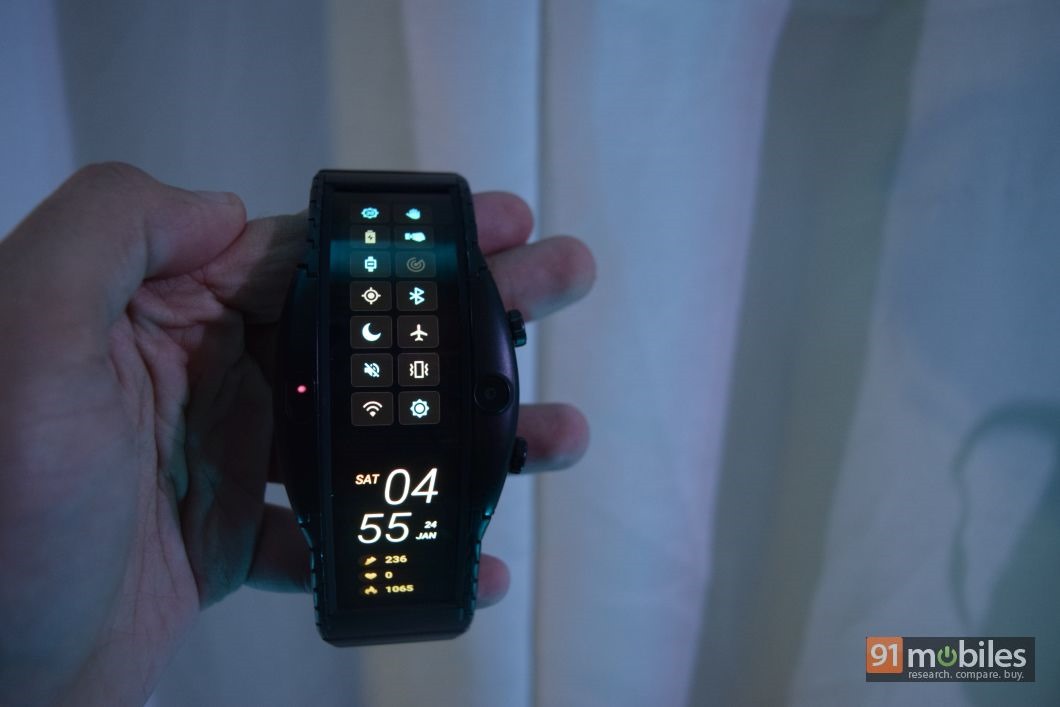 Before we talk about specs, how does it feel to wear the nubia Alpha? To be honest, it does seem like an evolved version of a smartwatch. It doesn't feel too heavy and looks quite good too – especially if you opt for the higher-priced 18K gold option. The only difference is that the Alpha has an elongated display, which wraps around both the sides of the wrist. Worth noting that the entire display isn't foldable as only the parts that are elongated from either side are flexible. During my use, both the device and display came across as quite solid (thanks to stainless steel build) that should be able to handle accidental drops.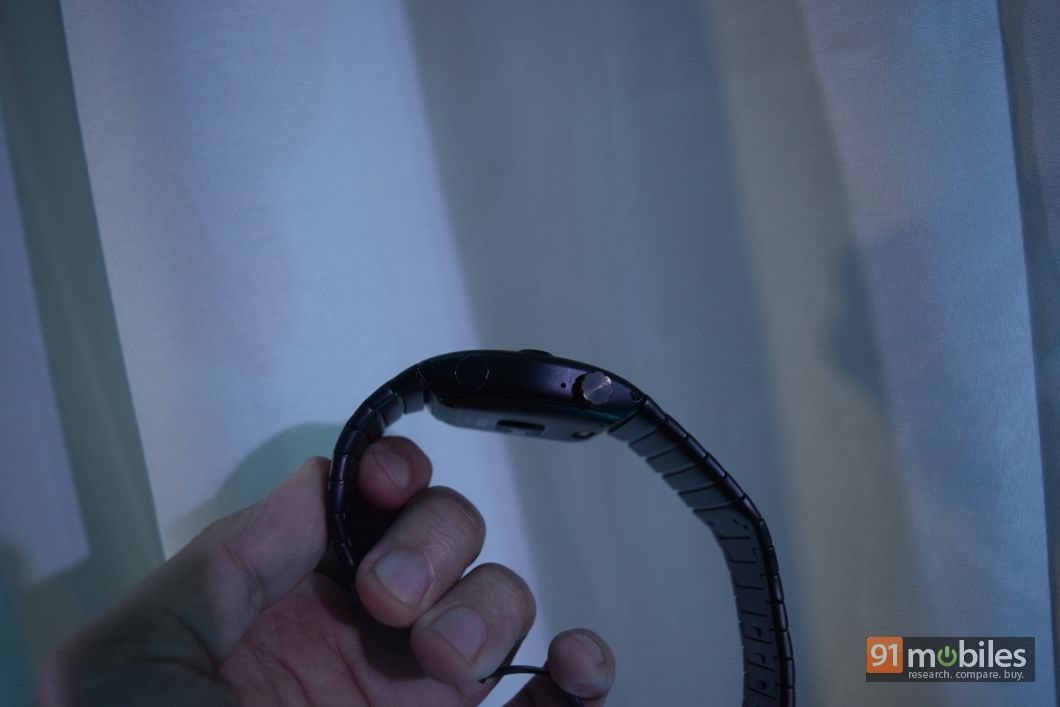 Other design elements include clasp-based lock system, which ensures that the wearable stays fixed on your wrist. Towards the right, you'll find two buttons, one for accessing the home screen and the other to go back. The device is also water-resistant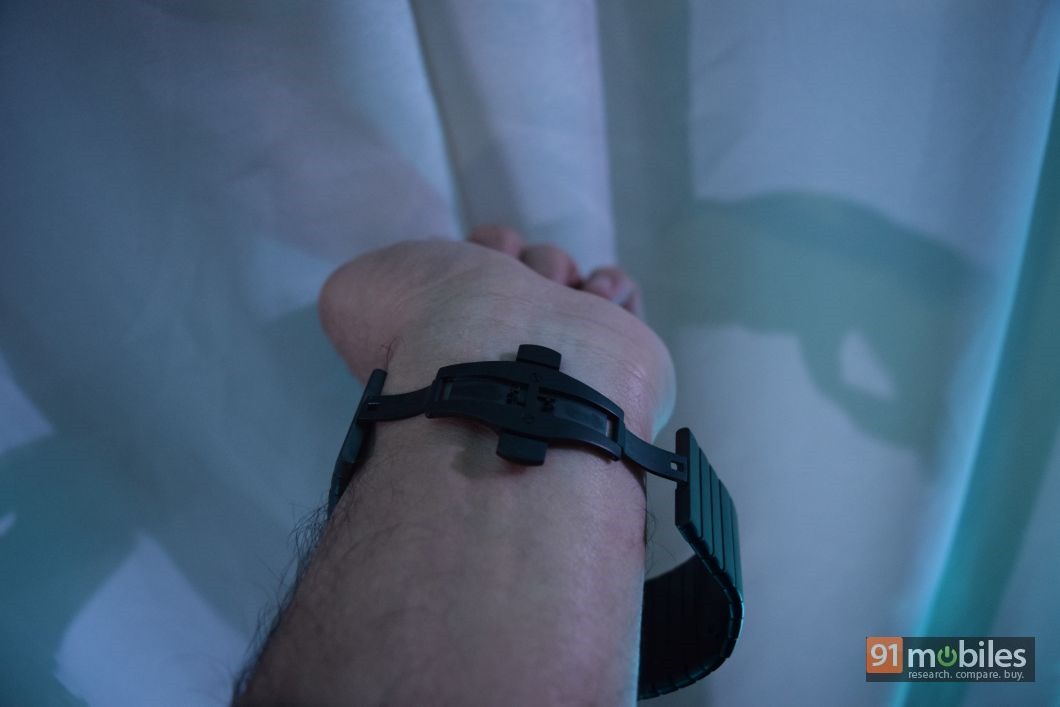 Specs-wise, the nubia Alpha features a 4.01-inch display. The screen looks pretty good with impressive colours and sharpness levels. the brightness levels also seemed to be adequate enough, although I'm not sure how legible it would be under direct sunlight. The always-on display also lets you show any message you want on the screen.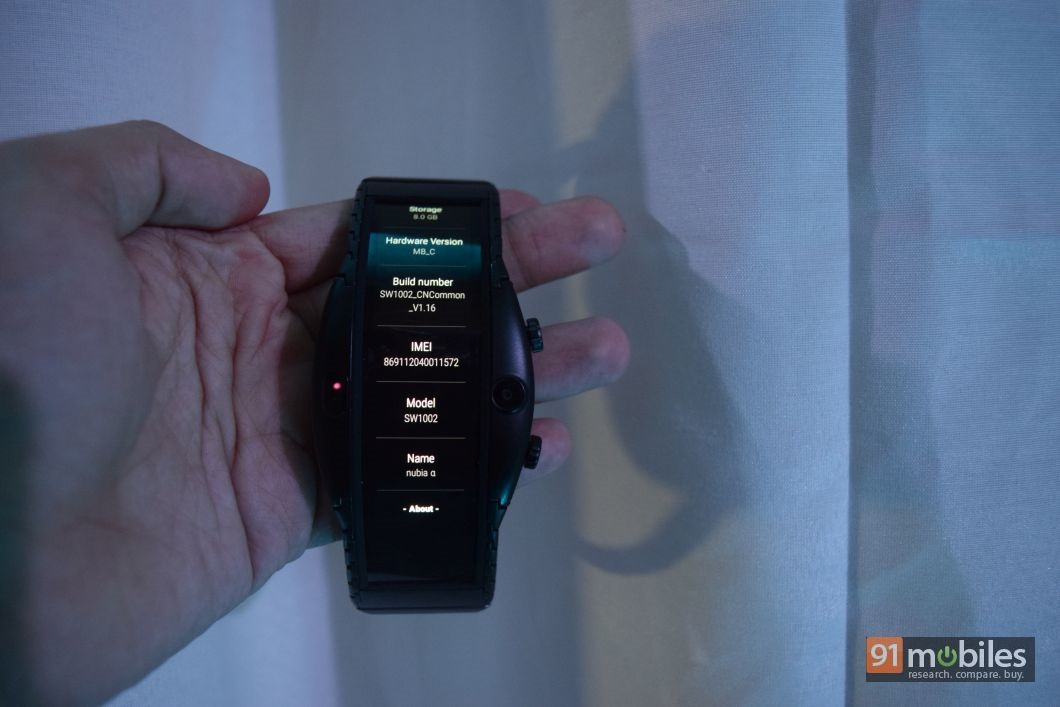 Under the hood, the wearable comes powered by Qualcomm's last-gen Snapdragon 2100 platform. Giving it the company is 1GB of RAM, which should be able to offer decent multitasking ability. While the Snapdragon 3100 is already out, the device was able to hold up well during my time with it. There wasn't more than a split-second lag in opening apps or navigating screens. For storage, the nubia Alpha gets 8GB of memory onboard.
The Alpha also gets a 5-megapixel f/2.2 shooter. However, it's placed around the display, on the right side, which requires you to change the position of your hand to get a decent enough shot. Honestly though, it's not worth the effort as the image itself isn't all that great.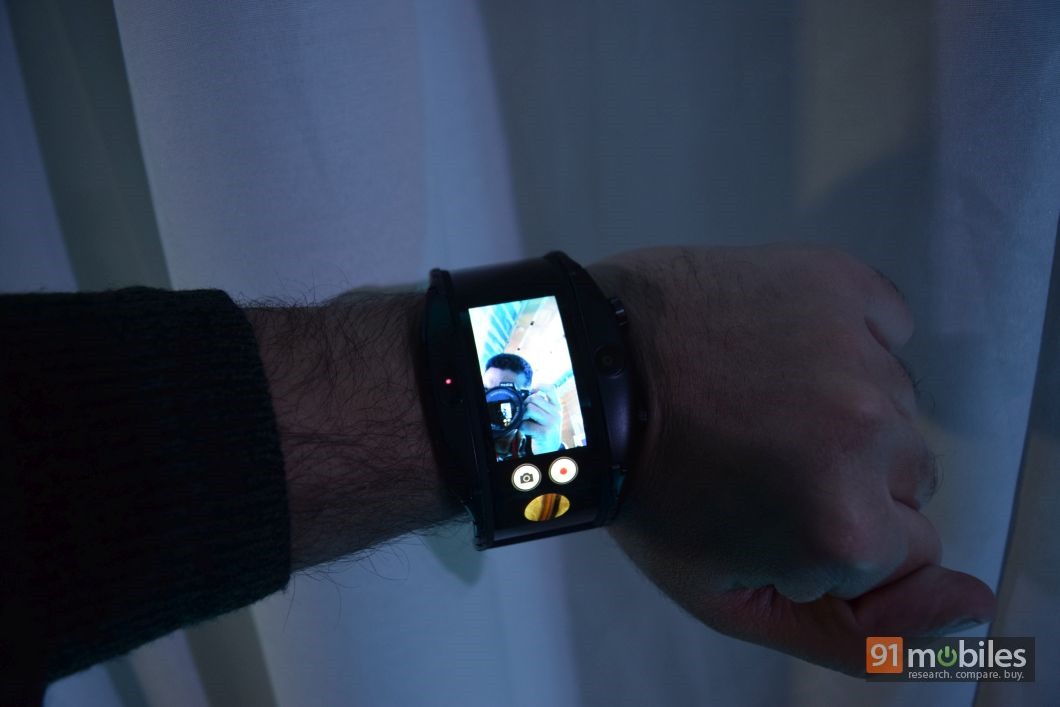 So what has nubia done to make the experience of using the Alpha better? For starters, the brand is using a heavily customised version of Android, aptly dubbed Alpha OS. Sadly however, it's based on archaic Android 7.1 Nougat. That said, the UI seems to make use of the small-ish display quite well. All the icons are laid out nicely, and the home screen also has quick settings (up top), time and notifications and recently-opened apps (towards the bottom).
That's not it, the device supports palm gestures as well, letting you control the navigation by simply waving your hand. While I've usually considered is gimmicky, be it on the yesteryear's Galaxy S4 or recently-launched LG G8 ThinQ (first impressions), on the nubia Alpha, it seems more natural, perhaps because of its form factor? And thanks to the IR sensor, the device responds well to gestures.
While the nubia Alpha is meant to be a companion device, it can also work standalone as it comes with e-SIM support. To connect to the smartphone, it comes with Bluetooth, and there's Wi-Fi capability as well. The wearable sips juice from a 500mAh battery, which as per the company, can last up to two days, though I've serious doubts about that claim. You can charge the device with a magnetic dock.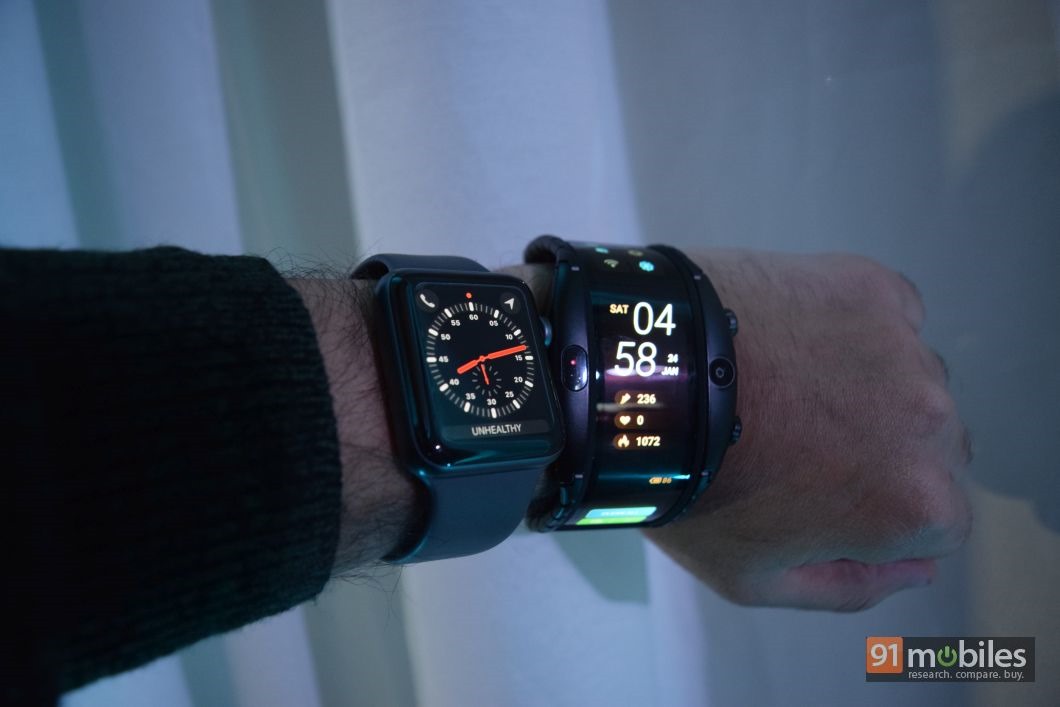 There are two ways to look at the nubia Alpha. The sceptic in me wonders why would anyone pay €449 (~Rs 36,000) for its base model to get a company device that can just do what my smartphone is already capable of doing. The tech enthusiast in me on the other hand, is excited about the possibilities such a form factor can unlock in the future. Maybe it can serve as a stepping stone towards the holy grail of one device to do it all? Only time will tell… The nubia Alpha is also expected to be launched in India sooner than later, and you can be sure that we'll be putting it through its paces to tell you all about it.