Highlights
An Ola S1 Pro user from Assam met with an accident on March 26
The victim's father blamed the Ola S1 Pro's regenerative braking system, saying it malfunctioned and accelerated instead
Ola Electric has denied any faults and blamed the accident on overspeeding
An Ola S1 Pro electric scooter owner from Guwahati, Assam, alleged on Twitter that his son suffered an accident due to a fault in the regenerative braking system of the scooter. According to Balwant Singh, the father of the victim, the accident took place on March 26th and led to serious injuries to his son. Meanwhile, Ola has taken out its own report of the incident and claimed the accident occurred due to the rider losing control of the vehicle after overspeeding.
Assam boy meets with an accident on Ola S1 Pro
]According to the victim's father, Balwant Singh, who narrated the incident via a string of tweets, the Ola S1 Pro failed to slow down when regenerative braking was engaged on a speed breaker. Instead of slowing down, Singh claims the scooter accelerated due to a glitch, eventually resulting in an accident. The victim encountered multiple fractures and stitches and was reportedly flown from Guwahati to Mumbai to undergo further treatment.
Ola Electric denies fault, says driver was speeding
Ola Electric, in a response on April 21st, tweeted that thorough investigations had revealed there were no problems with the Ola S1 Pro in question, and asked the rider to ride safely. They further said they would deliver the scooter back to the customer, which they had taken in their custody for analysis.
However, in a detailed statement on April 22nd, Ola has said the rider braked in panic, losing control of the vehicle, after "overspeeding throughout the night." Ola Electric has furnished the datasheet that was recorded by the onboard sensors on the vehicle. The detailed graphs show that the vehicle was in Hyper Mode for extensive periods of time and was ridden at high speeds of 115kmph. Moments before the accident, the scooter was at a speed of 80kmph and all three brakes were engaged that brought the scooter to 0kmph within 3 seconds. Ola estimates that this braking procedure was undertaken to avoid an obstacle on the road, which is likely to be the speed breaker, and that is when the rider lost control of the vehicle. Ola also mentions specifically that no sudden torque or acceleration was detected during the same time.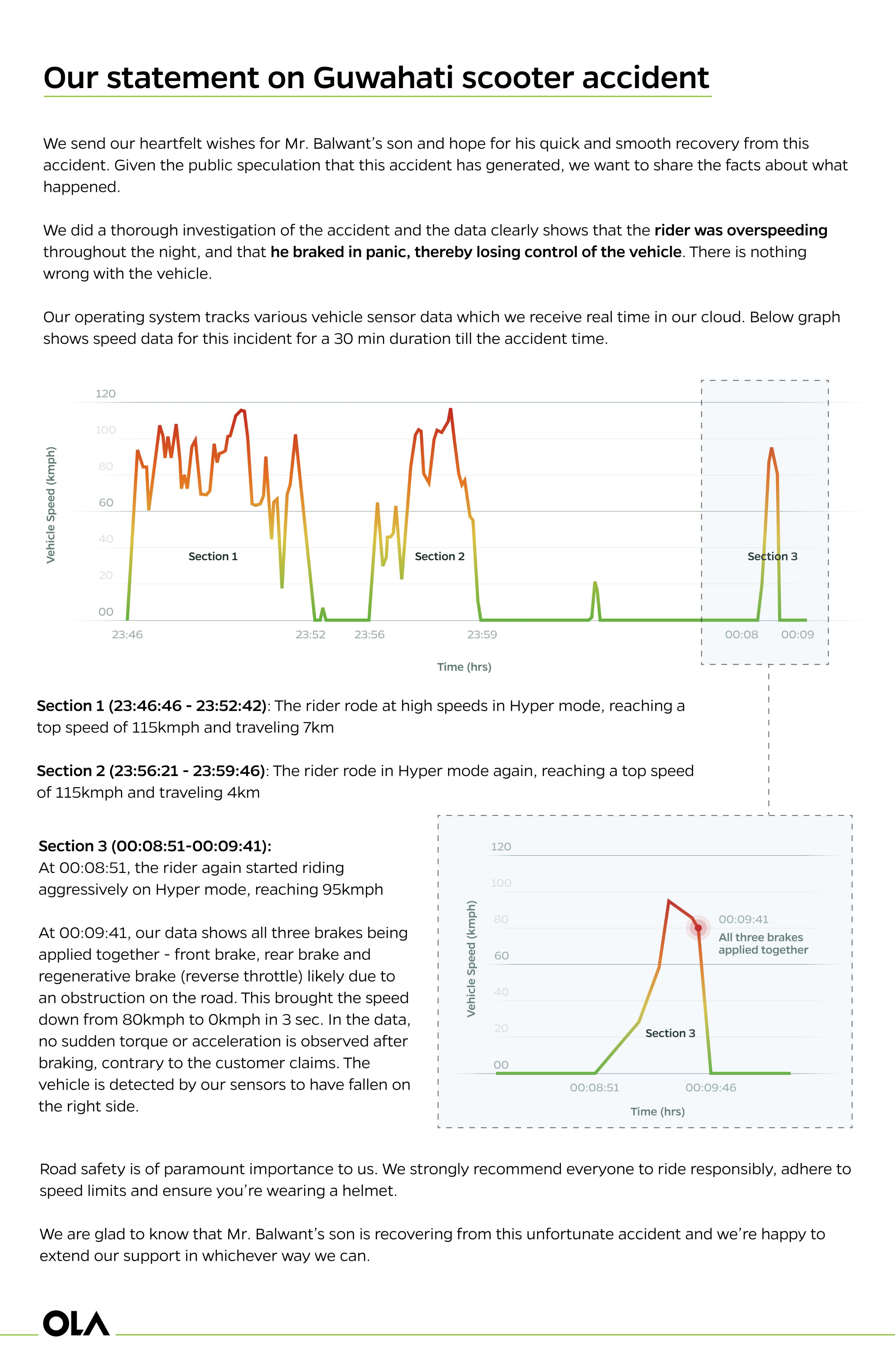 Ola concluded the report by extending support to the victim's family and promoting road safety practices such as wearing a helmet while riding. Meanwhile, in a response, Balwant Singh has dismissed Ola's clarification and blamed the company for "character assassination."