Highlights
OnePlus 33W fast charger has been spotted in the TUV Rheinland certification
It suggests the company may be working on a OnePlus phone with 33W fast charging support
This phone may launch as part of the OnePlus Nord series
OnePlus 33W fast charger has received the TUV Rheinland certification, which seems to suggest that there might be an upcoming smartphone that supports this charging solution. To recall, OnePlus has launched several phones that support up to 30W fast charging in the past, but none that support 33W charging, though the difference between the two is not all that much. We know that OnePlus is working on a few mid-range smartphones that are expected to launch in 2021, including the OnePlus Nord SE and possibly the OnePlus 9E. It's possible one of these upcoming phones could support the 33W fast charger that was spotted on TUV Rheinland this week by MySmartPrice.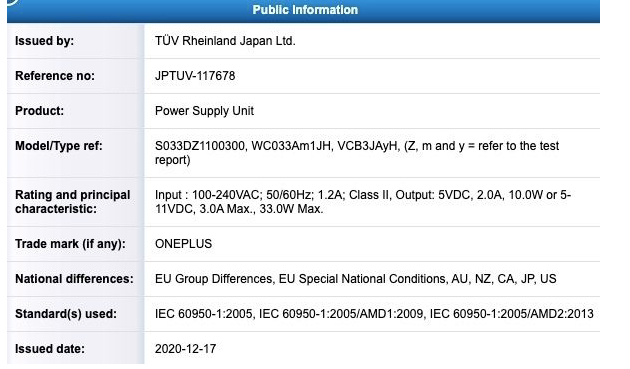 The TUV Rheinland certification reveals a OnePlus power supply unit with a maximum output of 33W (11VDC, 3.0A), which is unlike any other OnePlus charger so far. There is no word yet on what upcoming OnePlus phone will support 33W fast charging, but it is being speculated that it could be part of the OnePlus Nord series. The company's flagship line has now been upgraded to the new 65W fast charging solution, so it seems unlikely that the OnePlus 9 series will launch with 33W fast charging.
As of now, the TUV Rheinland certification is our only indication that there may be a OnePlus phone with 33W fast charging support in the works. We may hear more about this device in the weeks to come. Last month, OnePlus Nord SE specifications leaked out, which revealed the phone will come with 65W fast charging and not 33W charging. The phone is also rumoured to come with a 4,500mAh battery and an AMOLED display.