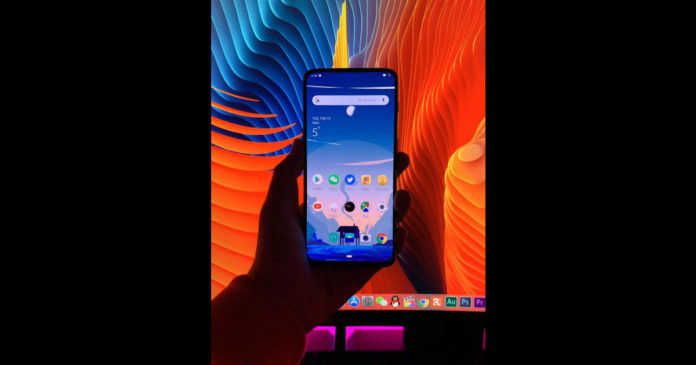 "The OnePlus 7 is steadily nearing launch, and has seemingly passed its engineering and design validation tests, going by the recent live images."
Yet another live image of a device purported to be the upcoming OnePlus 7 has been leaked. The image has been taken with a high contrast background, so there isn't a lot to go on. It this indeed turns out to be true, the OnePlus 7 seems slated to do away with the notch that typically houses front camera units and sensors in most smartphones. This suggests that the OnePlus 7 may come with a slider mechanism, as has been touted in a previous live image shared by the same Twitter user.
Alternatively, the OnePlus 7 may also come with a pop-out mechanism for the front camera, and include alternate arrangements such as embedded sensors and conduction speakers for earpiece and other elements. The image shared here also appears to show a smartphone with thin and relatively uniform bezels all around, with its chin being only slightly thicker than the rest of the device. The OnePlus 7 is almost certain to not use the hole-in-display format for the front-facing camera, and it remains to be seen if using a pop-out or slider mechanism would effectively hamper the ability for the company to waterproof its phone.
How about this?#oneplus7 #oneplus pic.twitter.com/YHrhqDdPRC— 不想昵称也叫小胖 (@Steven_Sbw) February 19, 2019
Furthermore, OnePlus is also said to be working on a second smartphone alongside the OnePlus 7, which it will seemingly show to an exclusive lineup of invitees from the technology and journalism fraternities at the upcoming Mobile World Congress extravaganza. This said smartphone has been affirmed to be a 5G-enabled smartphone, with support for one of the mmWave/sub-6 5G spectra. It has also been confirmed to not be a variant of the OnePlus 7, which appears to be a similar route that Xiaomi had taken when it had launched the first Mi MIX smartphone.
No further details have so far been made available with the latest tweet. The OnePlus 7 is certain to run on the Qualcomm Snapdragon 855 SoC, and is touted to feature a hefty, 4,150mAh battery pack as well. It is believed that the OnePlus 7 will be a non-5G device, which is understandable seeing how rival Xiaomi also skipped the optional 5G modem with the Mi 9, possibly due to antenna redesign.