"The OnePlus 8 is expected to be launched in the coming months, and bring a host of flagship features to the lineup."
OnePlus 8 is already a popular smartphone, even before it has been launched. Every now and then, a new rumour or leak crops up about the flagship smartphone series, giving us more details about what the lineup might bring to the table. The latest of these is a Geekbench benchmark entry, which reportedly belongs to the OnePlus 8. The device on which the test was run is codenamed Galilei IN2025, which is in line with the OnePlus 8 series' codename as per previous reports. After benchmark tests of a device named Galilei IN2023 were linked to the OnePlus 8 Pro, the new entry suggests that the OnePlus 8 Pro will feature the Qualcomm Snapdragon 865 processor, and combine it with 8GB of RAM.
It is likely that this will only be one of the RAM variants of the OnePlus 8, which itself is expected to get three variants in total — a mid-range OnePlus 8 Lite, the standard OnePlus 8 and the flagship OnePlus 8 Pro. The benchmark in question does not particularly reveal any other information but does attempt to affirm that the OnePlus 8 will have specifications that are in line with any other flagship smartphones launched through the year. Rumours have so far stated that the OnePlus 8 will feature a 90Hz display, with a punch-hole cut out for the front camera. While OnePlus did unveil and flaunt its new display with 120Hz refresh rate and 240Hz touch latency, the latter is only expected to feature on the OnePlus 8 Pro.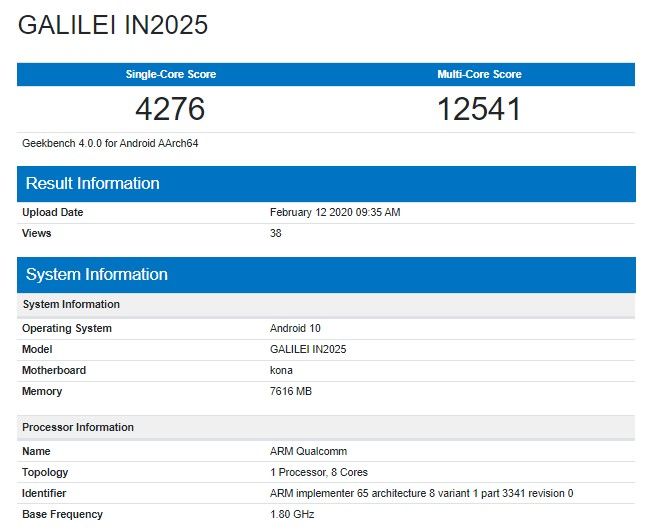 In terms of other features, the OnePlus 8 is expected to come with wireless charging for the first time, while the OnePlus 8 Pro is slated to get up to 50W fast charging. While it is not clear yet, the OnePlus 8 may also get a similar fast-charging standard. In terms of cameras, the OnePlus 8 is said to come with a vertically arranged triple rear camera, doing away with the circular camera module that last year's OnePlus 7T featured. It is not quite clear as to what the OnePlus 8 camera will bring to the table, but given the bar that Samsung has set for its competition this year, it will be interesting to see what OnePlus offers in response.
The OnePlus 8 has also been certified in India, with its launch expected sometime in late March or April. The OnePlus 8 series is also expected to be the first to feature OnePlus phones 5G support, although the same is likely to not launch in India. With more information coming at a increased frequency from the rumour mill, stay tuned for more details as we gradually build-up to the launch of the OnePlus 8 lineup.