Highlights
OnePlus 8T series is expected to launch later this year
OnePlus 8T and 8T Pro are expected to come with incremental updates
There is no launch date yet for the OnePlus 8T series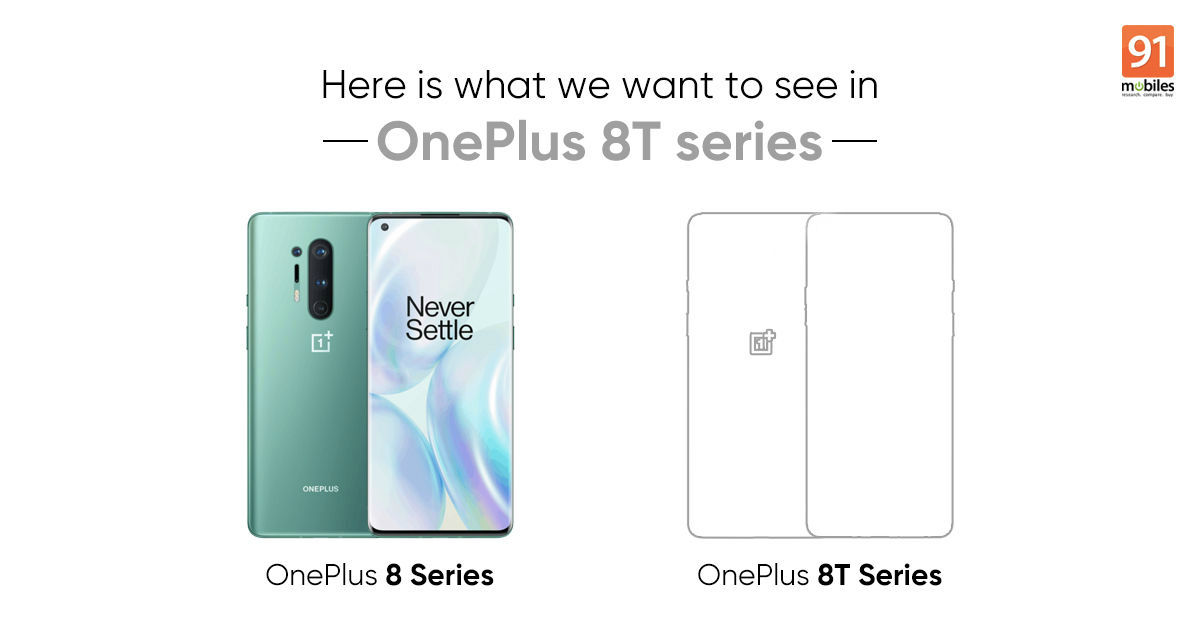 Traditionally, OnePlus launches the 'T' series in the second half of the year, so we're expecting to see the OnePlus 8T and 8T Pro in the next few months. Plans could change depending on how hard the COVID-19 pandemic has hit the company, of course. And with the launch of the affordable OnePlus Nord (review), the company could have changed it's entire launch schedule as well. The OnePlus 8T and 8T Pro, assuming they exist, will be a follow-up to the OnePlus 8 (review) and OnePlus 8 Pro (review) from earlier this year. The phones are expected to come with incremental upgrades, although nothing has been rumoured about them yet. That doesn't stop us from making a wishlist of specifications that we want to see on the OnePlus 8T and 8T Pro.
The list below includes some of the features that we are looking forward to seeing from the OnePlus 8T and 8T Pro smartphones if they ever get launched. Now, the list is not based on any rumours or industry insight, it's just a wishlist. With that in mind, let's begin:
Up to 144Hz display for all
While OnePlus 8T series may maintain the same punch-hole design as OnePlus 8 series, we're hoping to see higher refresh rates to keep up with the competition. We want to see both the OnePlus 8T and OnePlus 8 to come with up to 144Hz refresh rate, much like the ASUS ROG Phone 3 (review). This will also help the handsets take on the upcoming iPhone 12 Pro models, which are said to come with 120Hz refresh rate. The OnePlus 8 and OnePlus 8 Pro, to recall, feature 90Hz and 120Hz refresh rates, respectively.
Snapdragon 865+ SoC
OnePlus 8T series is likely to utilise the latest and most powerful chipset available for flagship phones, which currently is the Qualcomm's Snapdragon 865+ SoC. The chipset is around 10 percent faster than the regular Snapdragon 865 chipset and crosses the 3GHz CPU speed mark. The chipset will likely be paired with a 5G modem, up to 12GB RAM, and 256GB storage onboard on the OnePlus 8T series.
Android 11-based OxygenOS 11
Software-wise, the OnePlus 8T and OnePlus 8T Pro will most likely run the latest Android 11 OS with the company's custom skin OxygenOS 11 atop. The OxygenOS 11 preview is now available, and it offers a redesigned UI that looks inspired by Samsung's One UI. OxygenOS 11 also brings the Always-on Display feature that fans have been asking for.
Better cameras
The OnePlus 8 and 8 Pro have good cameras, but there is room for improvement. In our review of the OnePlus 8, we found that the low light camera performance was iffy at times and not quite at par with what Google and Apple offer. We also found the macro camera to be an unnecessary addition and quite poor in performance. Instead of such gimmicky cameras, we would prefer a lens that is actually useful on the OnePlus 8T series.
Bigger and better battery
To handle refresh rates as high as 144Hz, the OnePlus 8T phones will need to pack larger batteries compared to their predecessors. While the OnePlus 8 phones offer around 4,500mAh battery, the OnePlus 8T series may need to bump it to 5,000mAh or higher to keep up with demanding usage. Just having a large battery, however, doesn't ensure long-lasting battery life. OnePlus will need to improve hardware and software optimisation to ensure full-day battery life.
Faster charging technology
OnePlus 8T series may come with a faster charging solution, or so we hope. The company has so far stuck to its Warp Charge 30T solution while other brands like Vivo, OPPO, and Realme have introduced much higher charging speeds this year. Phones like the OPPO Find X2 Pro and Reno4 Pro offer 65W fast charging support, and we expect to see phones soon offering charging speeds as high as 120W. Hence, we would like to see OnePlus 8T series ditch the 30W charging tech for something better, say at least a 65W solution.
IP rating and wireless charging for OnePlus 8T
OnePlus this year finally introduced IP rating and wireless charging, but only for the high-end OnePlus 8 Pro model, leaving the regular OnePlus 8 without these popular features. We hope to see both these features make it to the OnePlus 8T, in addition to the OnePlus 8T Pro.