Highlights
OnePlus 9 will have a 48MP primary sensor with 12MP output and 6mm focal length
It will sport a 48MP ultra-wide-angle sensor, up from the 16MP lens from the 8T
The OnePlus 9 live image shows the smartphone will have three sensors
Last week, we published OnePlus 9 CAD renders that showed the smartphone will have triple rear cameras on the back. Now, our source is back again, this time with a live image of the OnePlus 9 camera setup as well as the specifications of the three sensors on the back. The live image shared with us by the source shows two large sensors and a smaller one, flanked by a dual-tone LED flash, just like in last week's render. While the new live image doesn't reveal much else about the smartphone's design, we do know the OnePlus 9 will feature a punch-hole on the top-left corner to house the selfie sensor.
Follow us on WhatsApp, Click to Join
OnePlus 9 camera specifications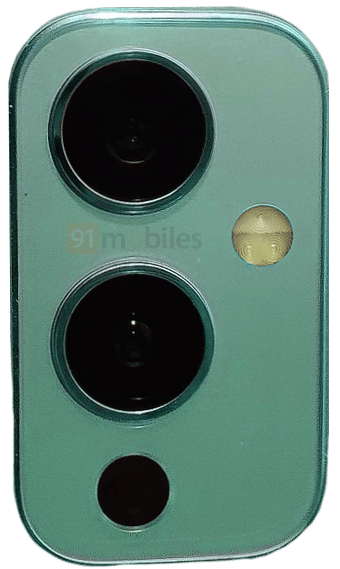 According to the source, the OnePlus 9 camera setup will be headlined by a 48MP primary sensor. This sensor will deliver images of 12MP (4,000 x 3,000 pixels) output and has 6mm focal length; in comparison, the OnePlus 8 Pro and 8T have focal lengths of 6.59mm and 4.74mm, respectively. This primary sensor will not be the Sony IMX 586; it could be the IMX689, but the source isn't really sure of that.
The 48MP primary sensor of the OnePlus 9 will be backed by a 48MP ultra-wide-angle lens. This will be a major upgrade from the 16MP ultra-wide-angle sensor we have on the 8T. There's no information regarding what the third sensor will be, though it could be a monochrome or macro sensor.
Other OnePlus 9 details
OnePlus 9 will sport a display that is bigger than the 6.55-inch panel of the 8T. The screen will feature a 120Hz display despite the reports of a 144Hz panel being introduced in the lineup next year. The smartphone is said to come in model numbers LE2110, LE2117, and LE2119 and launch in March 2021. You can expect the smartphone to feature the Snapdragon 875 SoC, 8GB RAM, as well as 65W fast-charging.
It should be pointed out that Max J, the noted tipster who has a rather great track record with OnePlus leaks, has disputed the render from last week. He said the information he has received regarding the OnePlus 9 design is different from what the render shows. However, our source says the design in the renders is the prototype currently being considered by the company. Of course, things can change at any moment. Nonetheless, take all the information with a pinch of salt since nothing is set in stone.
Update: After this story was published, Max J tweeted that the renders are accurate. The story above remains unchanged other than this addition.