"The new gesture is currently being tested on the HydrogenOS beta version in China"
OnePlus smartphones may soon be receiving a new back gesture that would make navigation a little easier on bigger devices. A OnePlus Forum user discovered the new gesture in a recent HydrogenOS beta. The feature is similar to the new back gesture that has been included in the Android Q beta. Such a gesture has also been present on iOS since the launch of the iPhone X. The new gesture for OnePlus devices is being tested on Android Pie HydrogenOS internal testing build.
HydrogenOS is the equivalent of OxygenOS in China. Since OnePlus cannot ship their devices in China with Google Services, it uses the HydrogenOS instead. This features no Google services and comes with built-in Chinese apps. The skin and UI of this OS are very similar to OxygenOS, so even if you install it on a global OnePlus phone, you will not find a lot of difference. This HydrogenOS beta was meant for the OnePlus 7 Pro (review) and it includes a new gesture called 'Sideswipe'.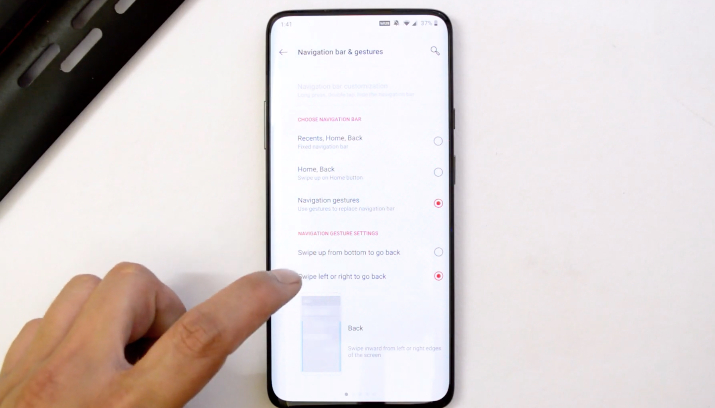 Basically, once this gesture is enabled, you can swipe left or right from the sides of the phone to go back. This is an easier way to go back and will especially be useful for those with small hands. The OnePlus 7 Pro has a large display and is a big phone. With the new gesture, you can simply swipe left from the side to go back. Since OnePlus has added this feature in an Android Pie build, it could mean that the company is planning on bringing it to all Pie compatible OnePlus devices.
It would be a waste to add this feature on Android Q based OxygenOS or HydrogenOS since the OS already has such a gesture. However, adding this feature to Android Pie based OxygenOS means that the OnePlus 3 and 3T can also enjoy this new way of navigating. OnePlus will soon deliver new Pie based OxygenOS beta software for the OnePlus 7 and OnePlus 7 Pro. The new beta will most likely include this feature, as it's already under testing in HydrogenOS.