"The new version also includes a Tripod Long Exposure setting that will allow users to take long exposure shots up to 30 seconds"
Last month, OnePlus seeded the Android Q Developer Preview 3 software for the OnePlus 6, OnePlus 6T, OnePlus 7, and the OnePlus 7 Pro. The update included a new version of the OnePlus Camera app. After doing a little bit of digging, the folks over at XDA developers discovered a few new features that were included in this new version. OnePlus Camera 3.8.1 is the version number of the app in Android Q DP3. The updated camera app brought a new Focus Tracking feature and a Tripod Long Exposure option for Nightscape.
The new features were also available to others who downloaded the Android Q DP3 Camera app. However, not all phones are showing new options. The Tripod Long Exposure setting appears under Nightscape in the Camera Settings. When enabled, the mode allows users to take up to 30 seconds long exposure shots. To do this, the user will have to place the smartphone on a tripod or hold it very steady. You could get some really good low-light shots if you're not too keen on using the Pro mode.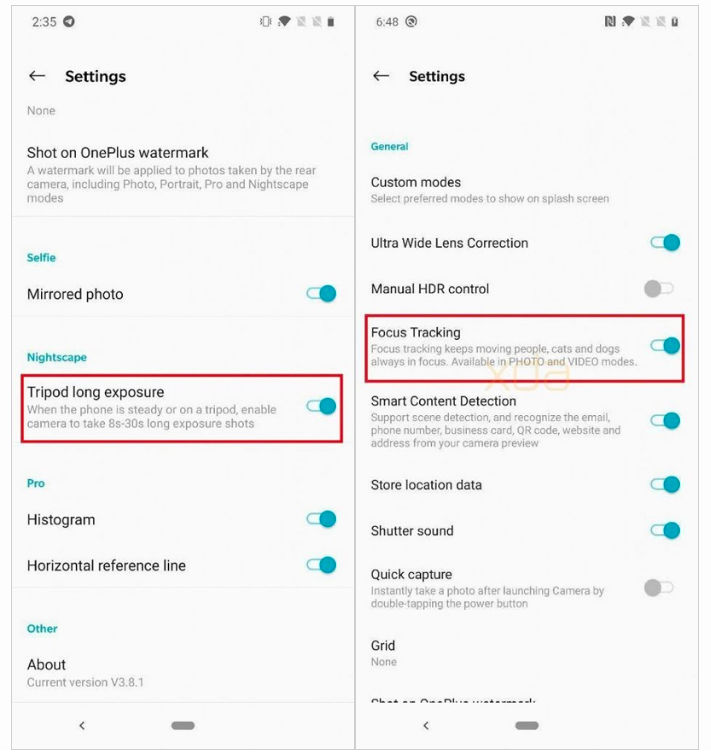 The updated Camera app also features a new option called 'Focus Tracking'. The feature does exactly what it says. When enabled, the camera will continuously track moving objects or subjects that are in focus. This feature will work in photos and videos, which is a good thing. A user managed to enable this feature on a OnePlus 7 Pro running the new Android Q DP3. The new features may not work on all OnePlus devices, but that remains to be seen.
OnePlus may or may not include these features in a new camera update. We will have to wait until the official stable build of Android Q to find out if these features are part of the Camera app. Apart from these features, the Android Q DP3 build also includes other changes such as a Smart Display option for Ambient Display, improvements for the built-in screen recorder, updated Gallery app, and more. If you're interested in trying out the OnePlus Camera 3.8.1 build, head over to the source link.