"For once, there are no prior leaks or information about this upcoming secret event, which hints at something intriguing from OnePlus."
OnePlus has sent out invites for an exclusive, invite-only event, to be held at the upcoming Mobile World Congress. The invite, which reads, "Reimagine the future with OnePlus. Join OnePlus at Ultramarinos where drinks and a taste of the future will be on us. We'll be celebrating MWC 2019 at this exclusive, invite-only event." Exactly what 'taste of the future' refers to remains to be seen, although going by the sound of it, OnePlus is offering more than just a sneak peek at its already-leaked, upcoming smartphone, the OnePlus 7.
Such closed door, invite-only events are certainly not unprecedented, but are fewer in number. They also usually indicate some offbeat project that offers more innovation and user-end excitement, than the mundane device launches. For instance, Samsung took to CES 2019 to provide its vendors and partners with a closed-door preview of its upcoming foldable smartphone, although we had our fair share of leaks, rumours and renders of it. In this case, however, we pretty much have no idea about what OnePlus wants to "reimagine the future" about.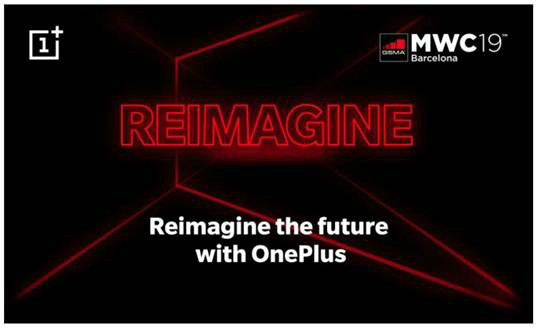 Among known projects, the OnePlus 7 flagship smartphone is the one coming next from the brand. That, however, does not quite sound like reimagining the future — it is highly unlikely that OnePlus will go out of its proven path of flagship smartphones at comparatively affordable prices, at least with its main device. The company is also known to be developing a 5G-enabled smartphone, which is reportedly being made separately from the OnePlus 7. That however, does not quite count as a world-beating idea, either.
At this stage, we don't really have an idea on what exactly OnePlus intends to announce or showcase at the MWC event. There's a chance it could be just a meetup, just like previous years, or if we're lucky, a look at a truly exciting new device.
Either way, we should hear more about it at the closed-door event on February 24th in Barcelona. With the amount of hopes that have suddenly risen around it, we'd be pretty miffed if it ended up being some mundane idea under the guise of clever marketing material.