"The OnePlus One aims to be a flagship killer, thanks to its top-notch specs and affordable price. Here's a first look"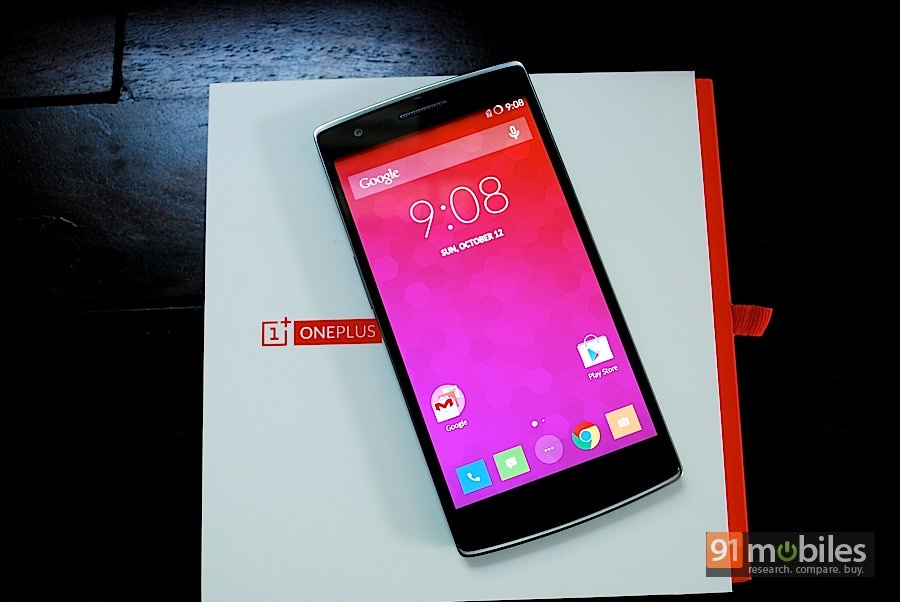 OnePlus, the small start-up from China, has received much interest across the globe thanks to its flagship smartphone, the OnePlus One. On paper, the device looks good, boasting premium specs that you'd expect of any flagship device. But add price to the equation, and it seems even better. At a starting price of $299 (Rs 18,000 approximately) for the 16GB variant, it's very affordable, and the 64GB model at $349 (Rs 21,500 approximately) won't break the bank either.
The company believes in an online-first system to sell its products, but unfortunately, there's a catch. Since there are only limited stocks of the phone, the OnePlus One is available on an invite-only basis, which means you can only purchase the phone if you have a legitimate invite, which isn't easy to come by. Additionally, the handset ships only to select countries currently, and we had to have ours brought over from the US. OnePlus has said that India will be added to the list of countries it will ship to, and according to a recent report, it could be as early as this month.
We'll have our review out for you before then, but to start with, let's unbox the device.
For an affordable smartphone, OnePlus has taken great care with the packaging. The packaging features a minimalist red and white theme, in line with the colours of the brand's logo. Interestingly, the phone ships with not one, but two boxes.
The smaller box contains a red pull-out tray, inside which a two-pin American wall charger (5V/2A) is snugly placed.
The retail box is placed inside a larger cardboard package, for added protection while shipping. There's a flat white retail box inside, which conceals another pull-out box in red. Opening the lid, you'll find the smartphone right on top.
Underneath the tray are two neatly-packaged accessories– a USB cable and a SIM ejector tool. Even here, OnePlus has taken great care with the details. The bright red cable is of the flat variety and features a slim USB connector. The SIM ejector tool comes in a rubberised sheath, which can be attached to a keychain if required.
There are no manuals or warranty information inside the box, and OnePlus has avoided these to be environmentally friendly, which is ironic considering the amount of packaging they've used. The electronic receipt sent to your OnePlus account serves as proof of warranty.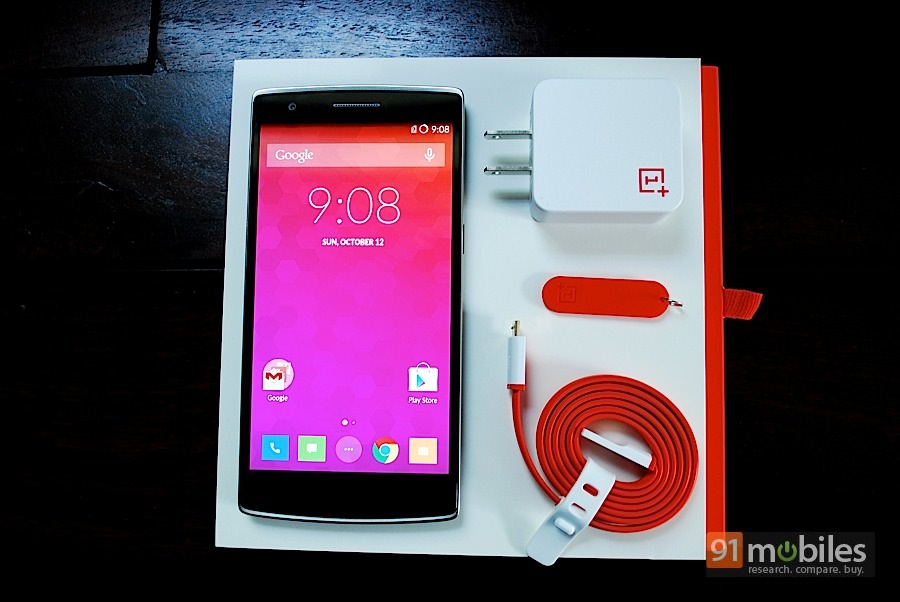 Now that we've spent an unusual amount of time discussing the packaging and box contents, let's move on to the star of the show, shall we?
In case you weren't aware, the OnePlus One runs CyanogenMod, a custom firmware built on top of open source Android. Cyanogen offers access to all Google services, including the Play Store, but adds several customisation options, a theme store and privacy and security features. We'll take you through the basics in a bit, but let's look at the smartphone first.
In terms of core specs, the OnePlus One is as loaded as they come. It features 5.5-inch full HD (401ppi) IPS display, with Corning Gorilla Glass 3 protection. A quad-core Snapdragon 801 chip clocked at 2.5GHz ticks at its core, and works in tandem with an Adreno 330 GPU. In the memory department, the phone gets a generous 3GB of RAM, and either 16 or 64GB of non-expandable internal storage. In charge of photography is a 13MP primary camera with a Sony Exmor IMX 214 sensor and dual-LED flash, capable of recording 4K videos. A 5-megapixel shooter handles selfie and video call duties in the front. The OnePlus One is a single-SIM device, and supports LTE, including India's own band 40. Other connectivity features include dual-band Wi-Fi 802.11ac, Bluetooth 4.0, NFC and GPS with GLONASS.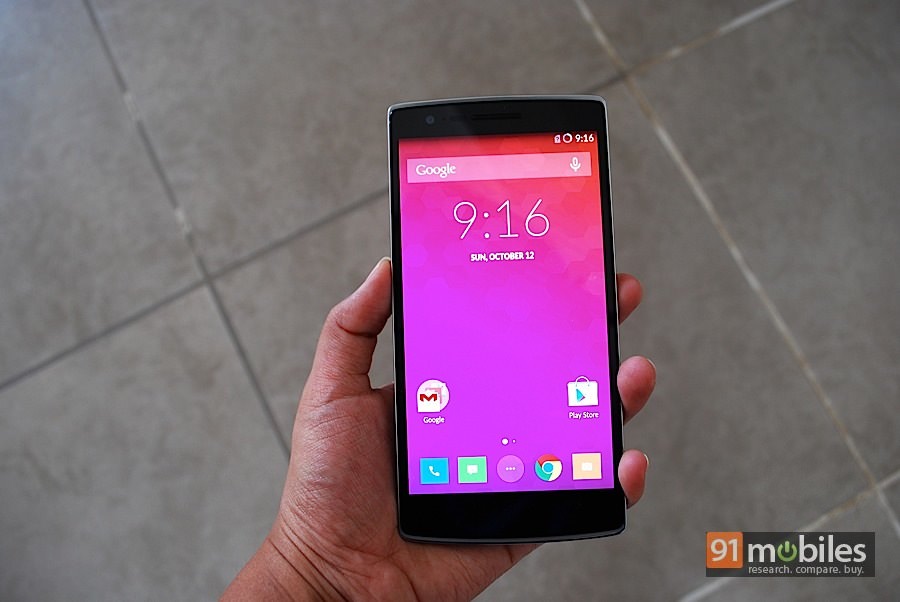 The smartphone's phablet-sized screen makes it difficult to use single-handed, but we've had lots of practice with large-screened smartphones of late, and we're getting used to it now. It feels quite solid to hold, weighing 162g, and measuring 8.9mm around the waist. There's a fair amount of bezel around the display, with the chin featuring a row of backlit capacitive Android buttons. On top, you'll find the earpiece, front camera, sensors and a notification LED. A chrome rim runs around the edges, adding a nice touch to the otherwise all-black front.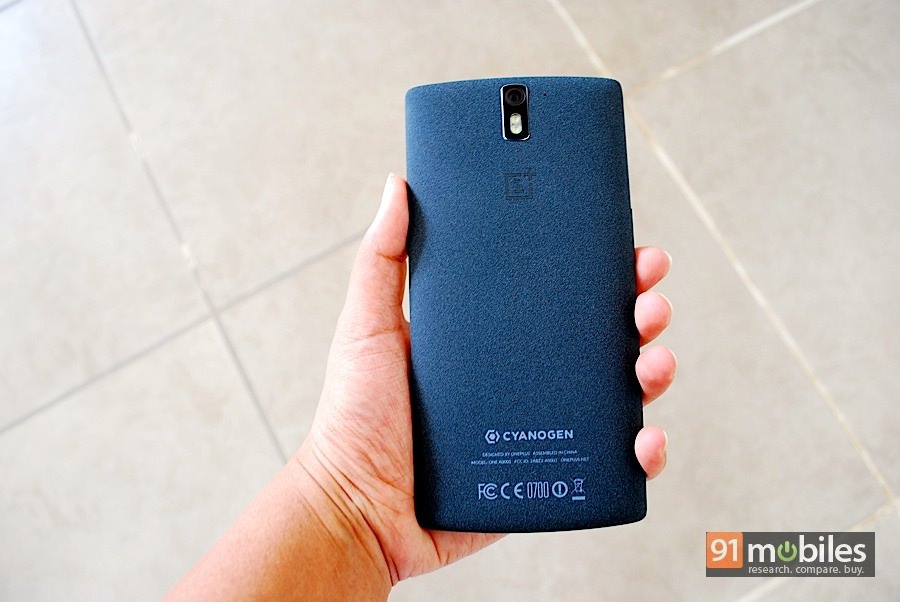 The OPO is available in two models – Silk White and Sandstone Black. We have the latter, and suffice to say, it's quite unique. The back panel features a rough finish that offers a good grip and ensures smudges are virtually non-existent. It doesn't seem like it will scratch easily, but we'll have to use it for a few weeks to comment on that.
The sandstone finish extends to the sides, where you'll find the 3.5mm audio jack and secondary microphone on top, and micro-USB port, stereo speakers and primary microphone at the bottom. The right spine features only a power button, while the left houses the volume rocker, and an almost invisible ejectable SIM card tray. The back panel features the primary camera and dual-LED flash, as well as a third noise-cancelling speaker. OnePlus and Cyanogen branding are also present.
The OnePlus One runs Cyanogen 11S based on Android 4.4.4. The lockscreen displays the date, time, weather and battery life, and can be swiped to the left to quick access the camera. The notification bar displays a few quick settings, as well as a dedicated tab for more controls. There are only two homescreens to begin with, and you can add more later if you wish. The app drawer reveals that there's no bloatware whatsoever, with only Google and system apps in store.
There's a Themes Showcase app from where you can download and install a variety of themes, wallpapers, fonts, icons and more. Screencast lets you record a video of the phone's screen and microphone, while AudioFX is the custom music app which features an equaliser and other audio controls. Out of the 64GB of internal storage, a little over 54GB is available to the user.
Our first impressions of the OnePlus One have left us quite impressed. We like the attention to detail in the packaging, the premium finish on the handset, as well as the clean, minimalist feel of Cyanogen. We're going to be using the device as our daily driver over the next couple of weeks, and we'll have our full review up soon.