It's safe to say that the arrival of the OnePlus One back in 2014 replenished the smartphone space with new ideas. The device and the ones that followed got themselves the rightful slogan of 'flagship killers', thanks to the high-end specifications they offered at an attractive price tag. But the Chinese brand has now evolved by leaps and bounds, and the best example of this is the OnePlus 7 Pro. Still competitively priced, this handset sits comfortably in the premium league, and features a few things even other high-end flagships aren't offering. That already makes us excited for the upcoming OnePlus TV. Considering its launch is just around the corner, the brand has been teasing about it in the past few weeks. What has caught our attention is its design language, which screams premium…
A stylish rear surface
An image shared by the OnePlus CEO, which is quite secretive in nature, shows the rear surface of the TV that's lined with kevlar material. Now that's something we have seen on smartphones, but to offer such a premium construction with a television suggests that the OnePlus TV would be a class apart. But that's not what will catch your eye at first glance. The top surface is connected to what looks like a well-designed handle. Perhaps, it goes down till the bottom to act as a stand. But if you're someone who won't be doing that, the two screws at its top tell us this handle is detachable. Removing this handle will probably prep the TV up for being mounted on the wall. That's yet another innovative approach taken by this premium TV.
A classy remote

A few days ago, OnePlus CEO Pete Lau tweeted out a photograph of the remote that this TV will ship with. Its two-tone colour finish was quick to grab our attention, but there's a lot more to it than just that. The brushed metal finish on this remote definitely lets out a premium vibe, and will make it a pleasure to hold. At the top are the four-way navigational buttons, with a selection button at the centre. The presence of a Google Assistant button confirms that a mic will indeed be present on this Android-powered TV, allowing you to access the brilliance of Google's intelligent platform right on your television.
There's a key with the OnePlus logo that will act as a Home button for the company's tweaked Android TV interface, while a blank button (probably customisable) also sits there among the other keys. What's also interesting is that the volume rocker is placed on the side instead of the face. This is quite a big departure from the traditional placement, and gives the remote a sort of a smartphone aesthetic. Given the thin nature of this remote, there really doesn't seem to be any space for AAA batteries. That's because, OnePlus has made it a rechargeable device, as is indicated by the USB Type-C port present at its bottom.
The company really seems to have put a lot of thinking into its remote alone. This is indicated not just by the innovative directions it has taken, but also through the number of ways in which it chooses to be different from the traditional smart TV remote.
An advanced 4K screen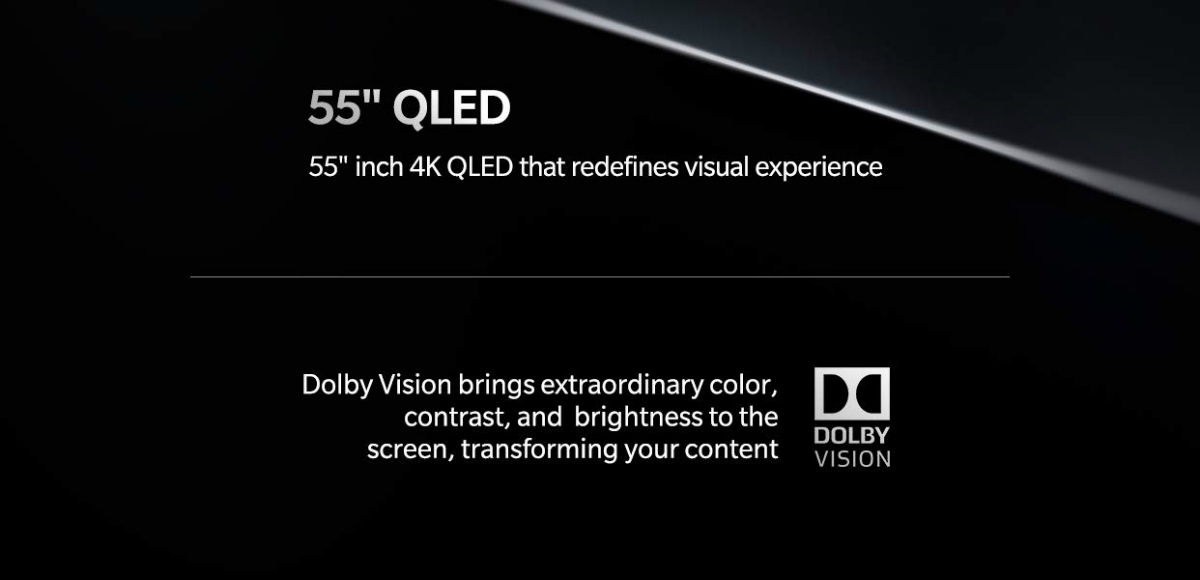 It has been confirmed that the OnePlus TV will ship with a QLED display. An Amazon listing has mentioned a 55-inch size, but there was speculation of other variants as well. So we can at least expect a 55-inch QLED screen with 4K resolution. We also know that Dolby Vision is supported by this panel, which means HDR support is onboard as well. As for sound, this TV is Dolby Atmos-certified, and comes with 8 speakers delivering a total output of 50W.
Even in these days of plentiful smartphone leaks, not much information about the OnePlus TV has seeped out into the open. Which means we have plenty to look forward to at the launch event of the product, which is to take place sometime during the end of September.