"According to Counterpoint's latest data, OnePlus became the first ever premium smartphone brand in India to cross two million units."
OnePlus topped the charts in the premium smartphone category of India, according to data from Counterpoint Research. The category of premium smartphones was defined by Counterpoint as phones priced above Rs 30,000, and according to the market research firm's data from 2019, OnePlus shipments grew 28 percent in comparison to 2018, to account for one-third of all premium phones sold in 2019. Furthermore, it stated that OnePlus became the first premium smartphone brand to ship over 2 million units of their devices in one year, in line with India's premium smartphone market growing by 29 percent in the year.
The second position in the market was captured by Samsung, which, despite a 2 percentage point decline in their shipments in the premium segment, still managed to hold 26 percent of the market. Interestingly, Counterpoint notes that Samsung's ultra-premium segment of devices, in other words phones priced above Rs 45,000, grew by 24 percent year on year. The decline in overall shipments for Samsung was accounted as the impact of devices such as the OPPO Reno series, the ASUS 6Z and Xiaomi's Redmi K20 Pro eating into Samsung's overall market share in this segment.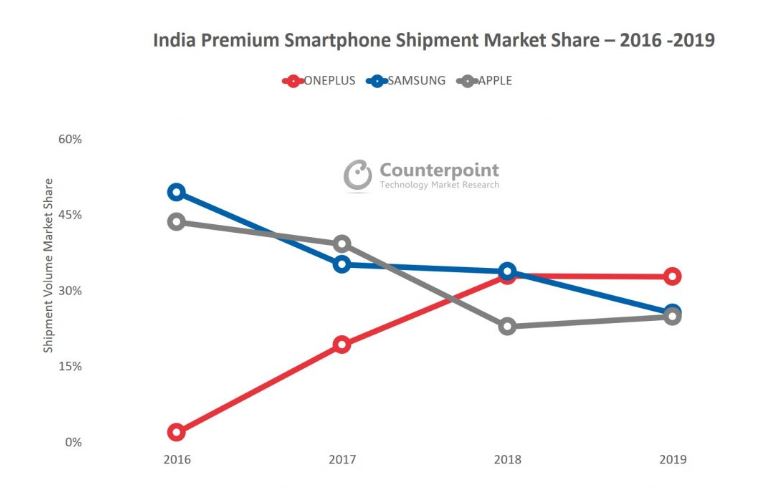 At third place was Apple, which saw a successful year in India to rise up to 25 percent market share. According to OnePlus, this was a clear reflection of multiple price cuts and deals on the Apple iPhone XR, coupled with the fast rollout of the iPhone 11 lineup along with a strong pricing strategy from the brand. In fact, the iPhone XR was noted as the best selling premium smartphone in India in 2019, ahead of Samsung's Galaxy S10 Plus and the OnePlus 7 Pro. Apple seemingly had a strong festive season thanks to the iPhone XR, and Counterpoint expects the company to enjoy an even stronger 2020, hence seeing its market share in the premium segment grow in India.

Why pay in full when you get EMIs with 0% interest?
Buy the latest OnePlus, Samsung, and Apple smartphones now and pay later in flexible EMIs!
No application fee
No down payment required
No pre-closure fee
Noting reasons behind OnePlus' dominant 2019, Karn Chauhan, research analyst at Counterpoint Technology Market Research, states, "OnePlus is continuously listening to users' feedback and bringing industry-first innovations and features. Customer feedback platforms such as the "OnePlus community" have helped the brand gauge the needs of Indian consumers. Examples of innovations include its adoption of high refresh rate (90Hz), almost bezel-less displays and being first to launch smartphones with Qualcomm's Snapdragon 855 Series application processor in India."
Going forward, it will be interesting to see how each of the companies fare in the premium smartphone market in India. OnePlus is expected to unveil three new phones in the coming months with its OnePlus 8 lineup, while Samsung has its Galaxy S20 series, as well as the upcoming foldable phone, the Galaxy Z Flip, to bank upon. Apple, meanwhile, may have a winner in its hands once it launches its iPhone SE 2 (or iPhone 9). Keeping up with the strong pricing strategy, along with price cuts that may be introduced to the iPhone 11 lineup like last year, may help it grow further in the country.