"The app is available as a free download and offers up to 60 minutes of a break from your phone"
Earlier this year, OnePlus introduced a new OxygenOS feature called Zen Mode. This feature was first available with the OnePlus 7 and 7 Pro. It was later released for other OnePlus devices such as the OnePlus 6 and OnePlus 6T. The feature is also available for the OnePlus 5/5T with a recent OxygenOS update. However, the company has now turned Zen Mode into an app and published it on the Google Play Store. Interested folks can download the app for free as long as they have a compatible OnePlus phone.

Zen Mode is similar to Digital Wellbeing on Google Pixel phones but includes a few additional features. The feature allows users to disconnect themselves from their smartphones. Once enabled, Zen Mode will lock apps and stop notifications from that are of least importance. Users will have access to Phone, Camera, and other emergency apps only. OnePlus wants users to enjoy their life and stop over-using their phones. The app will provide a maximum of a 60-minute break at a time.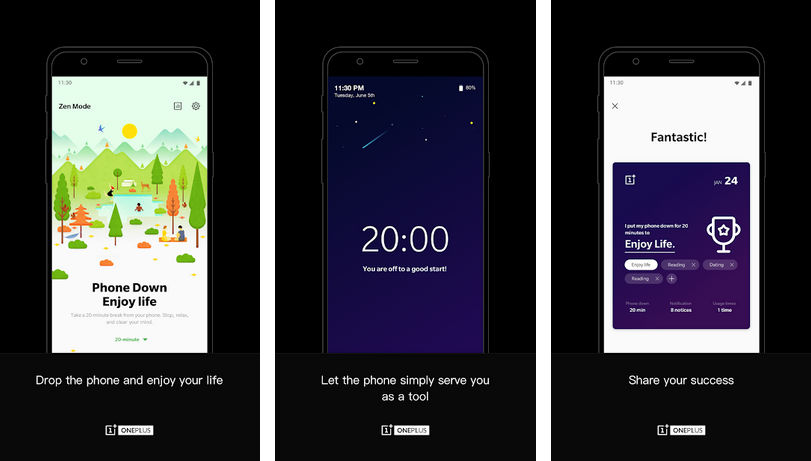 Although the app is now available for download on the Play Store, it is still only compatible with OnePlus devices. However, OnePlus has already released OxygenOS updates for the OnePlus 6/6T and the OnePlus 5/5T, which included the Zen Mode. As of now, the app can only be installed on OnePlus 7 and 7 Pro for some reason. Hopefully, a future update should make it available on other OnePlus devices. The company has also released other apps such as the OnePlus Gallery and Weather apps on the Play Store.
Adding these apps to the Play Store makes it easy for OnePlus to provide faster updates. Instead of including the updates in new software builds, it can simply push a new update for the standalone app. This way, all compatible phones can enjoy the new features without having to wait. While the built-in Zen Mode on OnePlus devices only allows for a maximum break of 20-minutes, the Play Store app will allow users to increase this time to 30, 40 or 60 minutes. Download Zen Mode for your OnePlus smartphone using the Play Store link in the source.