"Online shipments reached highest-ever market share, lead by Flipkart shows the report"
While competition in India's smartphone segment grows ever so strong, online shipments have reached a new peak in Q1 2019, says a new report by research outfit Counterpoint. The online channel now commands a share of 43 percent after growing 17% year-on-year (YoY) due to lucrative offers and new launches in the quarter. In comparison, the offline market share fell by 4 percent. The top-selling smartphones that contributed to the high market share for online shipments were Xiaomi's Redmi 6A, and Note 6 and 7 series, Samsung's online exclusive M series, Realme 3, Honor 10 Lite, and ASUS Zenfone Max Pro series.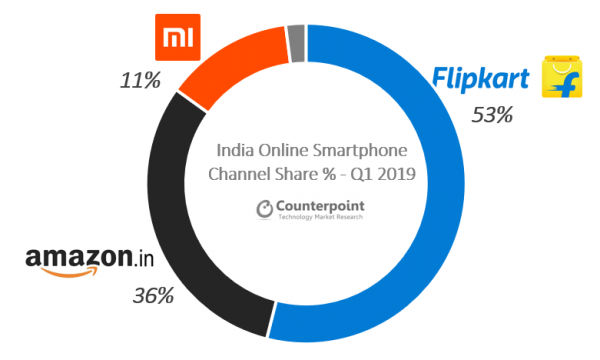 The top five brands that dominated 85 percent of the online market were Xiaomi, Samsung, Realme, ASUS, and Huawei in this same order. Xiaomi alone commanded a 43 percent market share with the Redmi 6A being the best seller during this period. Samsung's online share grew to an all-time high record with a 15 percent share in Q1 2019 with 31 percent YoY growth. This was mostly fuelled by the company's new M series and flash sales policy.
Flipkart was the leading e-commerce portal to contribute to these shipments with a 53 percent market share but Amazon seems to be growing fast as well. It's also worth noting that Amazon's premium smartphone sales reached the highest level ever with a whopping 81 percent share mainly due to sales of OnePlus, Samsung, and Apple. On the other hand, Xiaomi, Realme, and Asus boosted Flipkart's sales. The fastest growing online segment was the budget Rs 15,000 – Rs 20,000 category with Xiaomi's Redmi Note 6 Pro as the best performer, as per the report.