"OPPO adopting the 90Hz display means that the feature is gaining traction among Chinese OEMs"
90Hz displays started to really catch on after the OnePlus 7 Pro released this year despite some gaming handsets using 90Hz panels even before the OnePlus flagship hit the market. Now, it seems OPPO, which is OnePlus' sister concern, is working on yet another handset that will flaunt OPPO's first-ever 90Hz display, hints an official post by OPPO VP Brian Shen. Currently, the smartphone market has some devices that even boast a higher screen refresh rate than 90Hz such as the ROG Phone 2 from ASUS. The official doesn't mention which phone it is going to be and rather says that it is not the Reno 2 and that it won't launch in September.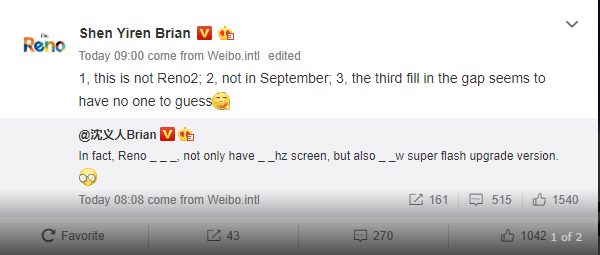 The post doesn't explicitly mention a 90Hz display but the context of the conversation does hint what the executive wants to tell us. There's also mention of some superior VOOC Charge technology, most likely Super VOOC that is found on only the most premium of OPPO devices. Suffice to say that this handset could be an all-out flagship like the Find X2 or the Find Y. Not many handsets apart from so-called "gaming smartphones" have a 90Hz screen refresh rate as of now. But with OPPO moving towards such a standard means that the industry will probably start making this tech available to more phones in the near future. The Find X2 and the Find Y are not expected to launch this year, as far as current information is correct.
Now, a 90Hz refresh rate on displays currently serves a limited purpose. The technology's primary function is to provide a much more smoother gameplay experience than 60Hz screens while an overall smooth UX scroll and touch is also one of its byproducts. However, on the flip side, the feature is a battery hog and results in quick depletion of the already modest one-day battery life on typical smartphones.