"The OPPO Enco trademark could be for the foldable phone or even the under-display camera smartphone"
OPPO has filed for a new trademark for the moniker "Enco" with the European Union Intellectual Property Office (EUIPO). The trademark, first spotted by Android Updated, was filed late last month and speculation suggests that this could very well be a new series of smartphones. Now, OPPO already has had a good few new product ranges this year including the Reno which is its flagship series alongside the Find series. However, OPPO VP Shen Yiren has hinted that OPPO will be releasing a new series in the second half of 2019. Enco could very well be the name of the new series.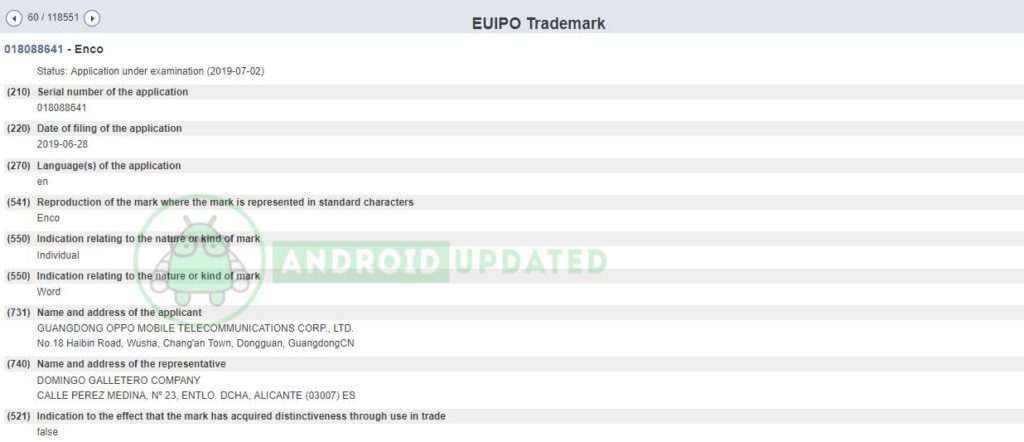 If Enco is, in fact, a new series, then there are a few candidates that could fit under the newfound moniker. OPPO recently showed off the world's first under-display camera smartphone prototype which will soon be under mass-production. Although, the new full display camera phone is not expected to launch commercially this year. It is a possibility that it could be announced under this new Enco label. OPPO also has a foldable in the works since some time but there is no word of its launch right now, but it could also potentially get the Enco label. The "Enco" trademark has been spotted for the first time.

Among related stories, OPPO had also applied for the Find Y moniker recently and is likely to launch as a series soon. This is after an official statement from OPPO's VP that the Find X2 will not be coming in 2019. The company also shut down its R series of devices which was a premium range of smartphones. If this Enco trademark is actually for a series, we will hear more about it from official sources sooner or later. Till then, stay tuned.