"The new OPPO F11 Pro Marvel's Avengers Limited Edition is an ideal smartphone for superhero fanatics"
The world of smartphones is constantly evolving, which means manufacturers are continually required to infuse their devices with new features to excite buyers. One more thing that the phonemakers can do to achieve this feat is, cater to those who are fans of their phones as well as something else, say a film for instance, or a car. It's a tough balancing act, however — one that very few companies have been able to master. OPPO is one brand that has been able to do this quite well, and now the brand has launched the new OPPO F11 Pro Marvel's Avengers Limited Edition in partnership with Marvel Studios to commemorate the release of Avengers: Endgame movie.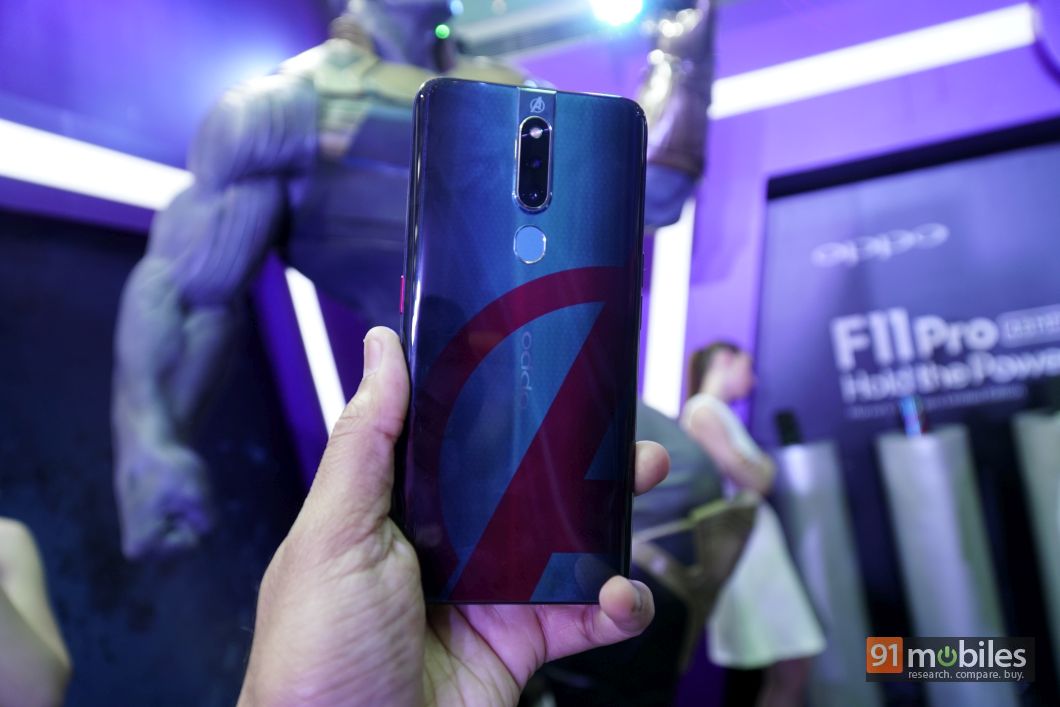 OPPO has a long-standing legacy when it comes to limited-edition devices, we were quite excited to get a closer look at the all-new OPPO F11 Pro Marvel's Avengers Limited Edition. And as expected, what will draw your attention towards the special variant of the phone is its distinct colourway. Owing to the Marvel Avengers branding, this phone's back surface features the logo in blue and red colours. Inspired by the Avengers: Endgame movie, the back panel has a unique blue hue with an intricate hexagonal pattern, which is reminiscent of Captain America's war suit with scales. The rear panel also has a partial big logo across the whole back and a small complete logo of Avengers above the camera module. OPPO is also providing a Captain America-themed case with a centre-ring in the shape of his shield and a unique collector's badge.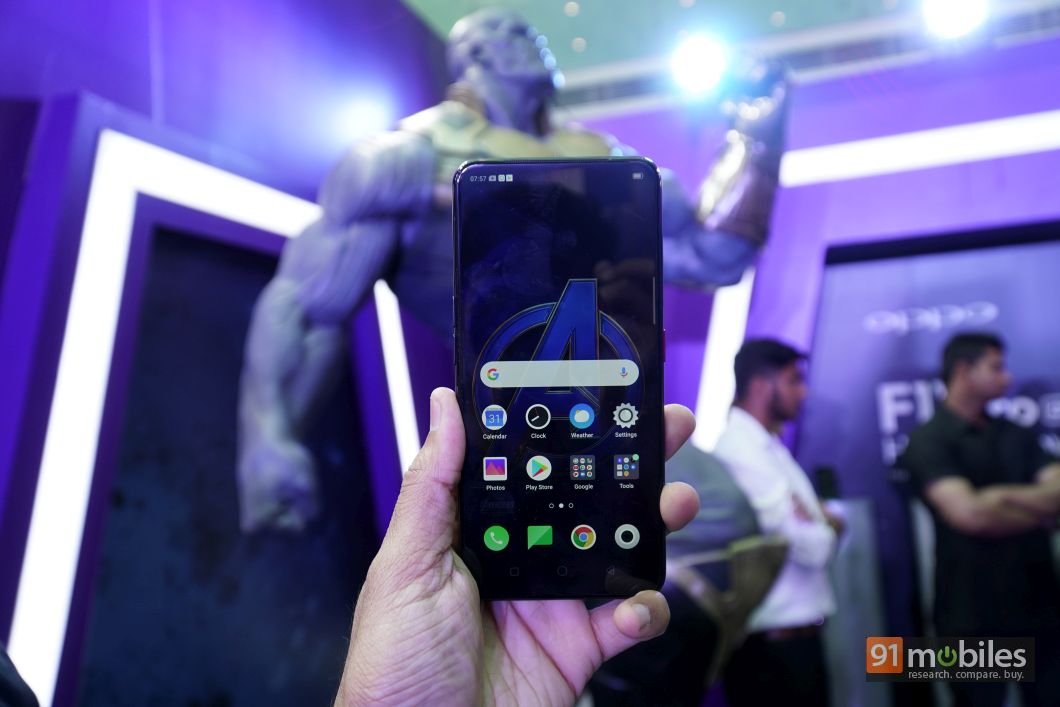 That's not all. The smartphone also comes packed with some amazing goodies in its retail packaging. Inside the box, you'll get a special blue case that comes with Captain America's shield for protecting the device. You'll also get Collection Certificate that has the badges of the original Avengers group.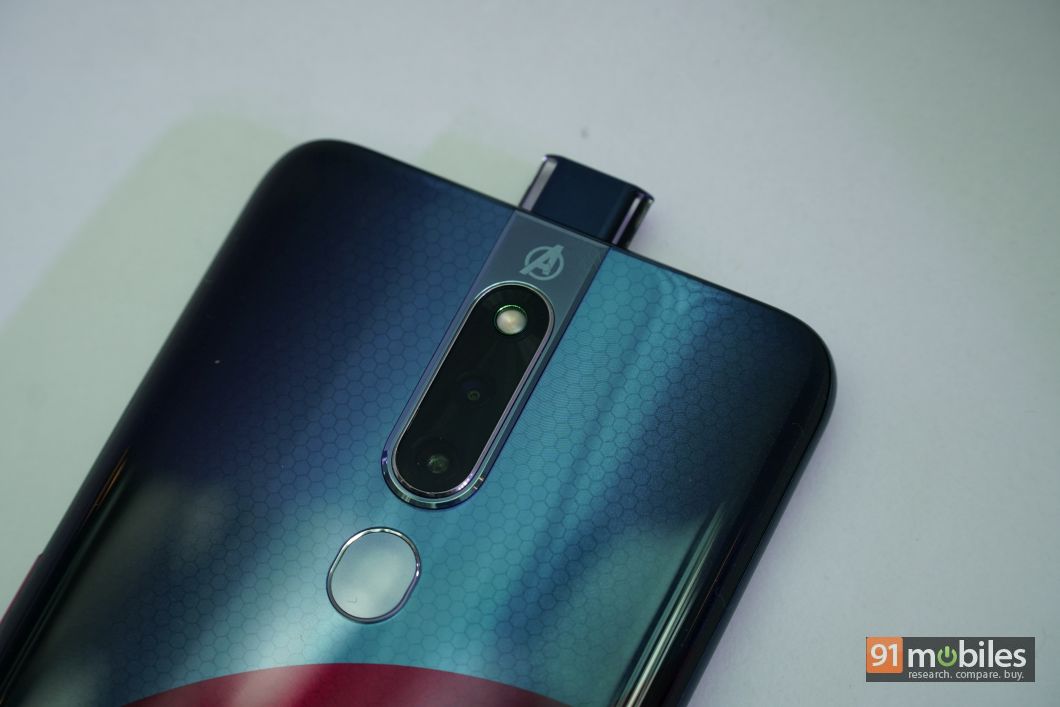 Adding to the looks is the bezel-less, notch-less fascia of the smartphone which is dominated by a large 6.5-inch full HD+ display. The OPPO F11 Pro Marvel's Avengers Limited Edition has been able to achieve this by offering a rising camera up front that hides the selfie camera which is rated at 16MP. And then there's the dual rear camera array that's populated by a 48MP main sensor and a 5MP secondary depth sensor.
Of course, if you manage to look past the stunning design, the OPPO F11 Pro Marvel's Avengers Limited Edition won't disappoint you in terms of its specs. It draws power from the 12nm Helio P70 chipset, which comes with a 2.1GHz quad-core processor and a Mali-G72 MP3 GPU. This assembly is given support by 6GB of RAM which ensures smooth usage. The limited edition comes with 128-gigs of memory onboard that should take care of all your storage needs. The smartphone runs the Android 9.0 Pie-based version of ColorOS, which features some nifty new additions. All this is backed up by a beefy 4,000mAh battery, that comes with Super VOOC 3.0 tech to juice up the smartphone quickly.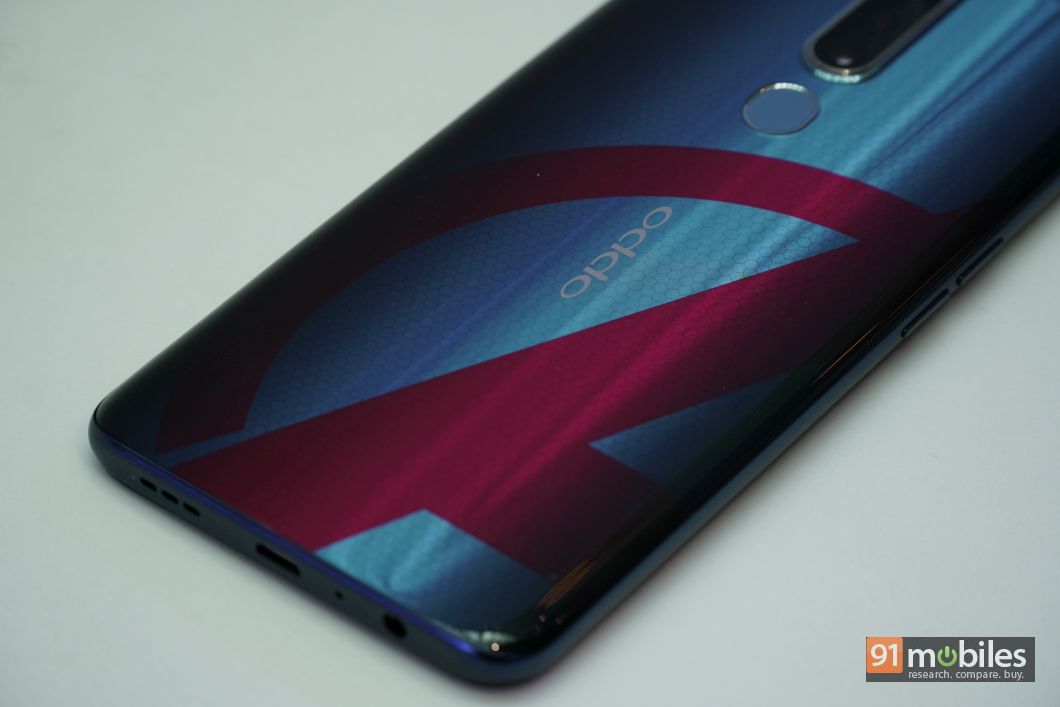 As you can see, the device already ticks all the right boxes. And with the Limited Edition model, the proposition has just gotten more attractive, and irresistible, if we may add. The new device goes on sale in India starting May 1st on Amazon India and May 4th in retail stores. If you are a Marvel fan and want to pick one up for yourself, you will have to shell out Rs 27,990.