OPPO has been at the forefront of innovation and technological revolutions in the smartphone industry, bringing in the best-in-class technology for its customers. Thanks to the continued focus on R&D, OPPO has ensured that every smartphone it launches is packed with unique features and high-end performance. Continuing its focus on the F series, OPPO has recently unveiled the F17 Pro and the F17 series in India. The all-new OPPO F17 series is designed to deliver a premium entertainment experience in a trendsetting sleek design making it possible to flaunt your style. The OPPO F17 Pro boasts a super-sleek body with Shiny Matte design, 6 AI Portrait Cameras and a gorgeous Super AMOLED display. On the other hand, the F17 also has a lightweight design, integrated leather-feel back a Super AMOLED display with eye protection features, and much more. One thing common between these solid performers, however, is OPPO's proprietary super-fast 30W VOOC 4.0 Flash Charge, which charges the smartphones in a jiffy! Let's find out how VOOC 4.0 sets the OPPO F17 and F17 Pro apart from the crowd.
VOOC 4.0 on OPPO F17 and F17 Pro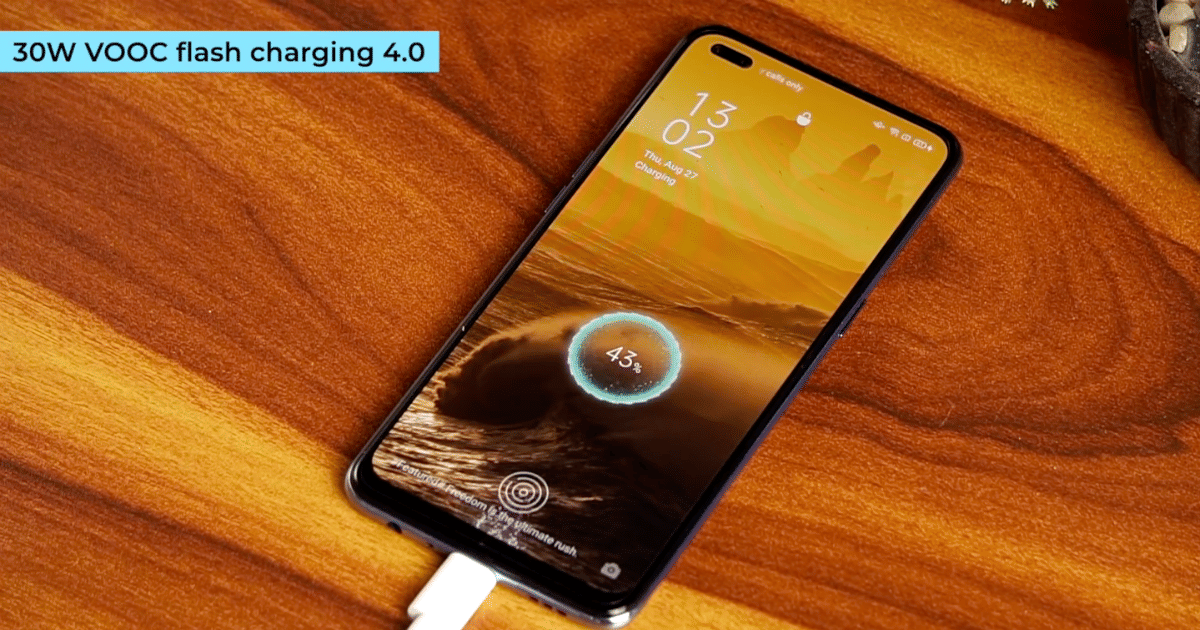 For nearly a decade, OPPO has led the charge in innovation in smartphone charging technology. VOOC (Voltage Open Loop Multi-Step Constant-Current Charging) is OPPO'S proprietary rapid-charge technology that allows for faster and more efficient charging at lower phone temperatures. And OPPO's lead in this field of cutting-edge battery charging technology is apparent when you compare OPPO's Flash Charging with the industry-standard. OPPO's VOOC charging technology has made huge strides with each upgrade. Introduced with the OPPO Find 7 back in 2014, VOOC has evolved rapidly to offer high-speed charging solutions, which no other brand has been able to compete with. The latest VOOC 4.0 technology in the OPPO F17 Pro and OPPO F17 offers fast-charging speeds of up to 30W. This instantly charges the 4,000mAh battery on the OPPO F17 in less than an hour!
OPPO's VOOC 4.0 Flash Charge differentiates itself from the competition by offering faster and more efficient charging without any heating, which ensures that your smartphone experience stays on point at all times. In fact, you can continue to indulge in mobile gaming and HD video streaming while your smartphone charges at lightning-fast speeds. These charging speeds are extremely useful in quick charging scenarios – a 5-minute charge of OPPO F17 series gives you 4 hours of talk-time! During our time with the smartphone, we observed that the battery does not drain quickly since the phone remains cool even under extreme usage, whether it's playing games, heavy multitasking, shooting videos for long hours, etc. In fact, you never have to worry about overheating thanks to VOOC 4.0 Flash Charge – if the heat generated by the phone crosses the threshold, the charging is automatically stopped. This provides a huge advantage to any user, in comparison with other fast charging smartphones.
Apart from the super-fast 30W charging with VOOC 4.0, we were impressed by the OPPO F17 Pro's AI Night Charging that intelligently optimises charging speeds and makes sure you get 100 percent battery backup exactly when you wake up. This neat feature also helps protect the battery's lifespan as AI recognises your waking time and schedules most of the charging to 90 minutes before that time. Smart move!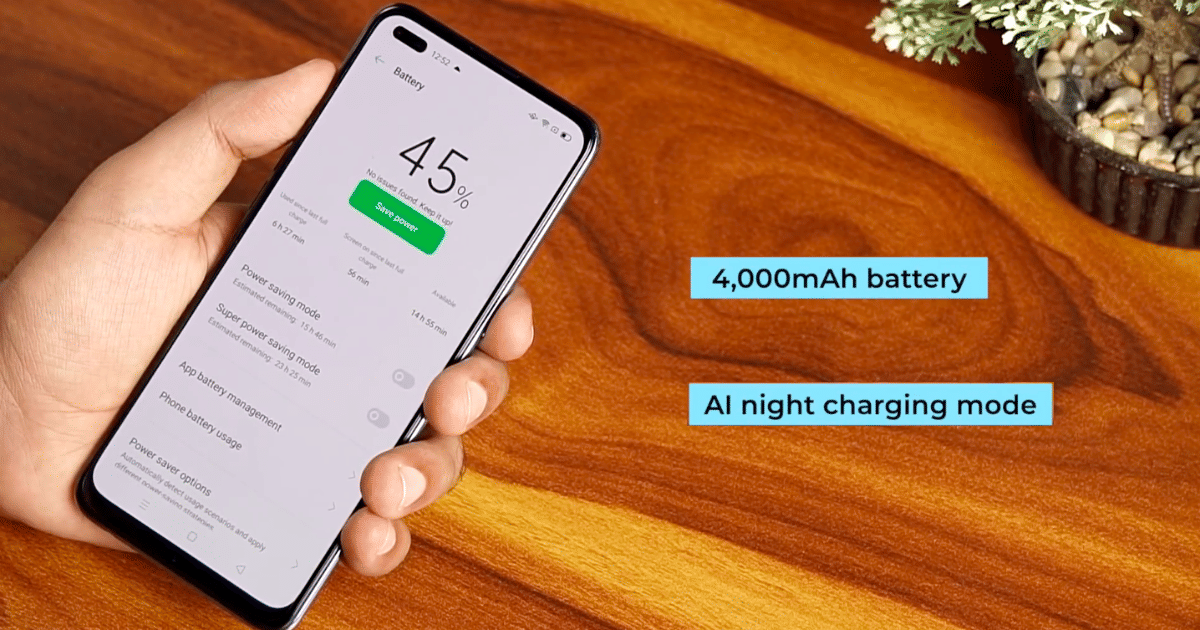 Another interesting feature in OPPO's charging arsenal is Intelligent Power Saving. Who amongst us hasn't experienced a mini panic attack when we are out for work and our phones' battery died? Well, Super Power Saving mode on the OPPO F17 Pro prevents this from happening as it kicks in a critical battery-saving feature called Late Night Emergency Power. This turns your display into black and white and gives you access to 6 of your preset apps with 14.6 hours of standby time on just 5 percent battery. You can enjoy up to 70 minutes of calling, 52 minutes of Google Maps navigation, 49 minutes of SMSes, or 34 minutes of WhatsApp texting in just 5 percent of charge. Intelligent Power Saving on the OPPO F17 Pro and F17 is truly revolutionary!
The OPPO F17 gets Super Power-Saving Mode that can deliver standby time of as much as 17 hours and talk-time of more than 90 minutes even if the phone has just 5 percent battery left. In order to reduce the battery consumption, this smartphone also has Super Nighttime Standby, which can detect if a user is asleep and lowers the battery consumption to just 3 percent on 8 hours of standby time. This means all your notifications and background processes continue normally even as the phone saves on battery. Perfect!
In our experience, all these wonderful battery features ensured we were never anxious about the battery running out at critical times or the phone becoming too hot to use!
Made for every occasion

As we mentioned earlier, the OPPO F17 Pro is an all-rounder when it comes to offering premium features without burning a hole in your pocket. The smartphone has the sleekest design of 2020, with thickness of just 7.48mm and 164 grams weight. OPPO tops the design off with industry-leading Shiny Matte design that gives you a gorgeous back finish without the hassle of fingerprints or smudges.
Another highlight of the OPPO F17 Pro is its 48MP quad camera setup that consists of wide-angle and mono sensors to enhance your photography. The presence of dual front cameras is great for portrait selfies. Other than that, you get the powerful MediaTek Helio P95 processor, as much as 8GB of RAM and 128GB of internal storage, and an in-display fingerprint sensor for assured security. You also get the latest ColorOS 7.2 software running on top of Android 10 for the smoothest user experience on a mid-range smartphone.
The OPPO F17 is an equally capable powerhouse in the mid-range smartphone segment. It has a large 6.44-inch Super AMOLED display with over 90 percent screen-to-body ratio, Qualcomm Snapdragon 662 processor, up to 8GB of RAM, and 128GB inbuilt storage. It borrows the quad rear camera setup from its sibling F17 Pro – this means you get wide-angle and mono sensors here too, to bring out the best photos in every situation. Dual front cameras, 16MP main and 2MP depth, help you take the best portrait selfies.
Price and availability
Since the VOOC fast-charging and other powerful features make OPPO F17 and F17 Pro the best premium mid-range smartphones, they are on the list of anyone looking for a class-leading mid-range phone in India. Priced at Rs 22,990 for the sole 8GB + 128GB configuration, the Pro model is up for grabs on
Flipkart
and Amazon right now. You can also pre-order the F17 on
Flipkart
at Rs 17,990. If an all-rounder smartphone with blazing fast charging technology is what you want, the OPPO F17 Pro is the best choice for you! And if you are looking for something a little easier on the pocket without losing out on any key features and performance, then OPPO F17 is the best option. So, log on to Flipkart or Amazon today and buy your next VOOC-powered smartphone for
a life of maximum convenience!