OPPO is a smartphone brand that has established its name in the industry by redefining the sleek design standards across several price segments. From the innovative OPPO Finder, the slimmest phone of its time, to the more recent OPPO Find X2, with a truly bezel-less display, the brand has been consistent in exciting its fans with its inventive and exploratory attitude. While it has reigned the flagship segment with brilliant design, OPPO has also managed to make its F-series shine in the premium mid-range segment with smartphone aesthetics that stand out amidst a crowd of similar-looking handsets.
The "Selfie Expert" F series started out back in 2016 with the OPPO F1. Within weeks of the OPPO F1 launch, it was clear that OPPO had made its mark in this space with a design that is in a different league altogether. Smartphones like the OPPO F9, F11, and F15 have consistently shown how OPPO has managed to stay on top of its game by not only providing powerful performances but also offering an unparalleled stylish design. The OPPO F series' successful run continues with the new OPPO F17 Pro, which is going to be the sleekest phone of 2020.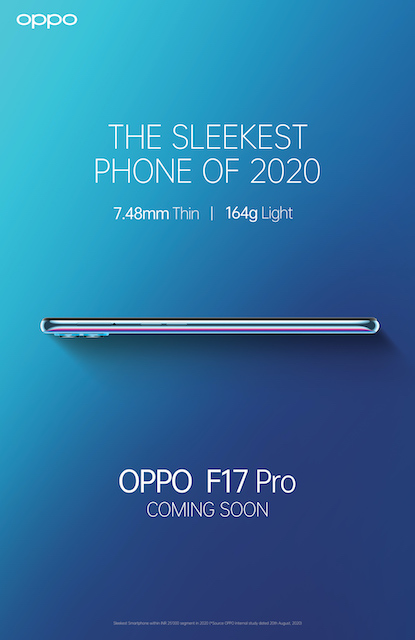 Sleek design that exudes brilliance
The OPPO F17 Pro offers an amazing design and is now sleeker than ever before! The smartphone sports a 7.48mm ultra-thin body that weighs in at just 164 grams, giving it a desirable ultra-lightweight profile. With overall dimensions of 7.48mm x 73.8mm x 160.1mm, the smartphone is perfect in size – not so wide that you can't use the screen with one hand and not so tall that it becomes unwieldy. This focus on sleekness sets the OPPO F17 Pro a class apart when it comes to design.
To make that sort of sleek profile possible, the F17 Pro's industry-leading design uses an optimised mainboard, battery, and other internals that are able to fit into an ultra-slim body. This sort of technology sets a new benchmark by fitting in powerful internals into a body as slim as the one on the OPPO F17 Pro.
Want a new way to flaunt? 🤩 The sleekest phone of 2020 is on its way. Stay tuned. #OPPOF17Pro #FlauntItYourWay pic.twitter.com/LVmAKE1jE1

— OPPO India (@oppomobileindia) August 20, 2020
But what about the issue of grip that ails thinner smartphones?
To overcome this challenge, OPPO designers have used an industry-first '220-degree rounded edge design technique', which uses a high-gloss technique to refract light around the top of the rounded edges. That's a mighty engineering feat that ensures a thin side appearance for the phone while also offering a comfortable grip in hand to the user. Of course, the easier a smartphone is to grip, the lower its chances of slipping out of your hands.
The OPPO F17 Pro blows other mid-range smartphones out of the water with these innovations that help bring you a sleek and premium design without compromising on comfort and reliability. It definitely looks like the sleekest phone of 2020!
Exquisite Shiny Matte finish that makes heads turn
OPPO F17 Pro introduces the new Shiny Matte design that is touted to be 2020's top phone trend. The fingerprint-proof finish gives the upcoming smartphone a classier look than we've seen on any smartphone in this segment before. And thanks to this finish, the F17 Pro feels more premium in the hand than ever before, making the smartphone not only a beauty to look at but also a pleasure to hold.
The Sleekest Phone of 2020, #OPPOF17Pro is on its way. How do you feel?#FlauntItYourWay with #TheSleekestPhone and your favorite emoji reaction in the replies – we're going 🥳💥🎊 over here!

— OPPO India (@oppomobileindia) August 20, 2020
A smartphone that's worth waiting for
With a legacy that is rich in design, the
OPPO F17 Pro
brings a lot of unique features to the Indian market. It is one of the most awaited smartphones of the year. With the festive season coming up, smartphone buyers would be lining up to get their hands on the latest and greatest in smartphone design in 2020. The OPPO F17 Pro is sure to find its place towards the top of the premium mid-range segment as it offers yet another value proposition, with unique features and a sleek design that make it stand out in the crowd.