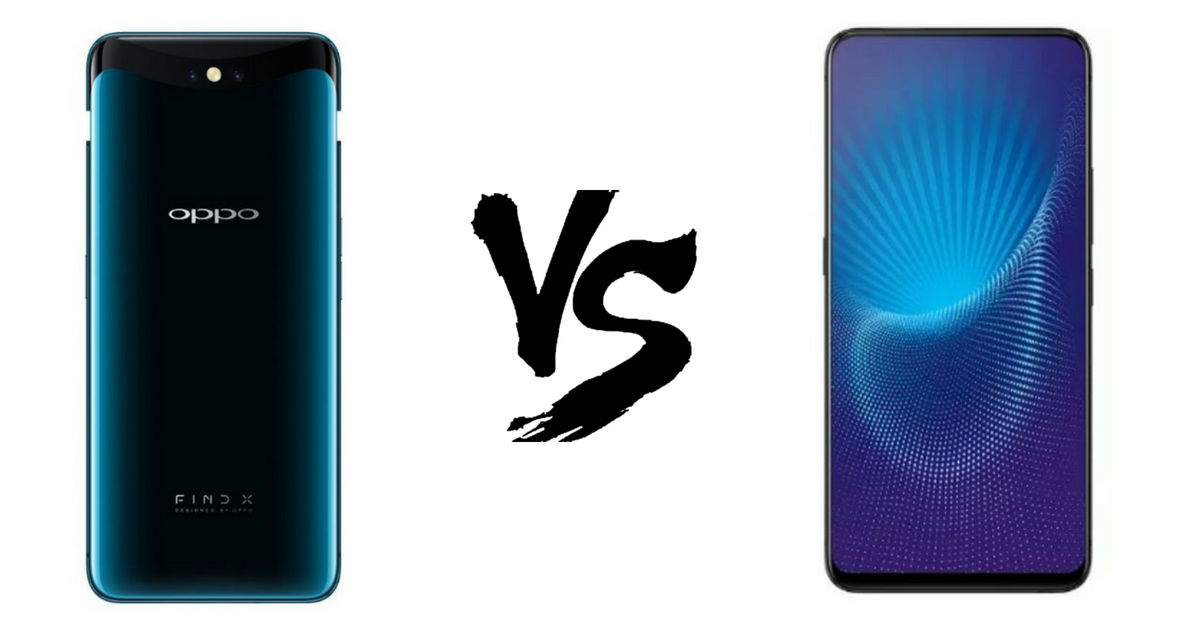 "The NEX and Find X both offer innovative designs to offer an all-screen front"
Both the Oppo Find X and the Vivo NEX are the result of great engineering that's aimed towards filling the front surfaces of these phones with as much screen as possible. The previous solution to this was the notch, but that's so 2017. This year marks the birth of pop-up cameras, as these two devices have made it evident. While Vivo's handset just has one snapper popping up from the front, OPPO's latest offering somehow crams three cameras on its pop-up mechanism, delivering something previously unheard of. But which one of these is better? Well, that's what we're here to find out in this detailed comparison.
Design and display
The main appeal of both these phones is their excellent screen-to-body ratio. They leave negligible bezels around their displays, making the viewing experience incredibly immersive. Apart from a clean front surface, the Find X also has an empty rear surface. It can do so because it has hidden the rear dual-camera module inside the single mechanism that also houses the front camera as well. Same isn't the case for the Vivo NEX, as only its front camera elevates from the body, giving the rear dual camera setup a traditional housing. So if looks are the only concern, the Find X is a far more beautiful slab than Vivo's device. Both the phones support Type-C connectivity, but OPPO's offering has given the headphone jack a miss, unlike the Vivo NEX.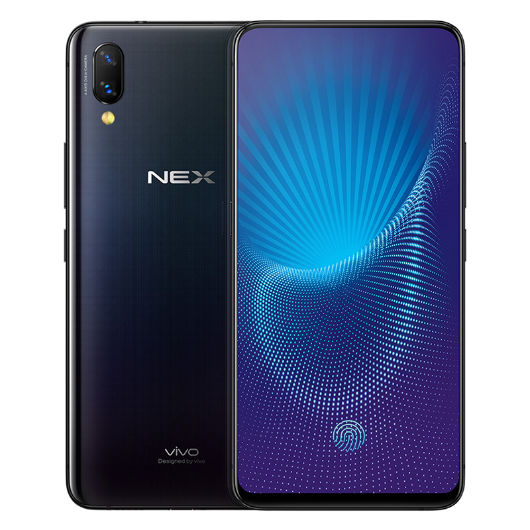 One thing that differentiates the biometric system of the Find X from that of the NEX is that the former uses iPhone X-like 3D facial scanning. This also means that the camera will have to pop up each time you want to unlock your phone with your face. But few will be complaining about this since the mechanism can open in just 0.5 seconds, as per the brand's claims. A unique aspect about the NEX is the dedicated button on its side for summoning the Jovi voice assistant. You can indeed remap this button, but only for a few other purposes.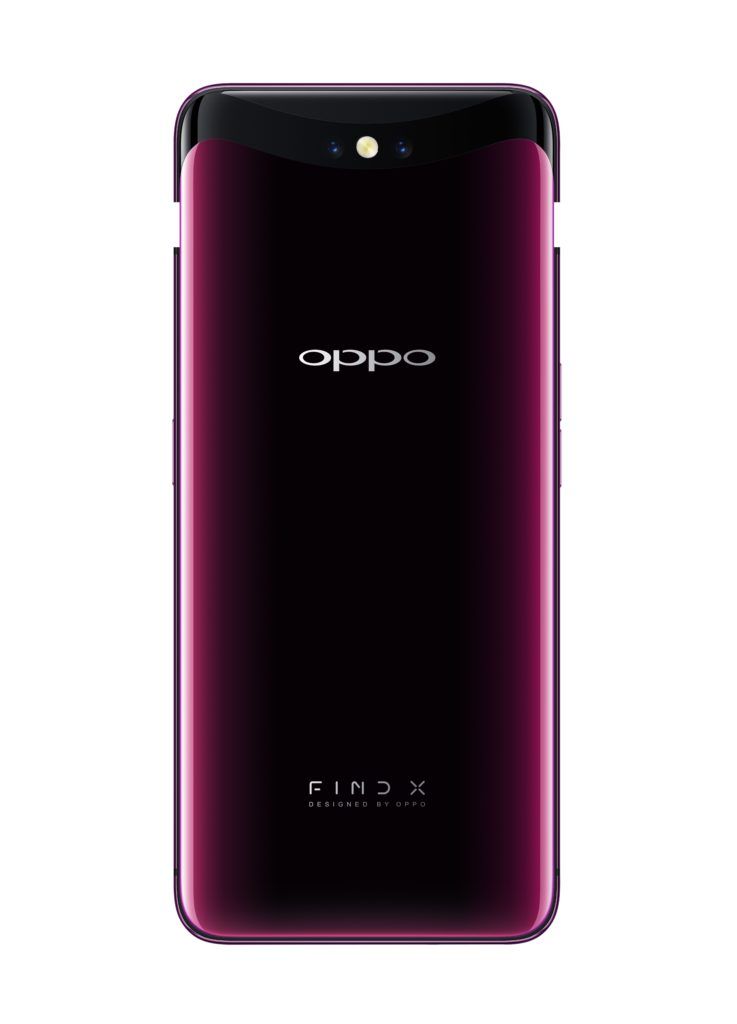 Given that their displays are their main highlights, these phones have unsurprisingly chosen AMOLED panels. The one on the Find X is a 6.4-inch 1,080 x 2,340 pixels display, whereas the NEX features a 6.59-inch screen a resolution of 1,080 x 2,316 pixels. Given their bezel-less and notch-less nature, these displays promise to be excellent tools for content consumption.
Hardware and software
Considering both phones are flagships, it's absolutely no surprise to see them utilising Qualcomm's Snapdragon 845 chipset, offering a 2.8GHz octa-core processor and Adreno 630 GPU. For memory, both these phones have 8GB RAM onboard, while storage options can be chosen between 128GB and 256GB (the latter hasn't launched in India, yet) for the NEX and it's limited to 256GB for Find X. This is totally top-notch hardware which guarantees that the phones are equipped for every heavy task you throw at them.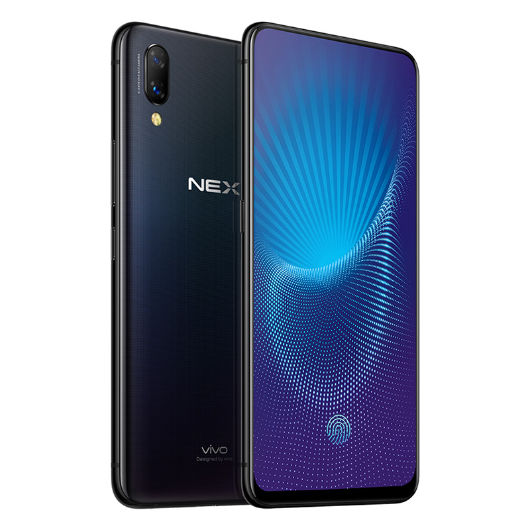 The base software on these phones is Android 8.1 Oreo, but both of them come with their own custom skins on top. The Find X has ColorOS 5.1 which means all the bells and whistles that you'd typically find in an OPPO phone are all there. This includes tons of AI camera features, gesture-based navigation, chat bubbles, an intelligent gallery app and more. The Vivo NEX runs Funtouch OS 4 which is not much different from Color OS in terms of its features. You still get your regular AI camera additions, a gaming mode, picture-in-picture multitasking, and software-based face unlock among other things.
Camera and battery
The OPPO Find X ships with a 16MP + 20MP camera duo, with both featuring f/2.0 apertures. OIS is indeed present here, and so is 4K video support. As for the Vivo NEX, it features a 12MP f/1.8 + 5MP f/2.4 setup that specialises in bokeh effects. This dual-camera setup also benefits from OIS and 4K video support. Coming to the front cameras, this is one area where the Find X triumphs over the NEX by a huge margin. It flaunts a 25MP f/2.0 selfie shooter with 3D facial recognition. Apart from high-resolution selfies, this also means better facial analytics for applying AI effects. The camera on the NEX delivers 8MP selfies, but it offers all the AI effects that you'd expect from a Vivo phone.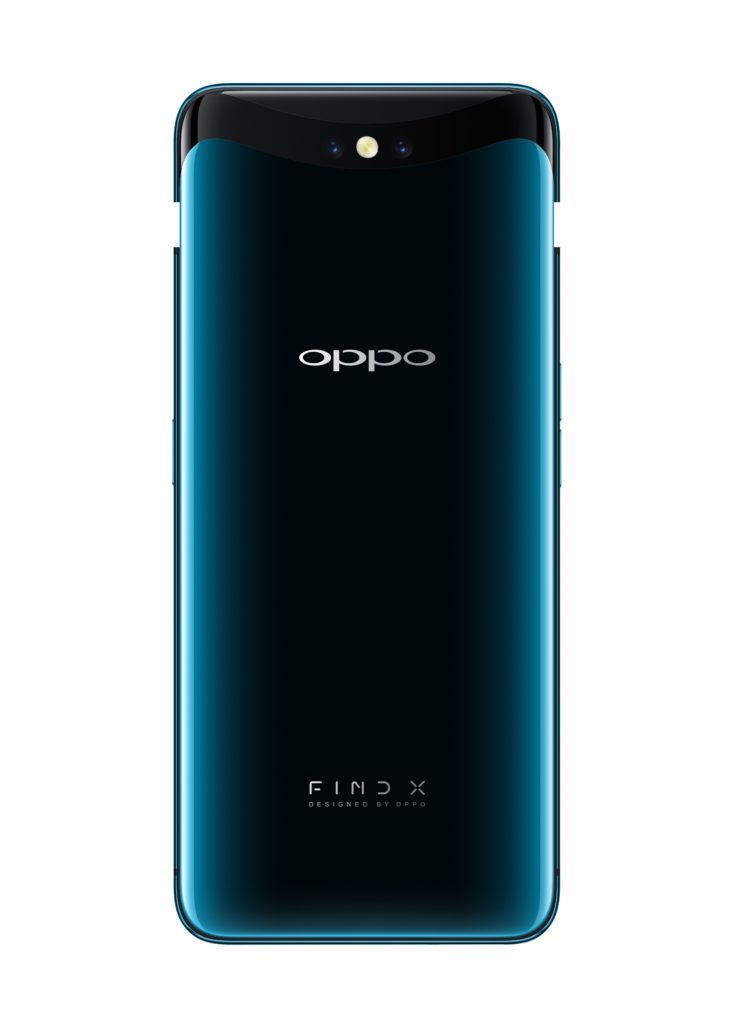 With both devices having altered their internal layouts considerably, it seems they have saved quite some space to include large batteries. The OPPO Find X has adopted a 3,730mAh cell, while the Vivo NEX has gone for a beefier 4,000mAh unit. This means both the phones promise long hours of usage. Fast charging capabilities exist on each of the two handsets, but the one on the OPPO device is slightly faster than the one on Vivo's.
Closing thoughts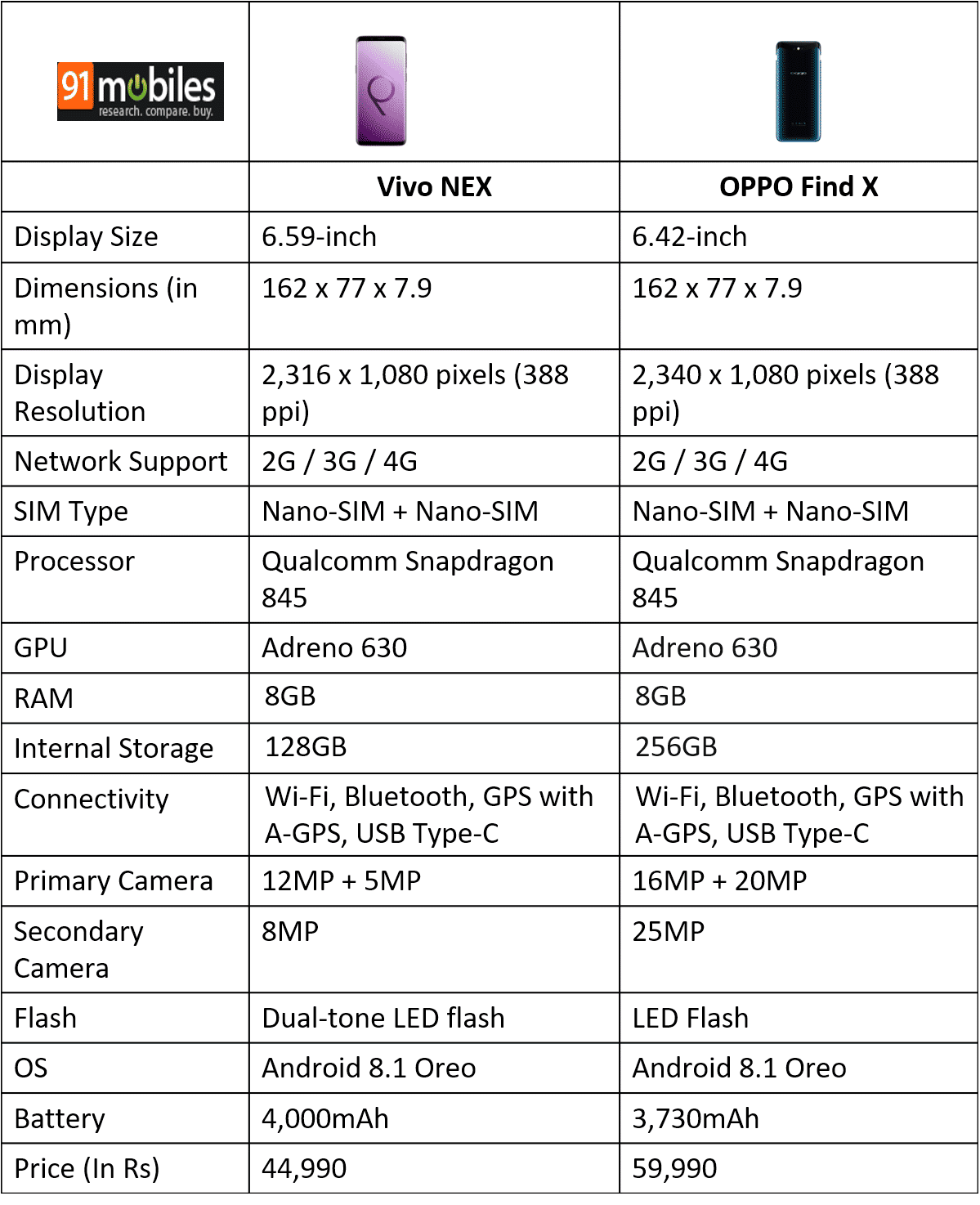 On paper, the OPPO Find X seems to be a better buy in this contest of pop-up camera phones. It delivers a clean front and back surfaces along with an extremely fast pop up mechanism. It also has higher-resolution cameras, though it does skimp on a fingerprint sensor and a 3.5mm audio socket. But in all the other areas, the NEX goes toe-to-toe with OPPO's smartphone. Vivo's offering is also priced considerably lesser at around Rs 44,990, while the Find X will set you back by Rs 59,990, which tilts the balance in the former's favour. While it's difficult to pick out a clear winner between these offerings, they sure are heralding a new era of all-screen fronts.