"OPPO vice president Shen Yiren Brian revealed that the company is working to make the device stand out in the market the way the original Find X did"
Despite multiple speculations and leaks, it turns out that we may not eventually see the successor to the OPPO Find X this year. In a post on Weibo, OPPO vice president Shen Yiren Brian has revealed that the Find X2 will not be launched this year and has been pushed to 2020. The reason for this is that OPPO is still at work to make the future flagship smartphone stand out among the crowd in the way that OPPO's original Find X did when it was launched.
OPPO has declared that the Find X series is to be counted as its flagship lineup, alongside the newly introduced Reno series. Hence, the Find X series will only get numerical successors down the line, similar to how manufacturers such as Samsung, Apple and OnePlus name their annual flagships. To ensure that the flagship gets features worth its salt, OPPO will be battling against the standards that it set with its own Find X, which was a striking stand-out among smartphones, despite the market saturation.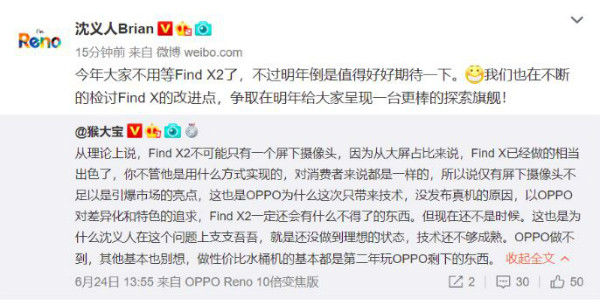 When launched, the OPPO Find X brought to the table a motorised front panel that stored away all the camera and sensors inside, thereby giving the smartphone industry-leading screen to body ratio of 93.8 percent. Given the different implementation of the hardware components, OPPO also packaged the internals using chip on plate (CoP) architecture, which was another first for an Android smartphone, alongside the 3D structured light facial recognition mechanism that was integrated into the slide-out motorised panel.
With many other OEMs adopting technologies such as pop-out camera and full-screen front, OPPO may switch its focus over to aspects such as under-display front camera in order to make its future flagships stand out. This also raises an exciting prospect to see applications such as holographic imaging, 3D photography and foldable form factors come into the front, as smartphone innovation rests at the edge of saturation.
When launched next year, the OPPO Find X2 can be expected to otherwise sport all essential flagship specifications. In fact, given that the device will be launched in 2020, it may even be likely that the Find X2 will be installed with a 5G modem inside. Nevertheless, it seems that for now, plans of seeing the new device in the coming months is off the charts, although that may not stop the rumour mill from churning out further renders or case leaks of how the smartphone is supposed to look like.