"The OPPO Find Y could be the name of the first smartphone with an under-display camera"
Earlier this year, OPPO had trademarked the Find Z name, but that's apparently not the name of the Find X successor. Recently, several rumours and reports have surfaced online regarding the successor to the Find X (first impressions). This phone will supposedly feature the under-display front camera that's been showcased by OPPO. However, the name hasn't been confirmed yet. Now, the company has trademarked the name 'Find Y'. Could this be the next game changing smartphone from OPPO?
The Find X was a revolution in design and was the first to feature a motorised mechanism that hid all the cameras. The company has scheduled an event for June 26th, where it will be revealing more details about its under-display camera tech. It is possible that OPPO may also unveil the new Find X successor at this event. There were rumours that the company might release the successor at MWC 2019, but that did not happen.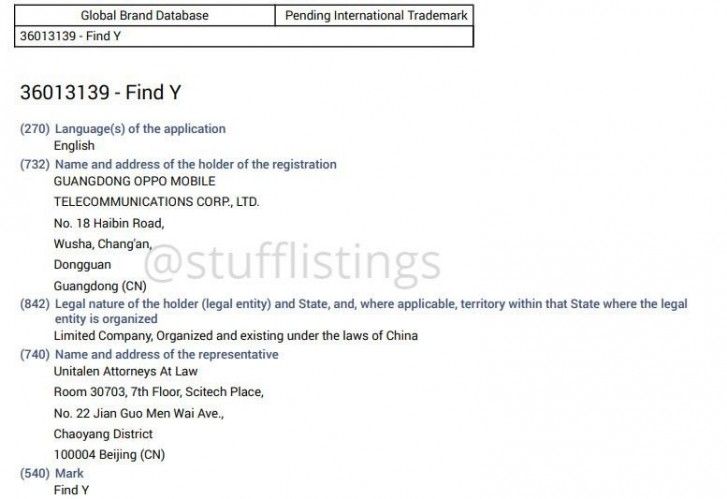 There isn't a lot known about the Find X successor. We are not even sure if there will be one. However, there must be a reason for OPPO to trademark both Find Z and Find Y names. If you look at it alphabetically, the Find Y should be the successor to the Find X. OPPO released the Find X in July last year, and we are less than two weeks away from July 2019. Therefore, it is possible that OPPO will unveil the Find Y or Find X2, whatever it is called, during the new camera tech announcement. The new phone could be available for purchase next month.
OPPO released the Find X in India as well. Hence, if there is a new phone with an under-display camera, it should also make its way to the country. The Find Y smartphone will likely start an all new trend of using in-display cameras. We're only a few days away from June 26th. Will OPPO launch a new phone with in-display camera, or will we only see the camera tech? What do you think?