Mahendra Singh Dhoni's contribution to Indian cricket is unparalleled and his life's journey is truly inspiring. Surely, his legacy is more than just the cricketing records he has smashed, and even more than the World Cup win Team India has notched under him. Dhoni has been an inspiration to everyone in India – in a career spanning 16 years, he charted his own path and made his way to the top. The most loved Indian cricket captain of all time, Dhoni is an icon for many people. And the guy who hits the most stylish shots would be a perfect match with a smartphone brand with some of the most stylish devices. After all, OPPO's inspiring leadership in the tech industry is pretty similar to the way Captain Cool led his side to so many wins.
OPPO's journey has had many parallels with Dhoni's. Like Dhoni, the brand has shouldered the responsibility of fulfilling users' expectations with cutting edge technology innovations and has risen to the occasion each time customers have asked for a better experience. It's no surprise then that OPPO, like Dhoni, is one of the leading names in its space and inspires everyone to #BeTheInfinite.
Dhoni's penchant for taking unconventional but calculated decisions is no secret. Who can forget his decision to hand the ball to an inexperienced bowler in the 2007 World T20 final or to promote himself up the order in the 2011 World Cup final? Quite a few times, his bold choices have worked in Team India's favour. OPPO, of course, identifies with this spectacular approach. After all, its bold decisions have changed the face of the smartphone industry over the years. Last year, it became the first smartphone brand in the world to showcase an in-display selfie camera. It was also the first in the world to introduce a rotating camera phone and also the first to introduce an "all-screen" smartphone. And one can't ignore the strides it has made in the fast charging innovation with its VOOC charging standard.
The much-awaited new microfilm by OPPO featuring MS Dhoni, launched today, is truly about #BeTheInfinite. Dhoni may have retired from international cricket, but he will be making an eagerly anticipated appearance at the Indian Premier League (IPL) 2020 that's going on in the UAE right now. The microfilm is particularly valuable during challenging times like these as it gives out a message of hope and shows that if you focus the all your energies into your dreams, you can change your life forever and make a lasting impact, just like OPPO and Dhoni have.
A collaboration of two great leaders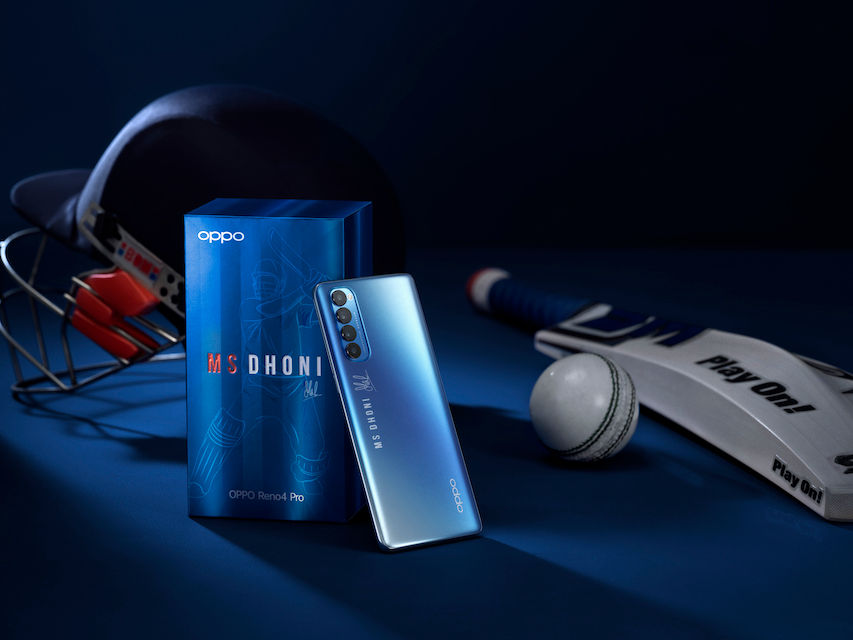 Captain Cool's association with OPPO couldn't have had a better hashtag. #BeTheInfinite signifies the constant efforts of the company and our very own Captain Cool to achieve the best. The cricketer with the finest shots and the smartphone brand with some of the finest-looking devices are indeed a match that sits together very well.
And an extension of this association is the newly introduced Reno4 Pro Galactic Blue Edition smartphone. The smartphone will now be available with an overhauled Reno Glow design. The new Reno Glow design from OPPO grants the Reno4 Pro a flashy appearance despite the matte finish back and takes the experience of holding and looking at the handset a few notches higher. Available in the Galactic Blue colour, the Reno4 Pro Galactic Blue Edition with Reno Glow design features a premium matte finish with glittery finish, almost like miniscule diamonds are embedded in it. And, as if that wasn't enough, the surface has been graced with MS Dhoni's signature as well, making it a great offering that every fan of the legend will want to get their hands on.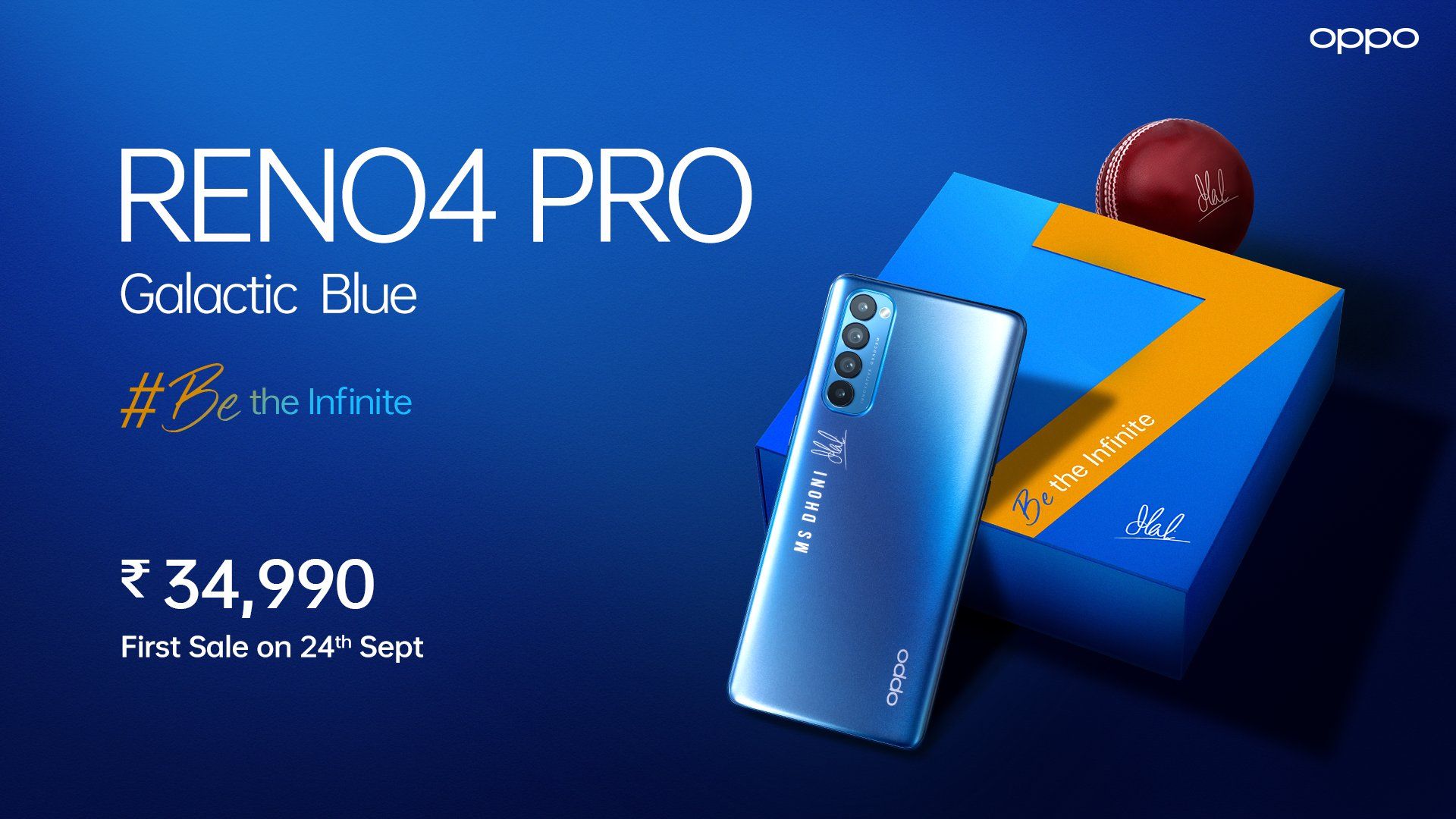 The Reno4 Pro Galactic Blue Edition adds more beauty to an already stunning smartphone. The device gets its looks mainly due to its 3D Borderless Sense Screen. Its 6.5-inch Super AMOLED panel with a 90Hz refresh rate gently curves along the edges, giving the phone an ultra-premium feel. OPPO has equipped this smartphone with 65W SuperVOOC 2.0 fast charging that can fully charge it in just 36 minutes. The Reno4 Galactic Blue Edition with its Reno Glow design bearing MS Dhoni's signature will be available across stores from September 24th at a price of INR 34,990.
This collaboration between MS Dhoni and OPPO will be the guiding light for fans who want to carve a path to success through hard work, determination, and unfailing grit. These are ingredients for the infinite success that the cricket legend and the smartphone industry leader have enjoyed, and the ingredients for the success of their fans too. The collaboration also shows how both Dhoni and OPPO always continue to go beyond the ordinary to deliver excellence and forge a path that others follow for years to come. The much-awaited microfilm went live today on social media to inspire fans and lead them to tap their true potential and #BeTheInfinite! We absolutely love it, go ahead and watch if you haven't already.