"The secondary movable display would hide the front facing camera and other sensors"
In their quest to make full-screen bezel-less displays, smartphones manufacturers are coming up with new designs that hide the front facing camera and sensors. So far, we have got the sliding design, the notch, and the punch-hole camera. OPPO was one of the first to come out with a phone that featured an automatic sliding design. The company is now working on a smartphone that has a secondary movable display, according to a recently discovered patent.
The OPPO Find X used the automatic sliding technology to hide both the front and rear cameras. The phone was beautifully made and was one of a kind. Then came the phones with the hole-punch display, which is similar to a notch, but not as intrusive. Some manufacturers have also used the mechanical sliding design to hide the front cameras and sensors. However, the OPPO patent is a completely new technology and design.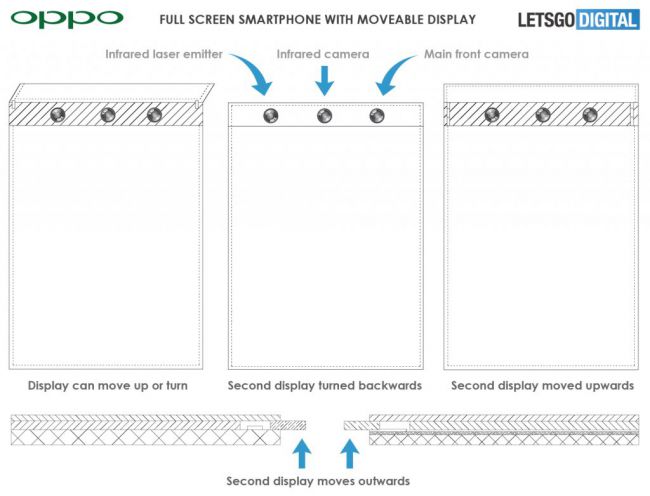 OPPO filed for a display component patent with the World Intellectual Property Office in October last year, which was published on February 1st. As per the description, the company wants to use a display that can extend itself when required or can be used as two separate displays. Unlike a foldable phone though, the second display is smaller and is hidden within the device. Once the display moves upwards, it can be folded at the back as well.
This entire process would be automatic and would use a mechanism to rotate the display backwards. The movable display would hide the camera, an infrared projector and an infrared depth sensor. This means that the camera components would be protected from damage. When the movable screen is hidden, it will fuse with the main display to act as a single screen. Once the screen moves up, the main display in the area would stop working to reveal the camera and sensor array.
The company further states that this OPPO smartphone would be able to record 3D images for facial recognition purposes. It would also have an in-display fingerprint sensor. You can read more on the patent at the source link below. While all of this is cool to read, it may not actually make it in to production.