"If this enters production, OPPO will likely launch it under its flagship Find or Reno lineups in the near future."
OPPO has never shied away from experimenting with smartphone camera designs, and now, PriceBaba has unearthed an OPPO patent filing with the World Intellectual Property Office (WIPO) that illustrates a flip camera mechanism akin to what ASUS did with the ASUS 6Z. In the patent, the illustrations reveal a cutout to the rear of the phone, which houses a dual camera module along with a single LED flash. This module, as described in the patents, will likely have an electronic, motorised mechanism that can flip the module upward, so as to have it work as a front camera module as well.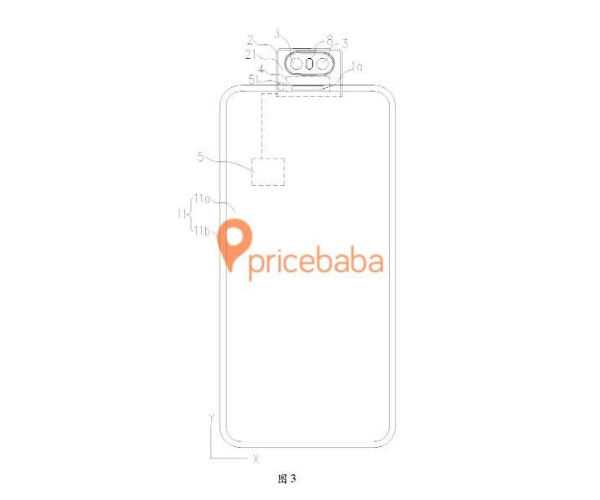 A very similar camera mechanism was put in place by the ASUS 6Z, which used a rotating flip camera module in order to create its rendition of a full screen display. ASUS further added software optimisations that could allow a user to extend the camera by peculiar angles, and also automatically shut the camera in case the module is open and the phone is falling. While the OPPO patent does not mention such elements, these features are likely discussed only when the device enters production stage, and not when a patent's production schematics are shown. Given this is only a patent, there is no concrete word on whether such an OPPO phone will ever make it to production.
That said, OPPO has been among early adopters of unique camera mechanisms in its flagship devices. The OPPO Find X brought a radical, motorised slider mechanism that concealed the camera module, drawing critical acclaim not just for the unique piece of technology, but for the overall premium build and product finesse. OPPO further continued with such initiatives with its newly introduced Reno sub-brand, which introduced a pop-up shark fin module that hides the camera paraphernalia in it. With such innovations already in its bag, it remains to be seen if OPPO can devise a way to make the flip-out mechanism stand out from ASUS' implementation.