"The new OPPO patent shows off a phone with an edge-to-edge bezel-free display and a rotating front camera"
In the past few months, OPPO has utilised several methods to offer a truly bezel-free experience on its smartphones. The company first launched the OPPO Find X with a slider mechanism that contains both the front and rear cameras. Then the brand implemented a square and Shark Fin pop-up selfie cameras on the phones like the OPPO Reno and K3. Now, the phone maker is cooking up a new method for the front camera to offer a bezel-less all-screen experience on its upcoming handsets.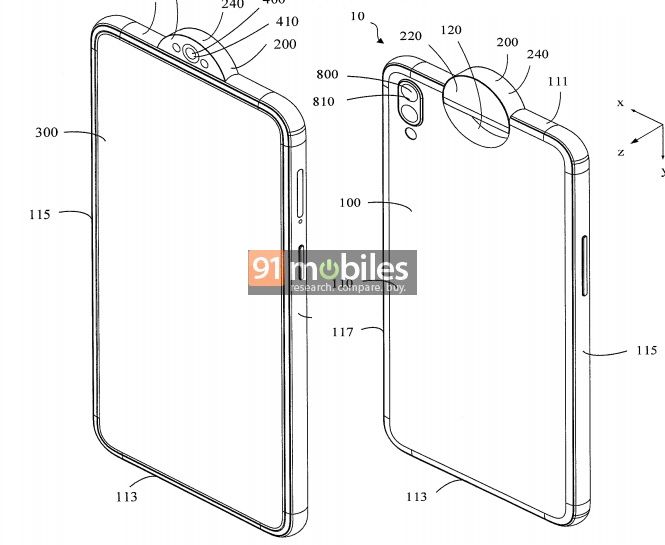 OPPO has been granted a patent by the United States Patent and Trademark Office (USPTO) for a phone with a rotating pop-up selfie camera. The patent filing shows a smartphone that has an edge-to-edge bezel-free display and dual primary cameras at the rear. The selfie shooter of the device is hidden in a semi-circular module. This module is rotated using three separate gears to bring the front camera above the display. While it's not mentioned in the patent, the semi-circular selfie camera module might also have a LED flash unit and other sensors.
OPPO rotating selfie camera patent
As of now, it is not clear when exactly OPPO will be implementing the semi-circular selfie camera module on its smartphones, which is described in the new patent. The company had originally filed for the patent in October 2018, and has been granted the same on May 28th. So it won't be too far-fetched to assume that we will find this module on one of the brand's phones coming later this year.