"Panasonic ToughBook FZ-55 has additional slots that allows you to hot-swap a second battery, or add new graphics cards and storage options"
Panasonic has launched a new laptop in its ToughBook line of extremely rugged and durable machines. Dubbed Panasonic ToughBook FZ-55, the new durable laptop brings the convenience of modular builds and the ability to upgrade your machine post purchasing, by yourself, for the first time ever. What this essentially means is that the ToughBook FZ-55 has additional ports that can, for instance, be used to add a second, hot swappable battery pack to extend working time of the laptop up to a claimed 40 hours.
The battery is not the only upgradable bit here — Panasonic states that buyers can add a discreet graphics card, increase storage size, or even RFID or biometric scanners, if need be. Optional ports here include rugged USB 2.0 ports and additional Gigabit LAN connectors. Furthermore, the laptop comes with amplified speakers and a four-microphone array that features significantly superior voice recognition, which is essential for handsfree usage in tricky environments. Optional add-ons include an upgradable display with choices of 10-finger input as well as gloved input and 1000 nit screen brightness, along with backlit keyboard with configurable backlight colour.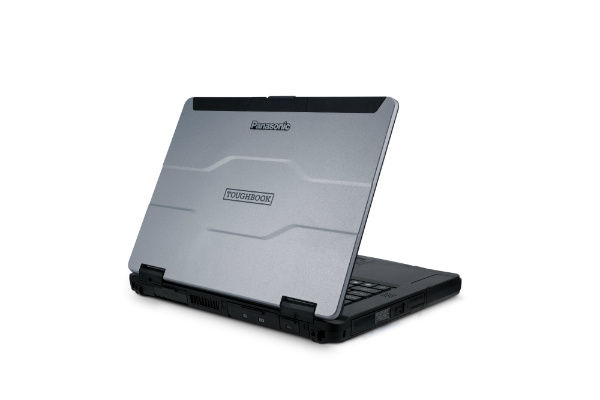 In terms of performance, configurations of the ToughBok FZ-55 include up to 8th generation Intel Core i5 vPro processor, 64GB RAM and 2TB storage. While this is not quite the most updated list of equipment as the laptop runs on an older generation processor, the 8th generation Intel chips would still be able to handle reasonably heavy tasks with relative ease. As a result, the ToughBook 55 gives industrial users an option to carry a fairly decent performance laptop even while on the field, and its body weight of just 2.03kg further helps its cause.
The Panasonic ToughBook 55 is priced quite steeply at £1,772 (~Rs 1,60,000), but those wth a specific need for laptops such as the ToughBook would find the new device to be among the best options in the market.