Highlights
Paytm assures users their money is safe
Paytm app has been removed from Google Play Store
The company says the app will return to the Play Store soon
Paytm has issued a response following the payments app being removed from Google Play Store. The company has said in a tweet that the app will be back soon and has ensured its users that their money is "completely safe." Google on Friday pulled the Paytm app from the Google Play Store as it violates the company's gambling policy. According to Google, Paytm has violated the Play Store policy by promoting gambling and facilitating sports betting.
Also read: Paytm removed from Google Play Store, here's why
Following the removal of the Paytm app from Google Play Store, Android users are no doubt concerned about the safety of their money stored on Paytm Wallet. The company assures that your money is safe and you can continue to use the app normally.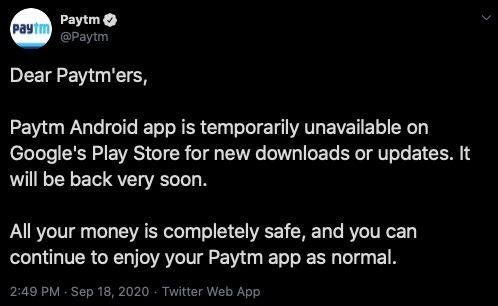 Google in a statement said, "We don't allow online casinos or support any unregulated gambling apps that facilitate sports betting. This includes if an app leads consumers to an external website that allows them to participate in paid tournaments to win real money or cash prizes, it is a violation of our policies."
Paytm has seemingly been facilitating sports betting ahead of the start of IPL 2020. As per a report by TechCrunch, past IPL seasons have seen a surge in apps promoting sports betting and Google is trying to crack down on this ahead of the upcoming season. The tech giant has also asked streaming platform Disney+ Hotstar to show a warning before pushing ads for fantasy sports apps.