Highlights
Smartphone price in India could go up due to increased taxes
Key smartphone components such as chargers, camera modules, and PCBs will now be taxed
More OEMs may start selling smartphones without a charger in the box to cut down on costs
The Indian smartphone market could witness yet another price hike, thanks to the new tariffs introduced by the Indian Government during the Union Budget 2021 on Monday. Essentially, smartphone manufacturers will now have to pay an extra 2.5 percent duty to import mobile parts and parts of chargers in order to promote local manufacturing. Mobile parts such as printed circuit boards, camera modules, batteries, and connectors will fall under the same category. Considering that most smartphones manufactured in India are merely assembly plant for the aforementioned peripherals, the overall price of the finished product will undoubtedly go up. As always, the additional cost will be passed to consumers.
Also read: Mi TV 4A, 4A Pro, Horizon Edition, and more receive up to Rs 3,000 price hike in India
Phones may become more expensive in India
Finance Minister Nirmala Sitharaman had the following to say about smartphones and smartphone peripherals, "Domestic electronic manufacturing has grown rapidly. We are now exporting items like mobiles and chargers. For greater domestic value addition, we are withdrawing a few exemptions on parts of chargers and sub-parts of mobiles. Further, some parts of mobiles will move from 'nil' rate to a moderate 2.5 percent". This means that smartphones and chargers will get more expensive in India soon. Here's how much tax each part will attract.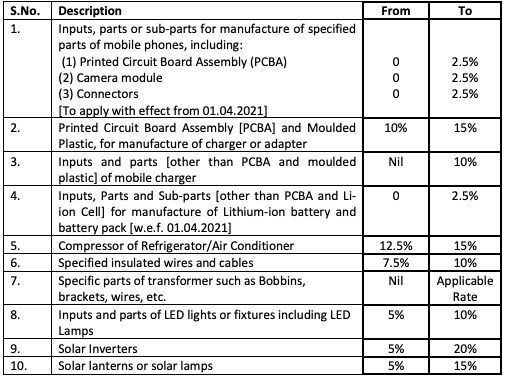 Many smartphone OEMs already operate on razor-thin margins in the hypercompetitive Indian market. With the additional increase in costs, they'll have no choice but to cut additional corners, further compromising on key, but often neglected aspects such as type of material used, quality of components, etc. The increased tariff on accessories also incentivises more companies to adopt Apple, Samsung, and Xiaomi's strategy of removing the charger from the retail packaging. Other consumer electronic goods such as air conditioners and refrigerators will get more expensive too.