"The Pokemon Company along with Google is hosting a public voting contest to judge the most popular Pokemon."
The Pokemon day is coming and will be celebrated on February 27th. In order to celebrate this day, the Pokemon company has teamed up with Google to host Pokemon of the Year competition in which you can take part. Beginning yesterday, the public voting process is being hosted by Google and can be accessed by simply searching for 'Pokemon vote' on the search engine. The voting process went live yesterday and will continue until February 14th. Results for the public voting of the most popular Pokemon will be revealed on Pokemon Day, February 27th.
Pokemon Day is celebrated as the day when the first two Pokemon games, Pokemon Red and Pokemon Green, were launched 24 years ago, back in 1996. To celebrate this, the Pokemon voting process includes entrants from all eight regions of the Pokemon world. For the voting process, you need to be signed in through your Google account. You can submit votes for each category once per day, thereby submitting a total of eight votes per day. Interestingly, the voting process will allow Pokemon enthusiasts to vote through each day of the process, thereby giving you a slightly higher chance of helping your favourite Pokemon win the popularity contest.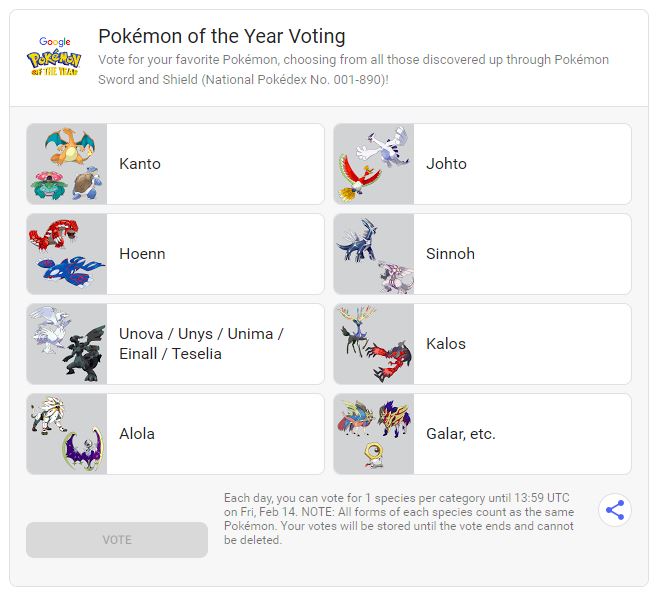 The Pokemon Company has also announced further updates in light of the upcoming Pokemon Day. The remaining updates are regarding Pokemon Go, with the game set to begin celebrating Pokemon Day from February 25th. During this period, Pikachu and Eevee will spawn regularly with party hats, while Bulbasaur, Charmander and Squirtle will hatch from 7km eggs, all donned in party costume. Further, the celebration of the day is being observed via the premiere of the movie Pokémon: Mewtwo Strikes Back — Evolution on Netflix.
Based on the movie, Pokemon Go will host clone versions of Venusaur, Charizard and Blastoise in raid battles, while taking multiple snapshots in the game can help you spot an elusive clone Pikachu in the game. Pokemon Go has also touted a "big reveal" of a new special Pokemon in the game, which will conclude the Pokemon Day festive period in the weekend of March 2, 2019. The voting contest on Google, meanwhile, is expected to present a series of interesting insights into which is the most popular Pokemon of all time.
Would Pikachu steal the trophy, as expected? Or are we in for a surprise, wild card winner? The next few weeks will tell.