"This suggests the Call Screen feature will become more widely available over the next few weeks"
Call Screen has been one of the standout features of the Pixel 3 series and although it's been a while since it was rolled out, Google surprisingly missed the much-requested transcripts. By activating call screening, you can have Google Assistant converse with callers on your behalf. You can even select questions for the Assistant to relay to the caller. These conversation transcripts can be displayed on your screen in realtime, but the transcripts get deleted as soon as the call is over.
However, a new feature that saves transcripts is now rolling out for Pixel 3 and Pixel 2 series phones. With this new addition, your Call Screen transcripts will be saved on your phone and will be accessible from the Google Phone app by going to Recent Calls > Call Details > See Transcript. Spotted by a few Redditors at first, the feature seems to be rolling out to Pixel 2 and Pixel 3 devices.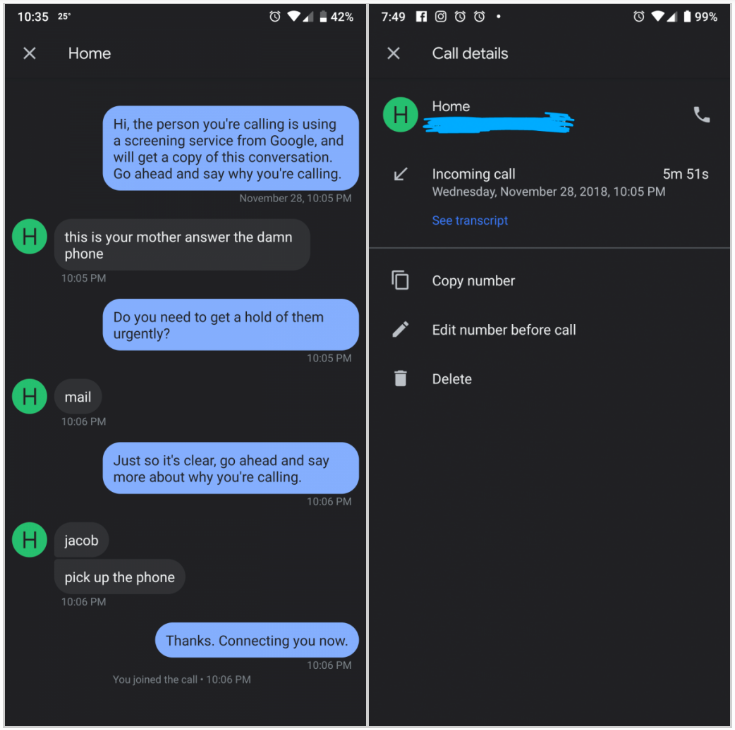 Although there's been no official word from Google on this matter yet, a few reports have suggested that not everyone has received this feature. But considering the feature is now rolling out to some users, it shouldn't be long before everyone gets it. And since Google was already transcribing calls on the screen in real-time, the ability to save these transcripts was more than expected with the launch of screen call.