Highlights
PUBG Mobile has encountered several Distributed Denial of Service (DDoS) attacks
The company has acknowledged the issue and said it is working on a fix
PUBG Mobile to soon get a new anti-cheat patch
PUBG Mobile seems to be sailing on hard waters off late. A few weeks after being banned by the Indian government, the popular battle royale game has encountered several Distributed Denial of Service (DDoS) attacks. This has reportedly been causing disconnecting issues for some users. The company has acknowledged the DDoS attacks and said that it is working on resolving the issue soon, but no timeline provided on when players can expect the fix. It also mentioned that a new anti-cheat patch will be rolled out soon and until it does, more security members have been assigned to stop the attacks.
Also read: PUBG Mobile ban in India will reportedly not be revoked, here's why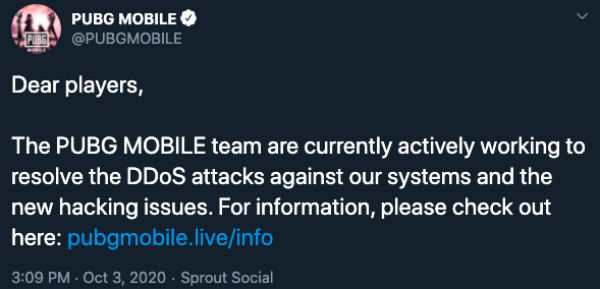 "We are currently encountering several waves of DDoS attacks against our systems that are causing players to disconnect. Our team immediately started taking action and is working closely with local Internet service providers to resolve the issue. We aim to bring back the normal gaming experience to our players as soon as possible," said PUBG MOBILE Community Team on Discord.
What is a DDoS attack?
A DDoS attack is a cyber-attack that makes a network unavailable to users by overwhelming it with false traffic. This essentially overloads the server causing connection problems for legitimate users. What this means for PUBG Mobile users is that they will face issues with stable server connection and are likely to face disconnections and freezes until the attack has been fixed.
To recall, PUBG Mobile was banned in India along with 118 other Chinese apps last month. PUBG Mobile isn't available on Google Play Store and Apple App Store but is still playable for those who have already installed the game. Since then PUBG Corporation has been working with authorities to bring back the game — it broke off ties with Tencent and is reportedly in talks with Jio for publishing and distribution of the game locally. Despite all this, the Ministry of Electronics and Information Technology recently said it isn't in a hurry to revoke the ban anytime soon. This is owing to the violent nature of the game that has been a cause for many complaints across the country.