Highlights
PUBG Mobile has reportedly generated $2.6 billion in revenue globally
This comes despite the game's ban in India
The game has been on the top consistently throughout the year
PUBG Mobile was one of the most popular mobile games in India, with a vast user base and active community. However, things turned sour for the game when the Indian government banned it in September; eventually the company had to shut down the servers, thereby closing all doors for playing the game in the country. It is yet to make a comeback, though reports suggest the company may have to wait until January or February for that to happen. Despite all the hardships, PUBG Mobile has emerged as the highest-grossing mobile game worldwide in 2020 with a revenue of $2.6 billion, according to a report by Sensor Tower. The game has been on the top consistently throughout the year.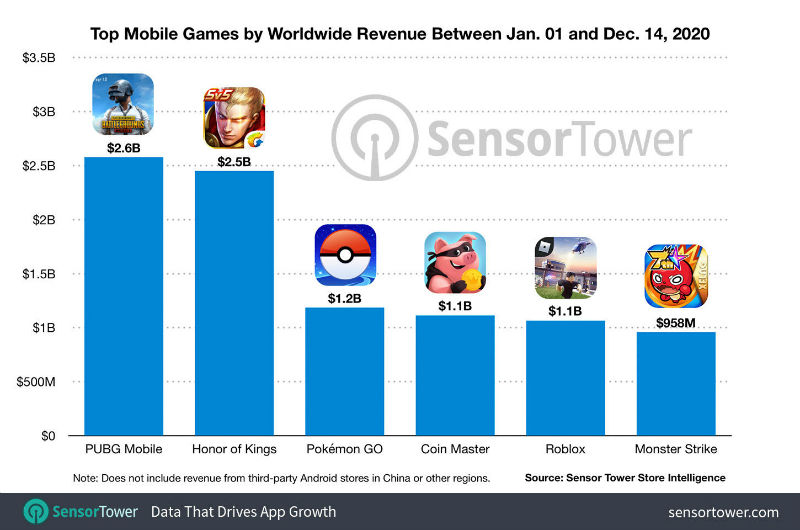 The total revenue is up 64.3 percent from 2019 and there doesn't seem to be any change from the India ban. After PUBG Mobile, it is Honor of Kings that comes close with a little under $2.5 billion, up by 42.8 percent from 2019. Pokemon Go is on third with a revenue of $1.2 billion, up 31.5 percent from 2019. Coin Master is at fourth position with $1.1 billion, Roblox is at fifth with a similar revenue figure. Lastly, Monster Strike is on sixth with $958 million in revenue in 2020.
While PUBG Mobile India launch is nowhere to be seen as it is yet to receive approval from the government, details regarding the PUBG Mobile India welcome gift crate have surfaced online. It will include an Anarkali Headgear, Anarkali Set, and a Classic Crate Coupon. These may be made available to players once PUBG Mobile is officially launched. These welcome gifts were spotted in the global version of PUBG Mobile. The game is expected to have less gore, a different gameplay experience, and more for the Indian version.