Highlights
PUBG India Pvt. Ltd has been officially registered as a company in India
PUBG Mobile India will reportedly be available for Android users initially
PUBG Mobile India launch date hasn't been revealed yet
PUBG Mobile India release is just around the corner and PUBG Corporation is already taking pre-registrations on Tap Tap platform. The company is preparing a new version of the game especially for India with gameplay improvements, less bloodshed, fully clothed characters, and few other changes. The PUBG Mobile India APK download link had briefly appeared on the company's website for some users. Though the game has been teased multiple times in recent weeks, an exact PUBG Mobile India launch date is a mystery. Now, in an interesting development, PUBG India Pvt. Ltd has been reportedly registered as a company in India on the MCA India website. The registered address is in Bangalore and is listed as a subsidiary of a foreign country.
Also read: PUBG Mobile India APK download link briefly went live; release seems imminent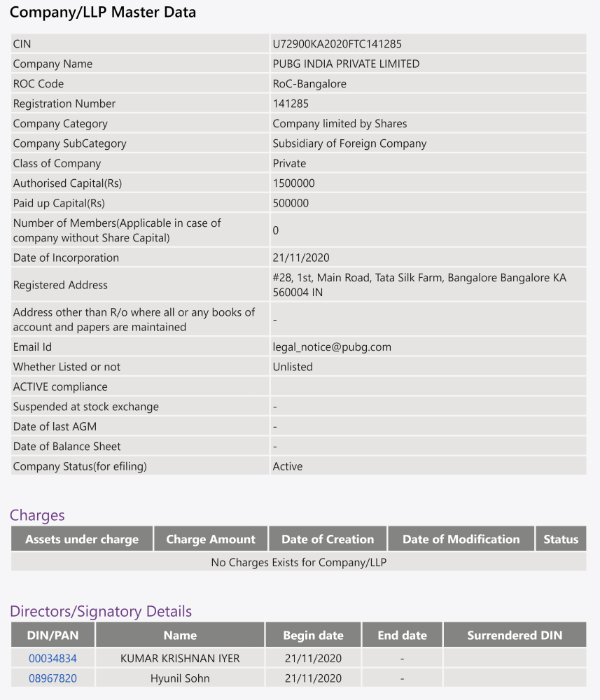 The registration details show the company has two directors listed at the moment — Kumar Krishnan Iyer, who also serves as a director for Spotify and AccuWeather and Hyunil Sohan, the head of Corporate Development at KRAFTON, which is the parent corporation of PUBG. It seems like PUBG Mobile is getting ready with all the official formalities before making the big announcement.
PUBG Mobile India will be available for Android users initially?
Separately, there are reports that PUBG Mobile India will be available for Android users initially and will be up on the Google Play Store soon. The game is likely to release for iOS users a few days later. Recently, PUBG Mobile India briefly went live as an app on Google Play Store and APK download but was not available for iOS users.
PUBG Mobile India: What do we know?
PUBG Mobile India version will be set in a 'virtual simulation training ground', the blood effects will be green instead of red and the playtime will also be limited. PUBG Corp is said to invest US 100 million into India's video game industry, with a local subsidiary, which is what that has been set up now and partnerships with local entities. To recall, PUBG Mobile was banned back in September along with 117 other Chinese apps owing to security reasons. The app was since taken down from Apple App Store and Google Play Store and the company broke off ties with Tencent Games.